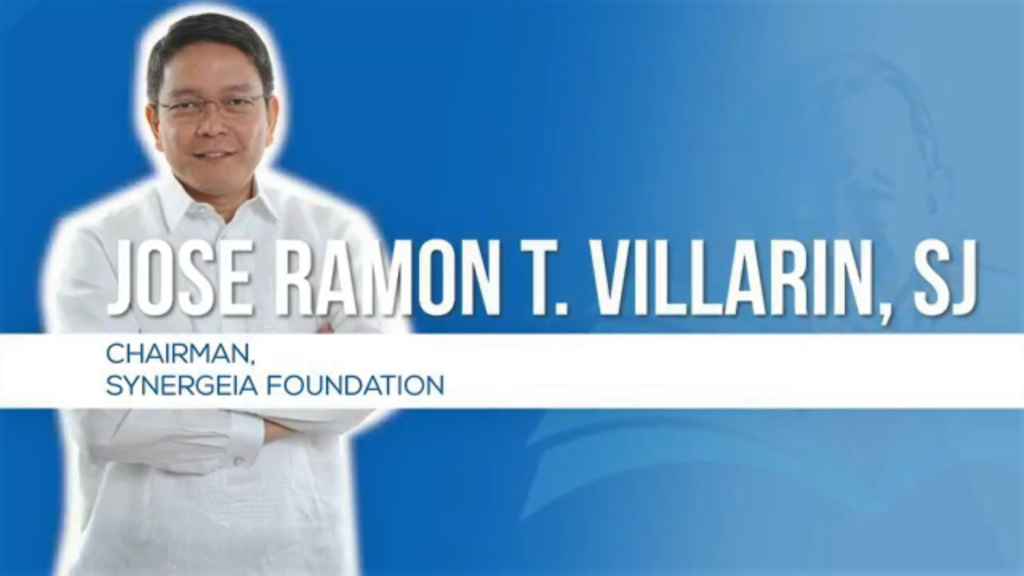 by Father Jose Ramon Villarin, S.J.,


Magandang hapon po sa ating lahat. Isang maligayang bati sa ating mga local chief executives, sa ating mga partners dito sa ating summit – "Learning from our Best to Defy Gravity."


Ang gagawin ko po ay uunahin ko na ang aking opening remarks, and we will end with a prayer and begin with our summit as well.


Pinili ko po yung background na nakikita ninyo ngayon. Iyan po ay litrato na kinuha ng isa sa mga estudyante namin. He kept vigil for several hours one evening just to take this picture. Maybe, you've seen similar pictures before. It is a picture of the Milky Way – that cluster of clouds and stars and planets. It is not exactly accurate as it is hard to picture the Milky Way because we are inside it. And if you see pictures of the Milky Way, you may ask "Paano nga ba nakunan yun eh hindi naman tayo nasa labas ng Milky Way?" Actually, my background is the picture of the center of the Milky Way and we are in one of the outer edges of this big galaxy of about a hundred to two hundred billion suns or stars.


How do we know, then, the shape of our galaxy? Well, it is because of a neighboring galaxy. We have a kapitbahay na galaxy and its name is Andromeda. Sa sentro ng galaxy na ito ay may isa daw blackhole na malakas ang gravity, malakas ang hatak. Lahat tayo ang patungo doon pero huwag po tayong mag-alala. It will take several billion years before we end up into the center of that galaxy.


The reason why we know the shape of our galaxy is because of our neighbor Andromeda. And let me begin there my remarks.


We actually need our neighbor. We need others to mirror us to ourselves. We come together to learn about ourselves and to learn from each other. We need our neighbor to infect each other, not with the virus, but with goodness; to replicate, not the bad, but the good; and share and make many copies of the good.


Dito po sa summit na ito, marami po tayong matututunan. And I hope that you will copy these. Ito lang po yung summit na pwede tayong mangopya.


This pandemic in a way is a dry run. It is a dry run, a test of what we do in a time of scarcity and wants. Sa panahon ng kasalatan, ng kakulangan. When there is a scarcity of good or of health resources, a scarcity of medicines and vaccines, what do we do? Pagdating po ng pagbabago ng klima, there might be a scarcity of natural resources like water or food or energy. In poverty, sa panahon ng kahirapan, at nasa panahon po tayo ng kahirapan, what do we do when there is a scarcity of capacity, of financial resources? Sa edukasyon, when there is a scarcity of education, what do we do? McKinsey came up with a study and their conclusion is something that we know already, that learning loss has been global in this time of pandemic. Education has been set back several months to a year. And so, this pandemic is really a test, a dry run of what to do. Do we isolate or do we reach out?


Itong panahon ng vaccine nationalism, magkakanya-kanya ba tayo or magbabahagihan? Will there be vaccine globalism? Do we protect our own or do we go out and protect the common good, the greater good? Or is this a false dichotomy knowing that protecting the greater good redounds to ensuring our individual welfare as well?


If this pandemic is turning out to be a disaster, it will be due to a failure, not in science, but a failure in politics. Politics, not science. Science has accomplished much in record time. Someone wrote science has done this because "Scientists cooperated globally whereas politicians tended to feud." Yung mga pulitiko tended to quarrel pero ang mga "scientists" came together. This is a warning shot to all of us. The former populist president of the US and Brazil have just gone into denial and blaming others.


But all of us here are leaders of Synergeia. Our role as Synergeia leaders is to act as a catalyst. A catalyst stimulates action that pulls us together and pushes action from inside ourselves. It brings together our individual work and energy to come up with something bigger than our individual efforts combined.


Halimbawa, ang ating mga RECs, this is a wonderful development where we are coming together regionally to create these new bonds – community bonds that are so important. We also want to stimulate action from the inside and thus, reduce dependence on interventions from the outside. Kasi po, kung aasa lagi tayong lahat sa labas ng ating sarili, hindi po iyon sustainable.


Kaya muli po, gusto ko po magpasalamat sa lahat for being such Synergia leaders, for believing that we can defy gravity, for demonstrating that we can defy the downward pull of the pandemics and every kind of plague if we pull together and push action from inside ourselves.


Let us end with this prayer, to begin our summit:


Lord of life, we ask You to help us to listen to what You are telling us this past year. Lead us to know what You are asking of us in this storm.


You are inviting us to leave familiar shores while the waves are high. You are asking us to make this crossing to the other side while the horizon is dark.


We do not know what this other side holds for us. We are afraid. You know our fear.


Give us faith to see You with us now in this boat being tossed by the waves. Give us hope to hold on to when life rolls sideways and the lurching becomes unbearable. Give us love to give to each other when our hearts break, when we are tired from rowing against the wind, when we are hungry, and lost, and alone.


Please give us enough light to keep us going, enough silence so we can listen to how You are asking us to take heart, to keep together and not be afraid.


Our old plans are shot. Our dreams, disrupted. Bring Your dreams then closer to ours. Turn our lives so that Your longing becomes our longing.


We are made in the likeness of You. You are the Lord of the waves, the wind, the Giver of life, the Conqueror of death.


Lead us to draw boldness and creative power from Your limitless love. Empower us to find our strength in You. Help us to be brave.


We take the words of Sir Francis Drake to our prayer today:


Disturb us, O Lord, when we are too pleased with ourselves, when our dreams have come true because we dream too little; when we have arrived in safety because we have sailed too close to the shore.


Disturb us, O Lord, when with the abundance of things we possess, we have lost our thirst for the water of life; when having fallen in love with time, we have ceased to dream of eternity, and in our efforts to build the new earth, have allowed our vision of the new heaven to grow dim.


Stir us, O Lord, to dare more boldly, to venture on wider seas where storms shall show Thy mastery and, where losing sight of land, we shall find the stars.


In the name of Him Who pushed back the horizons of our hopes and invited the brave to follow Him,


Amen.