About Us
Synergeia's Vision
A country where every child completes a good basic education and is given equal opportunities to become the best of what he/she can be.
Synergeia's Mission
To transform how leaders govern and to empower communities to create a better life for themselves and their children.
What We Do
Our work in educational governance system spans every level from municipalities to cities to national government. We work with policy-makers, local leaders, national and local agencies and institutions, communities at the grassroot level, and private sector partners to help them transform how they think, organize, facilitate, mobilize and execute change for improved governance, leadership and collective action.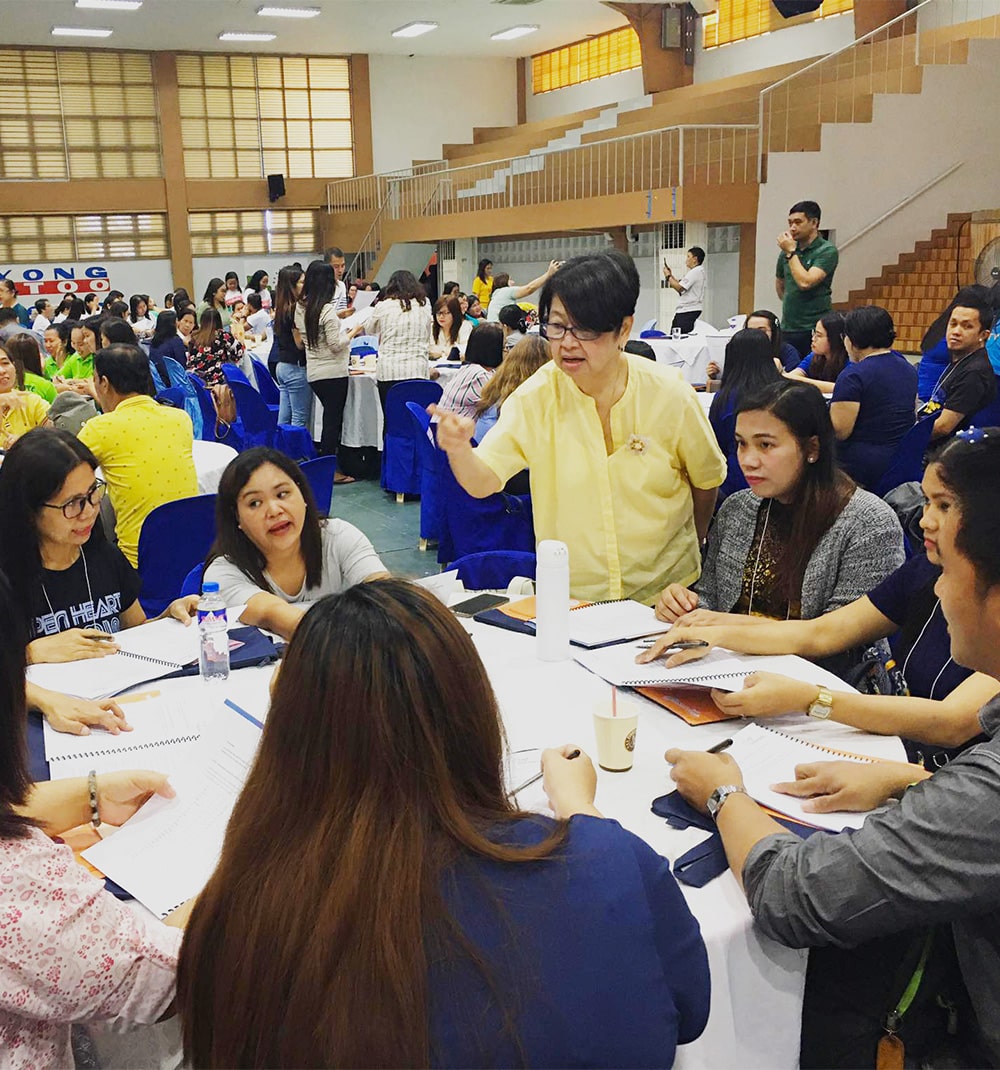 Specifically, we help them through our 6Cs Transformation Programme:
Setting a vision for strategic and sustainable outcomes, developing a framework for strategic planning and its execution, building monitoring and evaluation process and methodology from design to implementation, creating governance structure and performance management system, and strengthening resource mobilization, including budget development and financing.
Creative Solution Ideation
Developing design thinking to understand and respond to stakeholder problems, issues and needs, designing and running innovation programs, covering capabilities, framework and governance, to deliver more future-proofed results.
Capacity and Culture-building
Build capacity for winning leadership, governance and change management to create sustainable competitive advantage.
Comprehensive Intelligence
Conduct of economic research, feasibility studies, market studies, surveys, data and analytics and risk management studies to drive optimal strategies and outcomes.
We also develop project proposals, from design to execution, including budgets, covering a diverse range of themes, for varying donors, local or international.
We also develop position papers on policies, legislations and other emerging issues which will have a social and economic impact to a wide stakeholder spectrum, including local communities, institutions and private sector.
Communication innovations
Developing and implementing a multi-channel and broad-based communication plan to deliver information to specific audience, increase awareness, boost credibility and reputation and solidify brand identity and reach. Our expertise in StoryTelling creates value-adding advantage to draw better understanding of strategic messaging and support to particular communication objectives.
Undertake project management, including organization and mobilization of resources and monitoring and evaluation of outcomes.
President and CEO
Our mother hen is Dr. Milwida M. Guevara. On week days (and even most weekends), she is Synergeia's Chief Executive Officer. A former Undersecretary of the Department of Finance, "Ma'am Nene" (as we fondly call her) guides the flock and makes sure everyone is well fed.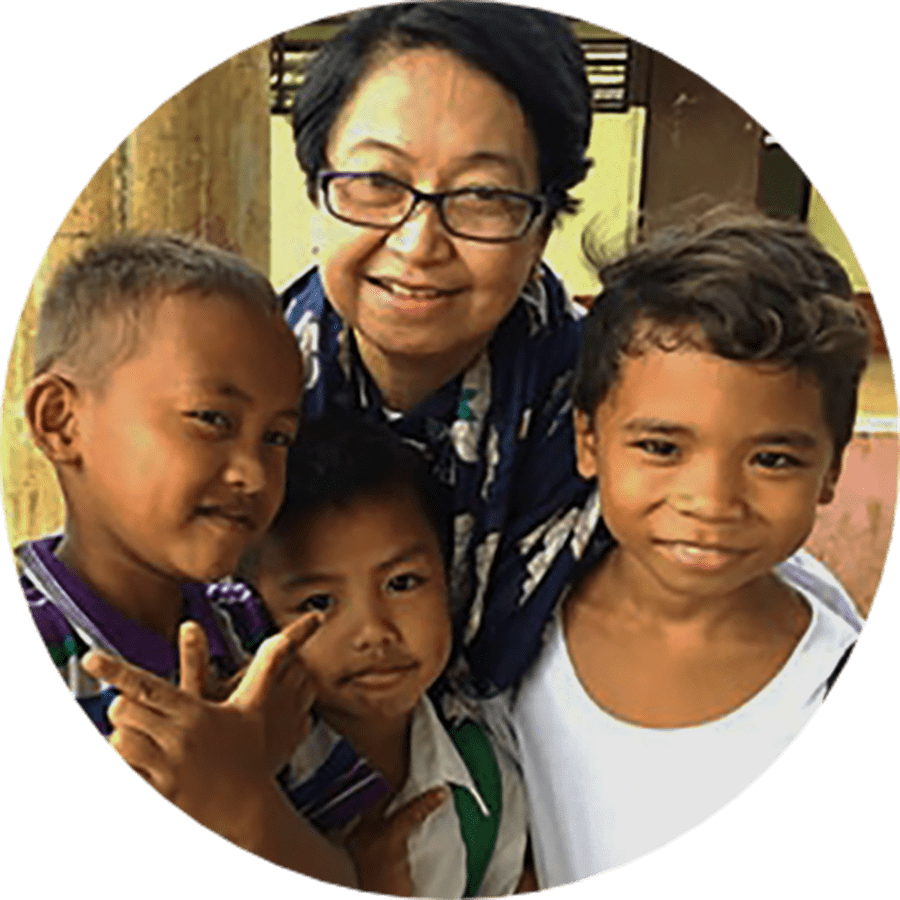 Board of Trustees
Fr. Jose Ramon T. Villarin, S.J.
Chairman
Father Bienvenido F. Nebres, S.J.
Chairman Emeritus
Dr. Antonio N. Torralba
Vice Chairman
John Aloysius Bernas
Treasurer
John L. Silva
Corporate Secretary
Dr. Milwida M. Guevara
President & CEO
Miguel Rene A. Dominguez
Member
Rafael L. Coscolluela
Member
Dr. Cristina L. Yuson
Member
Senator Sherwin T. Gatchalian
Member
Mentors
Dr. Corazon Abansi
Chancellor, UP Baguio
Oscar Atendido
Personality Development Guru
Joaquin Hagedorn
Former School Principal (California)
FGov Josefina Dela Cruz
Province of Bulacan
FMayor Mary Jane Ortega
San Fernando City, La Union
John Silva
Executive Director, Ortigas Foundation Library
Dr. Antonio Torralba
University of Asia and the Pacific
Dr. Jesus Reynaldo Aquino
Former PhilHealth President, Congressman and Mayor of San Fernando, Pampanga
Mr. John Aloysius Bernas
Treasurer, Synergeia
FMayor Voltaire Anthony C. Villarosa
Mamburao, Mindoro Occidental
Councilor Eduardo Tiongson
Mun. of Solano, Nueva Vizcaya
FGov Rafael Coscolluela
Province of Negros Occidental
Gov Francis Joseph "Jay" Jalandoni
Philippine Red Cross
FMayor Alfonso Gamboa
Mun. of Enrique B. Magalona, Negros Occidental
Board Member Jason Gonzales
Province of Iloilo; FMayor, Mun. of Lambunao, Iloilo
FMayor Esteban Coscolluela
Murcia, Negros Occidental
FGOv Miguel A. Dominguez
Province of Sarangani
Mayor Mohammad Ali "Bruce" Matabalao
Cotabato City
FMayor Rommel Falqui
Municipality of Kiamba, Sarangani
Mr. Edicio de la Torre
Education for Life Foundation
Fr. Eric Velandria SJ
Ateneo de Manila University
Fr. Michael McGuire
Spiritual Director and Psychologist
Dr. Allan G. Farnazo
Regional Director, Department of Education
Mrs. Teresa Villacorta
Former AVP of Ayala Corporation and Former Executive Director of Childrens Hour
Prof. Shirley Equipado
Training Specialist
Central Staff
Dr. Milwida M. Guevara
President & CEO
Anna Maria de Leon
Operations Officer
Adrian Aquino
M & E Assistant
Ma. Cristina Lleva
Administrative Assistant
Minie Manalese
Administrative & Finance Officer
Ramon Antonio Aldana
Program Officer
Maria Cecilia Sanchez
Finance Specialist
Eddiether Fernandez
M & E Assistant
Eduardo Cortez , Jr.
Driver / Messenger
Anjanette Juan
Senior Program Officer/HR & Logistics Officer
Florendo Guevara
Program Officer
April Dulfo
Project Accountant
Jessica Frey Shane Geronimo
HR & Logistics Assistant
Site Staff
Maria Consuelo Doble
Program Officer (North Luzon)
Caridad Sri Tharan
Program Officer (Bohol)
Halil Bacarat, Jr.
Project Officer (Marawi)
Elsimir Tawasil
Program Officer (Sulu)
Alzen Serabani
Program Officer (Tawi Tawi)
Edwin Nacionales
Program Officer (Visayas)
Victoria Armilla
Program Officer (Cebu)
Fahad Balindong
Statistician (Marawi)
Alhajar Abdulgafor
Program Officer (Sulu)
Ernesto Malvas
Program Officer (Visayas)
Amaluden Aguam
Program Officer (Lanao)
Hanifa Mitomara
Program Assistant (Marawi)
Alan Abbang
Finance Specialist (Sulu)
Other Relevant Information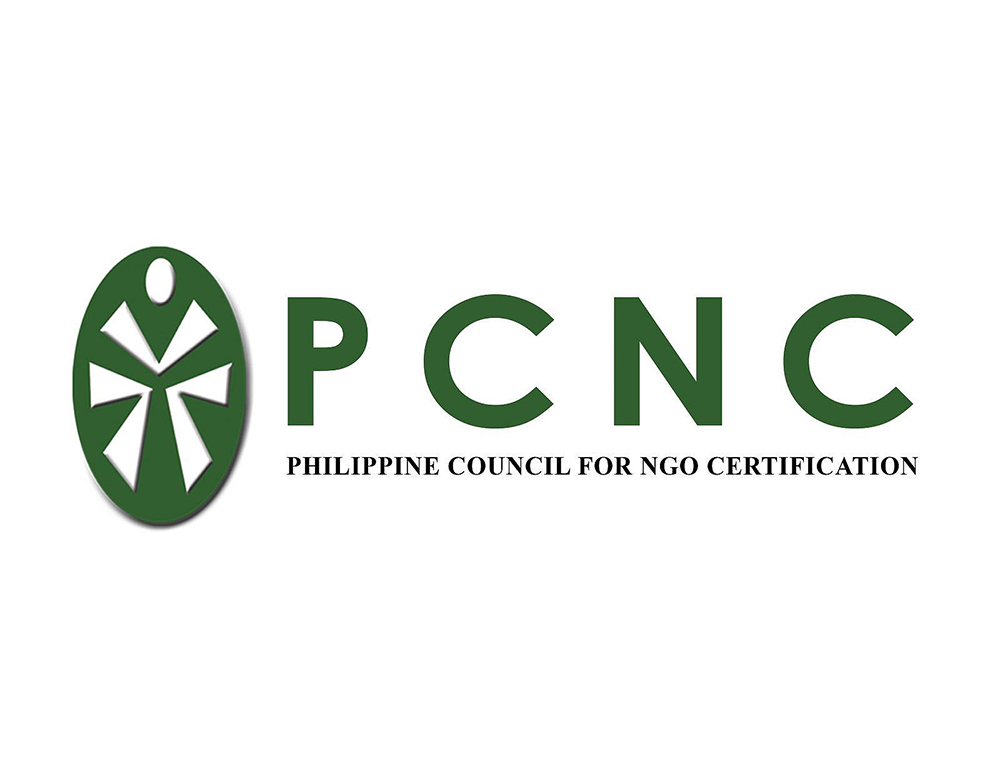 Synergeia Foundation, Inc. is accredited by the PCNC (Philippine Council for NGO Certification)