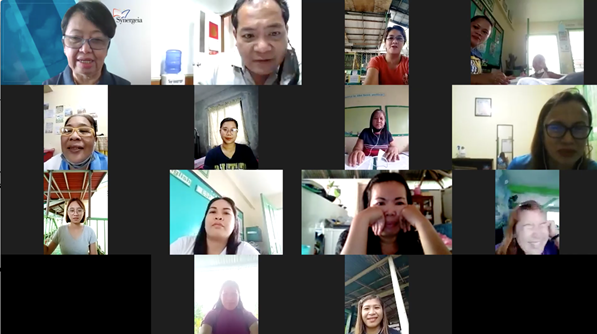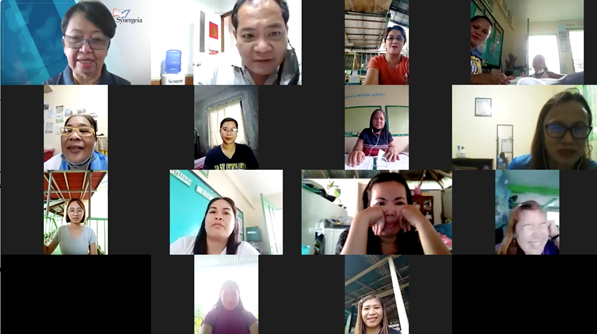 By Manolo Serapio Jr.
The pandemic has kept Philippine schools shut for more than 19 months now and with most students left to fend for themselves with self-learning modules, a core skill has become even tougher to learn: reading.
Reading is best taught inside real classrooms and with face-to-face classes still prohibited to prevent the spread of Covid-19, it has become far more difficult for teachers to teach their young pupils how to read and more importantly, how to read properly.
Yet many teachers across the country do what they can to help students learn how to read well in the era of distance education. As part of its mission to improve the quality of education, Synergeia Foundation conducted a virtual workshop on October 15 on teaching reading for teachers in Iloilo province.
The workshop was led by Synergeia President and CEO Milwida Guevara. An Undersecretary at the Department of Finance for nearly a decade, Guevara was a former grade school teacher and currently teaches public finance at the Ateneo de Manila University School of Government.
Also part of the webinar were Synergeia mentor Joaquin Hagedorn, who worked as a public elementary school principal in California for 32 years, and Synergeia program officer Edwin Nacionales.
The webinar was a refresher course for teachers aimed at helping them mould their students to become independent readers.
The first step in reading properly is knowing the sound of each letter in the alphabet and then blending the sounds to form words, said Guevara.
"Don't teach by rote. If you teach by rote, the children will not become independent readers," she told the workshop participants from schools in the different Iloilo municipalities including Oton, Miagao, Leon, San Joaquin, Ajuy, Concepcion and Pototan.
Phonetic awareness
Combining the sounds of letters to form words is akin to putting notes together to create music, and after illustrating her point, Guevara asked participants to do the same – to correctly pronounce the sounds from A to Z along with some words.
It is important to aspirate, she said, or to pronounce a letter or word with a breathy sound, to say them accurately. For example, the first sound in the words "pick", "tick" and "kick" are aspirated because they are pronounced with an accompanying forceful expulsion of air.
The same rule applies to Tagalog words, said Guevara. "It's all about phonetic awareness – saying the sounds correctly and blending them correctly."
To develop reading comprehension, Guevara said teachers can use pictures, body language, contextual clues, definition, synonyms and antonyms and by giving examples and through word association.
"Do not translate, otherwise you won't help children develop their thinking skills," she said.
Bloom's Taxonomy
It was an interactive three-hour webinar with many participants including Oton administrator Japeth Salinas and Lucia Lamanero, head of Jamabalud Elementary School in Pototan, joining in the drills and exercises, which Guevara said the teachers can do with their own students through online platforms.
Lamanero said teachers in her school have been holding daily 20-minute reading tutorials by phone to help students from kindergarten to Grade 3 become better readers.
In developing reading and comprehension exercises, teachers should use Bloom's Taxonomy, Guevara said. Bloom's Taxonomy is a hierarchical model that categorizes learning objectives into varying levels of complexity, from basic knowledge and comprehension to advanced evaluation and creation.
There are six levels of cognitive learning according to Bloom's Taxonomy: remembering, understanding, applying, analyzing, evaluating, and creating.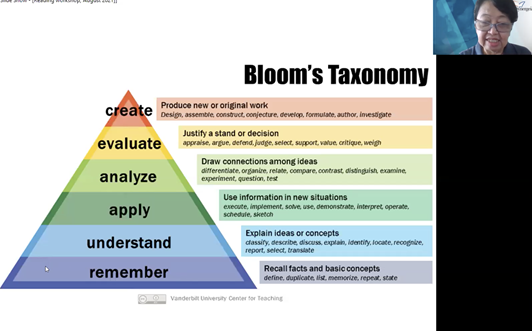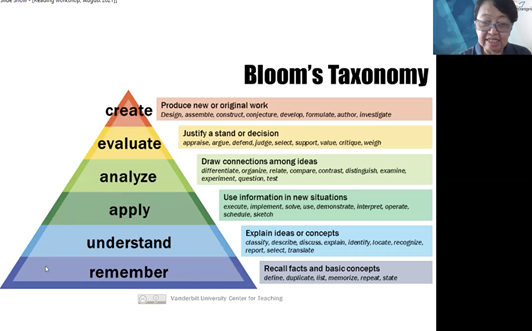 "Always take it to the next level because that's how you develop a child's critical thinking skill," Hagedorn told the teachers. In the current learning setup where students are mostly confined to answering modules, there should be activities for learners that will allow them to be creative as it gives them a chance to express themselves, he said.
Synergeia has been holding webinars on teaching reading in a bid to help teachers.
It conducted similar workshops for teachers in the municipalities of Antique and other parts of Iloilo last month and for those in Lanao del Sur, Maguindanao and Cotabato in May.
The non-profit organization works with more than 400 local governments to make sure that every child completes a good basic education and is given equal opportunity to become the best of what he or she can be.
Even before the pandemic hit, Philippine students have fallen behind their international counterparts, highlighting the learning gaps in the country's education system that the health crisis may have exacerbated.
Only 10% of Filipino Grade 5 pupils had achieved the reading literacy skills expected at the end of primary school, versus 82% in Vietnam and 58% in Malaysia, according to the 2019 Southeast Asia Primary Learning Metrics study released last year by the United Nations Children's Fund and the Southeast Asian Ministers of Education Organization.
Fifteen-year old students from the Philippines ranked lowest among 79 countries in reading proficiency in the 2018 Programme for International Student Assessment.
For more guides on reading and other subject areas as well as a full suite of learning kits from Synergeia, you can go to https://paaralangbahay.synergeia.org.ph