There is huge potential for development that lies in the hands of educators despite political and multi-cultural challenges present in Mindanao, according to Ateneo de Zamboanga President Fr. Karel San Juan. "You're a very potent force in education reform because you quietly nurture the children," he said to the school heads from the province of Sulu who attended Synergeia's School Governance Workshop in Zamboanga City last week under USAID's Education Governance Effectiveness (EdGE) Program.
Fr. Karel commended Synergeia for its continued presence in the region. "I learned about Synergeia's good work here," he said as he encouraged the principals to maximize the learning they could acquire during the workshop. "It is on occasions like these that you can reflect on your strengths and weaknesses. You have an exciting vocation because you are constantly learning. You need to be versatile in order to deal with all types of people. Mahalaga ang role ng Synergeia because they know how to take care of leaders like you, to build a group where you support each other, to synergize," Fr. Karel said.
Zamboanga City Mayor Isabel Climaco gave an inspiring message to the participants as she emphasized the need to focus all activities for the benefit of the children. "The center of the educative process should always be the pupils," she said. She thanked Synergeia for holding the workshop in Zamboanga. "We really need your presence here to help our sisters and brothers in the region of Sulu and Tawi-Tawi."
The school heads voiced their grateful enthusiasm for being part of the Synergeia family as they actively engaged in capacity-building activities during the workshop held in Grand Astoria Hotel in Zamboanga City on June 24-26.
"Malaking tulong ang Synergeia sa amin," a principal from the town of Jolo said. Another from Talipao appealed that the relationship continue as the educational reforms are only starting in her town. Nakikita naming kailangan pa ang Synergeia."
Prominent speakers and mentors imparted various knowledge on how to effectively manage their schools for the benefit of the children. Among the notable personalities were National Museum senior consultant John Silva, Fr. Bienvenido Nebres, SJ, Dir. Oscar Atendido of John Robert Powers, Dr. Tonton Torralba and Valenzuela City Congressman Sherwin Gatchalian. Equally capable mentors equipped the participants with useful tools and insights during the break-out class sessions. Investment Banker Luigi Bernas, Mamburao, Occidental Mindoro Mayor Bambi Villarosa, former Philhealth President Dr. Rey Aquino and former Murcia, Negros Occidental Mayor Sonny Coscolluela formed the group of mentors for this workshop.
The EdGE workshop was attended by over 70 school heads from Laminusa, four districts of Jolo, 2 districts of Siasi and the municipality of Talipao. The three-day event culminated with a short bonding activity that strengthened camaraderie between the principals.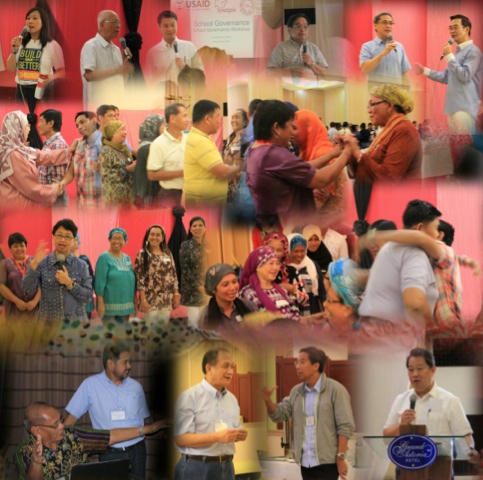 Top row from left: Zamboanga City Mayor Isabel Climaco, Fr. Ben Nebres, SJ, Cong. Sherwin Gatchalian, John Silva, Fr. Karel San Juan, Dir. Oskar Atendido; 2nd & 3rd rows: Synergeia Chief Dr. Nene Guevara leads Sulu school heads in a short but meaningful bonding activity; 4th row: Mentors Sr. Tonton Torralba, Mayor Bambi Villarosa, FMayor Sonny Coscolluela, Luigi Bernas, and Dr. Rey Aquino
---