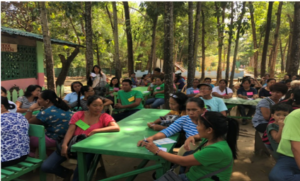 The school-based parents' training had been postponed in the past so the parent leaders themselves took the initiative to push through with the activity this time. Thus, the back-to-back parents' training workshops in Miagao, Iloilo were finally held last March 14, 2018.
Pungtod-Caitid Elementary School (PCES) is an in-land school some 1.5 hours away from Iloilo City. It served as venue in the morning for the school-based training of parents of children from 7 schools namely Pungtod-Caitib, Bacauan, Miranda, Valencia, Guibongan, Kirayan and Miagao Central. Mr. Gerardo Monta, HT III of PCES welcomed the participants – some 71 of them – and thanked the SGC and the community for their effort in the preparations for the workshop.
The first workshop activity was on parenting practices. Some parents became emotional during the sharing session but they learned good parenting techniques from one another. They said the opening activity was very inspiring and helpful to them.
The parents had fun in the role playing portion and they took their roles in different fashion. They were given several situations involving children in need of parents' attention and they were to act out how they would deal with it. In the next module which the parent facilitators introduced, the parents learned more about "You" and "I" statements, and how to use "I" statements as an effective technique to discipline children.
The last workshop module was on how parents can teach their children to love reading. A very effective way is to always read stories to children, and I read one heartwarming story to them titled "Love You Forever" by Robert Munsch. After reading the story, many parents shared different life situations that showed the undying love of a parent.
Even with just a half-day workshop, many parents said that they learned strategies on how to help children read, love reading, and develop a good attitude towards studies. One mother said it is important for parents to make their children feel their love for them and their support for their studies and a better life ahead. Another mother volunteered her time to reach out to more parents in her school. Mr. Monta, the school head, was pleased with the turnout and pledged to hold more parenting workshops in the school.
For the afternoon workshop, I travelled for 15 kilometers from Pungtod-Caitib ES to Aguiauan ES. The venue proved to be very challenging – – it was a small room with low ceiling and poor ventilation. Mr. Failaman, the Principal of AES and I suggested to hold the workshop under the cool shade of mahogany trees in the school grounds. The parents did not complain and helped carry the tables and chairs outside.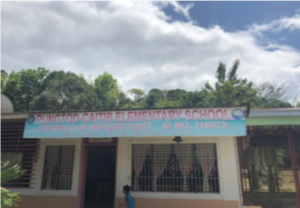 Some 67 parents were registered but a few more came in when the workshop had started. Our participants were parents of children from Aguiauan, Malagyan, San Jose, Indag-an Tan-agan, Ticdalan, Tigmarabo, Monteclaro and Consolacion Elementary Schools. Just like in the morning session, the workshop started with a self-assessment and a sharing of parenting styles and experiences. Some candidly said what they needed to improve on to become better parents.
This was followed by group discussions and sharing on techniques to teach children good manners. With the help of parent-facilitators, the parents also learned how "I" statements can be effective in disciplining children. Teaching the children to love reading was the last activity for the afternoon, and we read the story "Love You Forever" by Robert Munsch, a story of unconditional love of a mother to her son. Our parent-participants asserted that there is love forever between them and their children. One mother said that even if his son is "pasaway," her love remains.
In his concluding statement, Mr. Failaman thanked Synergeia and committed to continue the parenting seminars in his school, hoping that the other schools would do the same so that the whole district of Miagao East can have a strong core of parent leaders who can provide parents' training in schools. The dedication of our education partners on the ground is truly inspiring.