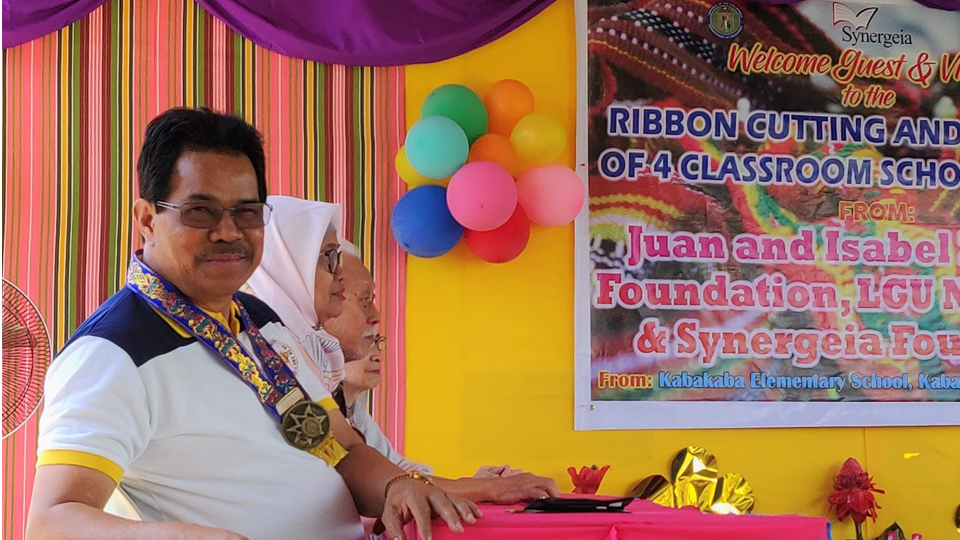 Mayor Ramon Piang was once a school principal before he became mayor of Upi, Maguindanao, in 2001. Given his professional background, education has always been his top priority. And he dreams big: 100% literacy for his constituents.
Upi started its partnership with the USAID and Synergeia under the program called "DIWA" (Dagyaw sa Igpaw sa Wastong Agkataw or Rising Together in Education). That was in 2005. After 15 years, so much progress has happened in Upi. Mayor Piang was proud to make his state of education report last February before some 200 education stakeholders and partners of Upi. It was symbolic that Mayor Piang gave his address in the same gymnasium where the first program was launched in 2005. The gymnasium has changed and become modern with a digital video wall in the center of the stage and the activity was broadcast live in the LGU's radio station DXUP and cable TV network. Much like the great strides of Upi in its education program:
In 2013, the LGU's Cohort survival rate was 25%. It rose to 75% in 2019.
The drop-out rate in 2019 was down to 3.34% but the Mayor challenged everyone to target a 0% dropout rate. "I will give incentives to schools with zero drop-out."
The Local School Board (LSB) performance rating rose from 2.7 in 2013 to 4.70 in 2019.
The School Governing Council (SGC) performance rating of 35 schools was 0.70 in 2013 and climbed to 4.8 in 2019.
In the 2019 PHILIRI, 81% were found to be poor readers in the pre-test. This was reduced to 34% during the post test. But the Mayor was still not happy with a third of total elementary students not being able to read well. He promised the full support of the LSB to efforts to further reduce the number of poor readers.
Since the SEF was not enough to cover all the education expenses, the Upi LGU tapped other sources like the Mayor's MOOE, GAD funds, MCPC funds, and the 20% Development Fund for the implementation of various education programs:
Scholarship programs for the tertiary level;
Provision of tuition subsidy for deserving elementary grade students
Honorarium to teacher-aides
Continuous training of teachers on remedial reading
Support to Brigada Eskwela activities
Feeding programs with World Food Program and Kusina ng Kalinga (GK)
Construction of school buildings and classroomsusing the LGU's 20% Development Fund and with the help of the municipality's generous partners such as the Zapanta Foundation
Construction of wash facilities
Support to Madaris schools; and
Hosting of the 1st Palarong BARMMAA.
Mayor Piang once recalled how school administrators used to come to him to request for funds for a fieldtrip or a jamboree. Now, they ask the Mayor to support the students' review for the NAT. "Mayor, pwede po ba tayong magreview para sa susunod na NAT exams?" He is very pleased that all sectors, including parents, the business sector, civil society and of course, the teachers and supervisors are all actively involved in the LGU's endeavour to provide quality education to its youth. Times have indeed changed for the better in Upi.
It is noteworthy to mention that, over the years and in the course of his incumbency for various terms as Mayor of Upi, Mayor Piang garnered for his town and for himself the following awards and citations:
Kaagapay Seal of Excellence during his second term as mayor in recognition of his good governance and leadership. The award was given by the Canadian International Development Agency-funded Local Government Support Program in 2004.
2004 Gawad Galing Pook Outstanding Program award citing the novel conflict resolution mechanism he introduced in his municipality whereby, thru a tri-people council, cases arising between Upi residents, or between Upi residents and outside parties, are amicably settled in adherence to the principle of promoting kinship and neighborhood, via mediation and arbitration practices performed with the participation of the community.
Best ePractice Award 2005 given by APEC Digital Opportunity Center in Taipei, Taiwan, by virtue of its becoming the first Community e-Center (CeC) in the country thru its Information Systems Strategic Plan laid out in 2003. This program also became a finalist in the 2nd Philippine CeC Excellence Awards and won 2nd Best Placer CeC in the Philippines in 2011.
Philippine Digital Inclusion Champion Award (2010) by the Commission on Information and Communication Technology in Cebu City. The town's ISSP became one of the most awarded ICT programs by an LGU throughout the country capped by the Galing Pook Award in 2011.
Seal of Good Housekeeping from the Department of the Interior and Local Government, and the Seal of Excellence from the Civil Service Commission for the municipality's steadfast adherence to the Anti-Red Tape Act.
dxUP, the town-funded radio station under Mayor Piang's initiative, in 2007 was cited by Titus Brandsma for community communications and for promotion of peace and inter-faith dialogue.
Galing Pook Award in ARMM in 2010 for Upi's Project Rendaw through its "Better Education through Community Action" program, which increased the ratio of pupils who can read from 2 out of 10 to 8 out of 10.
Mayor Piang was selected as one of the Top Ten Outstanding Municipal Mayors in 2003 under the Local Government Leadership Award.
Mayor Piang received the Ramon Aboitiz Award for Individual Excellence in 2006.
Mayor Piang was a consistent recipient of Synergeia's Seal of Good Education Governance.
Most importantly and of greatest significance is the fact that under his incumbency, Upi grew from a 4th class municipality with an annual income of less than P50 million to a 1st class town with an annual budget of P130 million, a feat which he attributes to the trust, confidence and whole hearted participation of his constituents in the municipality.