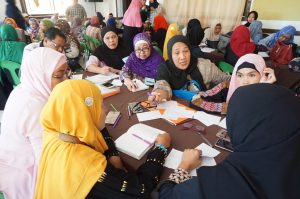 Travelling back to Marawi City last February 19-20 for a consultation on education priorities was a bittersweet homecoming for Synergeia family. Marawi City ran several education programs with Synergeia back in 2004 to 2010. These were very fruitful ones that involved reinventing the Local School Board, community engagement, teachers development, alternative learning and skills training. This time, however, on our way to the City Hall, it was sad to see canvas tents serving as makeshift classrooms on some empty lots and in the middle of what used to be playgrounds of some schools that were not destroyed. Only 15 out of the 69 public schools have reopened as of last month. Four months after the war had ended in October 2017, government rehabilitation efforts have not begun, including those of the 22 public schools which were completely destroyed and 47 others that were damaged and requiring massive repairs. Because of this, only some 3,000 students out of about 20,000 were able to return to continue their studies.
But the community is resilient and brimming with hope that they can rise again. And Synergeia is committed to help in their journey to recovery. Their slogan, "Bangon, Marawi!" is not only very apt but they live it. The City Hall conference room where the consultation workshop was to be held was full-packed with the presence of City Officials, school principals, DepEd officers, barangay officials and civil society representatives. Everyone wanted to contribute to the conversation on education priorities.
The consultation workshop was intended to identify aspects of education that need to be immediately attended to after the destruction and displacement of war. The education priorities were to be set by the school principals and local officials themselves. City Administrator Sultan Khamid Gandamra, Councilor Nasif Marangit who is the Chairman of the Committee on Education, and DepEd Superintendent Pharida Sansarona gave inspirational messages on the importance of prioritizing education. Councilor Marangit could not have said it more truthfully that one of the most affected by the war is education of the children of Marawi.
During the workshop, the participants were asked "Ano ang programang nararapat gawin upang maging mabuti, masaya at magaling ang pag-aaral ng mga kabataan ng Marawi?" They wrote their suggestions on meta cards and pasted them on manila papers. Some explained their suggestions during the sharing session.
The construction or repair of school buildings has been identified as a top priority. The principals stressed that children cannot go back to school if the classrooms are still destroyed. Classrooms have to be conducive to learning as well as teaching. In Bito ES, kinder modular tables and chairs are among their highest priorities. The principals also identified health and sanitation facilities such as water system, hand-washing area and comfort rooms for the learners.
In terms of soft infrastructure, the participants identified as their top 3 priorities training on the use of technology in learning, training on management of schools, and values and peace education. Principals from Banga ES and Toros ES said they need workshops to retrain teachers in teaching English, science and math. Our educators also think it is important to make learning fun and creative so they hope sports facilities can be built in their schools and children can play volleyball and badminton.
Ma'am Nene reiterated Synergeia's commitment to help Marawi. Synergeia will work with DepEd Superintendent Sansarona in mapping the priorities on a per school basis and to avoid duplication with national government programs.
The consultation workshop has been productive and the real work on Marawi's education priorities is just beginning. We put to heart and mind what Father Ben Nebres said, "It is now the time to look at the long-term future…which is education of our children."