"They existed there and I, here. I had no relationship with them," says Mayor Felipe 'Ipe' Neri Yap of Ivisan, Capiz of his former viewpoint toward educators in his locality. While he considered education as his prime agenda, his chairmanship of the local school board (LSB) was mere formality.
Mayor Ipe began to immerse himself in educational reform upon joining Synergeia Foundation's workshops under USAID's Education Governance Effectiveness (EdGE) program. "It served as the bridge between us. It was when I learned to listen," Mayor Neri shares of his changed attitude toward his constituents.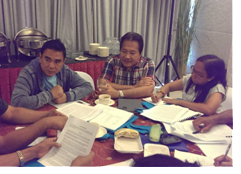 The tools of governance he gained through Synergeia and EdGE enabled Mayor Ipe to focus his ideas toward the right direction. "I would have stuck to the way of Philippine politics otherwise. Now, I have a roadmap. I'm now focused on details rather than ceremonies."
He started to dig deeper into the root causes of low performance among children. "I began to own the problem and I enlisted everyone's help." Through various teacher trainings he supported, Mayor Ipe found that teachers came out revitalized and motivated to perform their tasks for the children.
Ivisan Elementary School Principal Judith Tu confirms the positive effects of the local government unit's active support of education. Even without cash incentives, the recognition accorded to model teachers has proven to be enough for them to be more competitive. "It's the inspiration, the thought that the local government is behind our activities. We have a good partnership with the LGU so even with our limited resources, we do what we can," she says. This is no small claim for a 4th class municipality that receives the lowest internal revenue allotment in the country.
Even the LGU's dealings with the Department of Education has improved, according to Mayor Ipe, adding that he now enjoys a harmonious relationship with different sectors because of open communications.
"Education is the starting point of success. Progress will start with the children," says Mayor Ipe. He now refers to his relationship with the educators of Ivisan as a love story born out of Synergeia's program.
---