"Your best tax collector is your own taxpayer," Valenzuela Representative Sherwin Gatchalian told Synergeia mayors from the Central Luzon Cluster during the Local School Board (LSB) Workshop on Nov. 29. This was two weeks after school heads from the same cluster got together for the same purpose – to acquaint themselves with the functions of the LSB for the betterment of children's education.
Your best tax collector is your own taxpayer
Expounding on ways to effectively collect the Special Education Fund (SEF) that comes from a percentage of Real Property Tax, Rep Win explained that people will pay their taxes more willingly if they have confidence in their local government. They will even act as agents, encouraging others to do the same. In contrast, they will do it grudgingly if they see that projects are slow or being allocated to areas that do not benefit the community. He stressed that all efforts will come to naught if the integrity of the mayor or the chief executive is in question.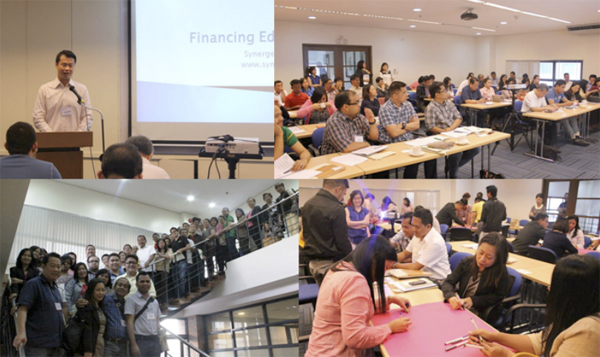 What's important is (not the percentage of the budget used for education but) the efficient use of funds.
"There is no right and wrong formula," Rep. Win said. "What's important is the efficient use of funds." He explained that the allocation of the SEF depends on the government's agenda based on the direction it set for the LSB, as well as on what it deems as the right equilibrium. He stressed the importance of financial management. He cited his personal experience as a businessman where one has to know the money that comes in, how much collection needs to come in and who or what establishment is not paying its due.
To improve revenue, you must automate. Use technology.
Apart from the mayor's knowledge of the figures, he must also establish direct communication with the treasurer and the assessor. They must be held accountable for targets they set and for proper tax collection. "Set up a finance committee," Mayor Win suggested to his counterparts but pointed out that the best way to keep up to date is to automate the system. "In most cases, LGUs are not automated. They would estimate the figures they report and adjust by end of the year." He, however, cautioned about over-priced and unreliable Information Technology services and suggested consultation with other LGUs that have existing, tested and fairly-priced IT systems. "To improve revenue, you must automate. Use technology," Rep. Win reiterated. He said that after fully executing automation, Valenzuela City increased its revenue by as much as 50 percent.
Parents also have to know that the SEF comes from taxes not from the pockets of politicians.
The burden of an effective tax campaign fell heavily on the chief executives as it involves a hands-on process of continuous interaction with the community. Rep. Win noted that it is very rare to enforce tax collection through the barangay captains and that it needed strong political will to accomplish. "Parents also have to know that the SEF comes from taxes not from the pockets of politicians." An aggressive campaign should be launched to inform the public of how taxes are being used and what projects are being implemented. Valenzuela has a year-end "Ulat ng Bayan" report that is distributed house to house for this purpose. This method not only promotes transparency but also deters suspicions about personal political agenda on the part of the government official. "Inform without being epal," Rep Win said.
Synergeia's USAID-funded Workshop was attended by about 50 representatives from the Central Luzon Cluster. These included mayors from the cities of Valenzuela, Malabon , Navotas and the municipalities of Pili, Camarines Sur; Pulilan Bulacan; Diffun, Quirnio, and Vice mayors and Councilors from Balanga City, Labo (Camarines Norte), Bongabong (Oriental Mindoro), Mamburao (Occidental Mindoro), Obando, and Pulilan (Bulacan). DepED Superintendents and Supervisors played key roles in the planning-workshop.
---