By Malio Aguilar
.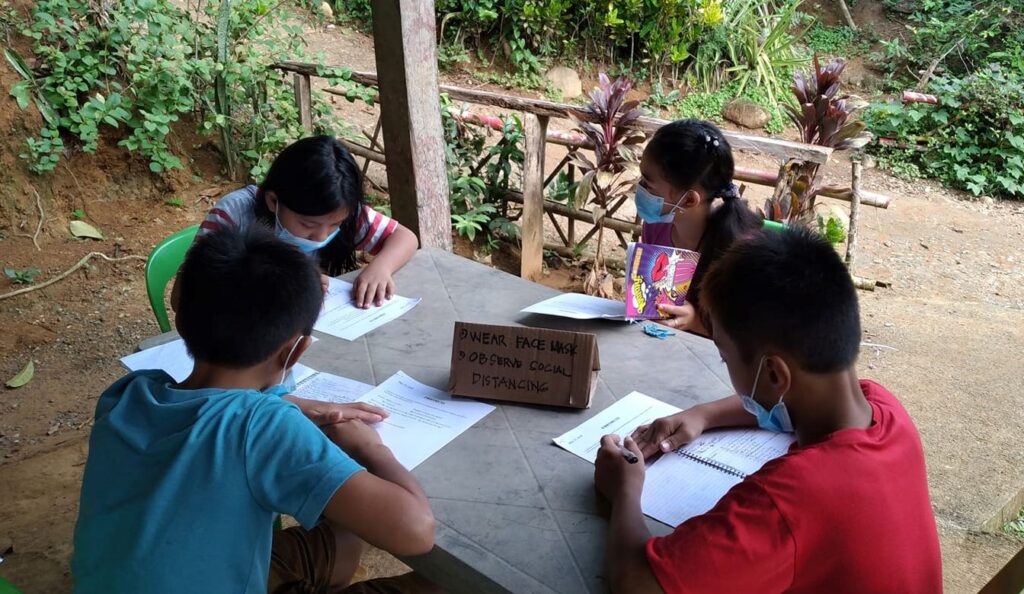 One has a degree in accounting and the other in education, and both were looking for work until the pandemic hit. Now, Aleah Gampong and Emy Tarnate are among hundreds, if not thousands, of volunteers helping children survive an education system altered by a global health crisis.
.
Twenty-three-year old Gampong is part of a volunteer group in Balindong town in Lanao del Sur in Mindanao island in the south. A veteran of community service at a young age, she spends three days a week braving rains and rough terrains to mentor kids in remote areas.
.
Tarnate, who's a year younger and plans to be a mathematics teacher, tutors kids daily in reading and math for free in her hometown in San Gabriel in northern La Union province.
.
Volunteers like them have become essential in many communities across the Philippines where children are struggling to understand learning modules on their own with their parents either working or unschooled themselves.
.
They help fill a crucial gap in the education system created by a pandemic that has shuttered schools and shifted learning to homes and the burden of mentoring children to parents.
.
In places where there are not enough teachers, where smartphones, computers and Internet connectivity in homes are rare, in-person tutorials from these volunteers have become nearly indispensable for learners.
.
And to some extent, communities that are rethinking methods to limit any disruption in children's education in the midst of the pandemic has also spurred volunteerism in many parts of the country, fostering a genuine desire to help students cope with the demands of remote learning.
.
Training ground
.
The volunteers are typically degree holders and undergraduates willing to teach children, either recruited by the barangays like in the case of San Gabriel or by educators leading fresh learning approaches as in the case of Balindong.
.
Tarnate was part of a reading caravan during the summer who hiked mountains to reach the kids. When that ended, she continued tutoring elementary and high school students in a barangay hall near her place that's now turned into an in-person tutorial hub, with safety measures in place.
.
"I volunteered because I didn't want these kids to waste their time learning nothing," she says. Among other things, she helps them with proper pronunciation of English words, recalling a time in college when she got bullied for mispronouncing words, which she doesn't want them to experience.
.
"This is also a training ground for me and it will help me develop my teaching skills," said Tarnate, who bikes with a fellow volunteer on Fridays to mentor kids in another village.
.
Some families, thankful for their work, offer snacks and sometimes token fees, to the volunteers, she says, which are shared equally among them.
.
In Balindong, Gampong is part of a group that launched tutoring sessions in mid-October called Siyap Ko Siringan – a Maranao term that means "caring for your neighbor."
.
Paypa Serad, a 36-year-old district school supervisor who started the program, says she got the idea from a seminar conducted by Synergeia Foundation in September where the organisation proposed small learning hubs run by volunteers. She then recruited her former high school students who are now college graduates, including Gampong, to join her.
.
Synergeia is working to improve the quality of basic education for Filipino children, pushing for reforms in 426 local government partners to boost learning in communities. The foundation works with institutions like the United Nations Children's Fund and the U.S. Agency for International Development.
.
'Maximise learning potential'
.
Gampong says the group has since focused on five villages where the children, they realised, need more help. But getting to these places is never easy.
.
"Roads are rough and when it rains they become so muddy so traveling takes a while," she says. "We also walk far to some of the places because the kids are divided by grade levels and are not in one location."
.
In her volunteer work, she saw how tough it's been for some students to keep up with the learning modules on their own. In one session, she said one student pleaded with her for daily tutorials, and became glum when told that the group needed to visit other kids elsewhere.
.
Doing community service is something that Gampong is used to, having joined various relief drives.
.
She recently took part in efforts to provide financial aid to tricycle drivers who suffered income loss due to the pandemic and previously participated in a feeding program in a provincial jail in Marawi City, the site of a five-month battle between the military and Islamic militants in 2017 that left the city in ruins.
.
Back in San Gabriel, another volunteer, engineering student Michaella Pasian spent many hours with fellow volunteers during the summer to make supplementary learning modules for kids during the annual reading caravan.
.
She continues to help some learners in math and art, tutoring them in her spare time.
.
"It would be a shame if the students do not maximise their learning potential," says Pasian. "I know how it feels to be left behind in school and I do not want any student to feel the same way."
.