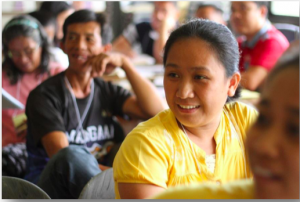 In September, Santol, La Union was one of the municipalities that went home bearing the Seal of Good Education Governance, showing how teamwork and community efforts can go a long way. Under the helm of its new mayor, Santol's administration maintains close ties with its community and is hands-on when it comes to crafting policy for the people. This warm approach paired with the mayor's love for education were the factors that helped Santol receive its award. Despite the success, however, Santol continues to work toward excellence and hopes to maintain the seal of good education governance in the year to come. Continuing their training path, the third level of the School Governing Council (SGC) workshop was held last October. Synergeia mentor and program officer, Councilman Eddy Tiongson headed the October workshop, imparting his years of knowledge as both civil servant and mentor.
At the beginning of the activity he reminded the participants that having the award was not a sign that they should slack off, rather, it was a challenge of continuity and improvement—how can Santol maintain its standing and sustain their progress? He likened this to the Sustainable Development goals, an ideal to continue to work toward.
At the workshop, participants were encouraged to participate and share the success stories that they have had with their SGCs. For example, in Barangay Mangaan, the SGC also helps implement infrastructural projects. The sense of "bayanihan," or community teamwork there. Representatives from Ramot Elementary School shared that the SGC and the barangay work closely in thinking projects to implement in school. One of the policies that they crafter was an ordinance on betel nut chewing and smoking. Another barangay shared that their local administration helps prevent truancy by ensuring that children of school age are attending classes.
In response to these, Councilor Tiongson shared his insights and gave out questions that for the participants to consider. For example, he asked if the barangay had ay legislative measures that helped fund children's welfare. He also clarified that effecting change in the community doesn't merely rest on exhibiting cooperation but there were proper channels to go through to ensure that these practices would be made official. He also emphasized the importance of the parents and stakeholders at SGC meetings. Their insight gives an added perspective when making decisions that would benefit more people concerned. He also stressed the important of mirroring and how parents should demonstrate behaviour that they want their children to emulate.
These were just some of the insights imparted by Councilor Eddy, whose years of working in government and with communities added more weight to his words. Under his constant guidance and mentorship, the community of Santol will only continue to grow and thrive in the years to come.