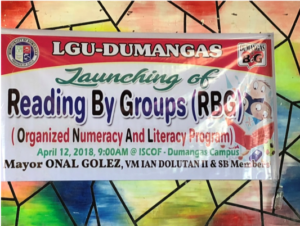 In early March, Synergeia met with the Iloilo Mayors and DepEd District Supervisors on their plans to conduct remedial reading programs for the summer.  Among those municipalities in attendance was Dumangas.  Back to home base, Mayor Ronaldo Golez of Dumangas immediately convened the Local School Board to plan a summer reading activity for the municipality's struggling readers.  The Mayor's initiative was prompted by the support of the provincial government in the form of workbooks and other instructional material.
In preparation for the program, the two district supervisors of Dumangas, with the help of their reading experts, did a school-to-school assessment of the reading capabilities of the pupils using the Test of Word Analysis (TWA).  They found out that in both districts, there are some 1,506 struggling readers.  After planning, and with no time to lose, Dumangas under the supervision of DepEd District Supervisor Dr. Zaldy Quilantang launched the Reading by Group (RBG) program as a component of the Organized Numeracy and Literacy Program of the Mayor.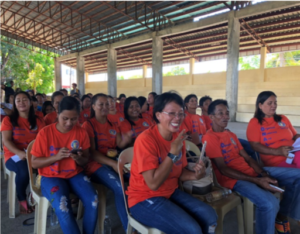 Under the RBG, 20 literacy volunteers funded by the Local School Board will be deployed this summer to handle remedial reading in all the 31 schools of Dumangas.  These teachers will be under the supervision of identified reading experts. Each of the volunteers will be assigned to struggling pupils.  For 45 days, the volunteers will handle two classes in their assigned areas.  They will be supervised and monitored by the reading experts.  All parent leaders from every school have been tapped to assist the program.  A workshop with literacy workers, reading experts, and parents has been conducted.
The Mayor emphasized the importance of education as a poverty alleviation strategy.  Seeing the data on reading difficulties of the students from Dumangas 1 and 2 was disturbing and gave him personal resolve to address the issue before it gets any worse.  He said he draws inspiration from the work of Synergeia and EdGE with its local partners in Iloilo.  It is inspiring that the local officials, educators, parents and the community have signed a Pledge of Commitment in support of the summer reading program.