We were mighty proud and happy when 24 LGUs were given recognition for their outstanding governance in education during last year's 11th National Education Summit. We were witnesses to their journey to become excellent, dedicated education leaders. Thus, we would not miss the formal conferment of the Seal of Good Education Governance (SGEG) to the 5 winners from Mindanao which was held last April 23, 2018. Our Mindanao winners are Cagayan de Oro City in Misamis Oriental, Bongao and Simunul in Tawi-Tawi, and Upi and Datu Paglas in Maguidanao. Their Local Chief Executives were all present to receive the most coveted award in education, namely, CDO Mayor Oscar Moreno, Bongao Mayor Jimuel Que, Simunul Mayor Nazif Abdurahman, North Upi Mayor Ramon Piang and Datu Paglas Mayor Mohammad Paglas.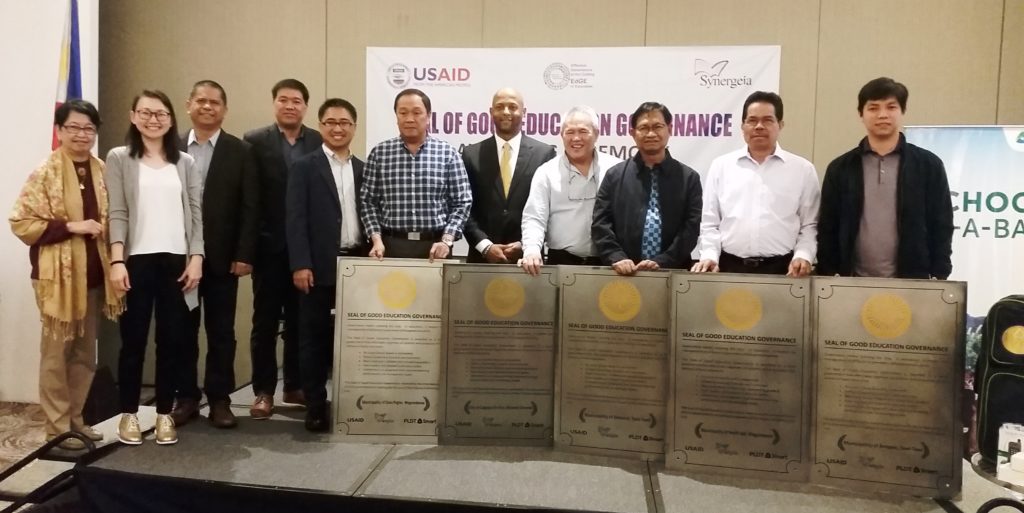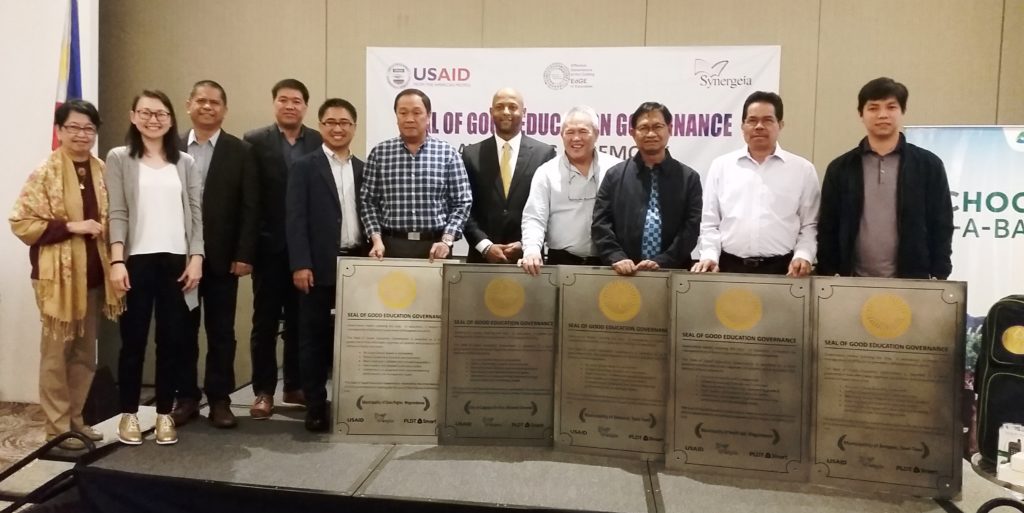 L-R: Pres. & CEO of Synergeia Foundation Milwida M. Guevara, USAID Education Specialist Monica Tan, Smart Distributor Sales Manager Bernie Deatras, PLDT Enterprise Group Mindanao Ben Melosa, Smart Community Partnership Head Darwin Flores, Datu Paglas Mayor Abubakar Paglas, USAID Deputy Chief of Executive Office Timothy Marlowe, Cagayan de Oro City Mayor Oscar Moreno, Simunul Mayor Nazif Abdurahman, North Upi Mayor Ramon Piang, and Bongao Mayor Jimuel Que.
USAID Acting Chief of Executive Office, Mr. Timothy Marlowe, in his keynote speech, thanked PLDT and Smart Telecom for helping the Filipino children. "The support of PLDT-Smart provides an example of generosity to other private sector corporations and organizations. It is a great model of community participation and involvement in education. As a father, I want the best opportunities for my children and I believe education is an investment for the future of our children."
Also present during the SGEG awarding were representatives from PLDT-Smart: Mr. Darwin Flores- VP for Community Partnership, Mr. Deivid Rioferio and Ms. Stephanie Orlino, District Heads of Local DepEd, other LGU officials, Ms. Monica Ang-Tan, USAID Program Specialist, Synergeia President and CEO Dr. Nene Guevara and Synergeia Program Officers.
The handover of SGEG marker and incentive package from PLDT-Smart was led by Mr. Marlowe assisted by Mr. Flores. The package of incentives includes a satellite phone, wifi/internet connection, mobile phone, solar panel, LCD TV and others which form part of "school in a bag."
"Our joy is beyond words!" was how Mayor Moreno described how he and the other Mindanao winners felt. The Mayors thanked USAID and Synergeia for the support to their education programs, and PLDT and SMART Telecom for the incentive and technology package. They committed to do their best always to push for quality education.
Mayor Abdurahman has aptly stated, "we should invest in educating our children and the youth…education is the only way to pull us from poverty." Mayor Jimuel Que, one of the youngest Mayors, believes that "education should be a priority of the local government…through education, children and their families will have better lives…I am lucky because the DepEd officials in our districts are hardworking and dedicated to our mission."
Mayor Paglas was thankful for the capacity building workshops provided under EdGE. He notes that his LGU now allocates funds to support teacher training, remedial reading and production of learning materials. The LGU and the communities are now working closely together to address problems in education. Mayor Piang highlighted the efforts put in by stakeholders in the community to improve the quality of education. The Local School Board has expanded membership from the business, women and youth sectors. Parents, taking their children's education seriously, monitor their children's study habits and homework, and help reduce child labor in Upi. There are Barangay School Boards that coordinate closely with principals and teachers on the needs of children.
Mayor Moreno shared that Cagayan de Oro has built the necessary infrastructure to help improve education performance. Children in the hinterlands will no longer have to walk far to go to school because schools have been built in their communities. He thanked USAID and Synergeia for providing technical direction to their education program. "The city's educational status is our crown jewel. We are molding our future leaders. We should take to heart our role in education," said Mayor Oscar Moreno.