San Gabriel teachers travelled all the way to Bacnotan for their Remedial Reading Workshop because their town did not have a hall big enough to accommodate all the teacher-participants. The long travel through hilly roads nor the lack of local venue did not dampen their spirits. They have imbibed San Gabriel Mayor Hermenegildo Velasco's passion for education. Mayor Velasco said that even if San Gabriel is just a 4th class municipality and a small town in La Union, he would not let these hamper their goal to improve the education of children in their town. They cannot stay 4th class forever, and education is the key to their development.
The teachers actively participated in the different exercises on phonemic awareness, comprehension and thinking skills. They were not timid at all. They were very thankful for the many things they learned from the workshop that they can use to teach reading to their Grades 2 to 6 students.
During the break-out session, Dr. Guevara asked them to create something that would summarize their experience in the whole-day training. One of the participants, Grade 3 Teacher Laila Supanga Kawain of Lon-oy Elementary School wrote a poem on how she felt about the training, what she learned and what left a mark in her from her experience. Teacher Laila explained that she saw her co-teachers were cutting pieces of colored paper to come up with art pieces. But she was not very good in art work. So she wrote a poem to express how much she has learned and appreciated the training. She said blending of sounds and the techniques to teach it are what she would use to her students. Through her poem, she wants to show her gratitude to Synergeia and to EdGE, and wishes for another training in the future.
Below was the poem that she wrote: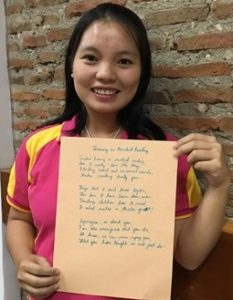 TRAINING ON REMEDIAL READING
Teachers' training on remedial reading
How I really love this thing
Blending vowel and consonant sounds,
Makes reading truly fun.
Things that I don't know before,
This time, I have learned them now.
Teaching children how to read
Is what makes a teacher great!
Synergeia, we thank you
For the sacrifices that you do
We know we can never repay you.
What you have taught, we will just do!