After several months of battling the covid19 pandemic, the ZamBaSulTa (Zamboanga, Basilan, Sulu, Tawi-tawi) Regional Education Council (REC) has regrouped last September 15, 2020 to talk about their learning continuity plans. REC Chairperson and Bongao Mayor Jimuel Que presided. For many of the REC members, getting a good online connection proved to be challenging but they patiently stayed on or reconnected if they lost their signal. The representative of Omar even travelled to Jolo, to the Synergeia site office, just to be able to participate because there was no signal in Omar.
LGU Learning Continuity Plans.
Municipality of Bongao, Tawi-Tawi Province – Bongao did not have covid infections for a long time so the LGU thought that they would be able to conduct face-to-face classes. But the town was hit by widespread infections recently that they have to immediately shift to modular distance learning approach. With the limited time to prepare learning modules, Synergeia CEO and President Dr. Guevara said that she will ask Valenzuela's help if it can share its modules with Bongao. Student enrolment has also declined by 10 per cent because of fear of getting infected by the covid virus.
Despite their health concerns, they cannot let go of their children's education. Bongao has formulated its learning continuity plan with 4 overarching goals – to enhance learning activities, to ensure safety of learners, to support learning through assessment and to mobilize community stakeholders. Their plan has defined their expected outputs and outcomes, their timeframe to accomplish their activities and the responsible persons to do the tasks. They will tap the SEF and the schools' MOOE to fund their activities.
GOAL 1: Ensuring learners are reached, enrolled and satisfactorily engaged in the learning activities until they complete the desired level. Reproduction of Self-Learning Modules (SLM) District Level Orientation Parents' Orientation
GOAL 2: Ensuring the safety and well-being of the learners, their families, and the education personnel. Disinfection and sanitation of school buildings and the school areas.Preparation of hand-wash sanitation area in every school. Regular disinfection and sanitation of school areas.
GOAL 3: Adapting appropriate teaching and learning process best suited to the context of the learners and their families. Modular Distance Learning Assessment and Evaluation (per class, school, then district)Creation of Group Chats (Messenger) for updates and dissemination of instructions to parents and learners.
GOAL 4: Mobilizing stakeholders to establish partnership and solidarity to support learning continuity. SGC Monitoring of the Modular Distance Learning on learner's development SGC Capacity Training for the New-Normal Education
Municipality of Jolo, Sulu Province. Jolo LGU said it is committed to ensure that education continues despite the most challenging circumstances. They will ensure that learning continues through the most appropriate mode of delivery. Their learning continuity plan has the following components:
Learning materials for home schooling will be printed and ready for distribution to students. By way of support for module reproduction, the LGU provided copiers to the 4 districts of Jolo and one to the office of the superintendent.
They will ensure that health measures are strengthened and protocols are practiced conscientiously.
Parents were given orientation workshops on how students learn at home.
Their next plans include: To map slow and non-readers. To conduct workshop for creation of reading materials. To orient Jolo Municipal volunteers to assist parents and provide home service volunteer work.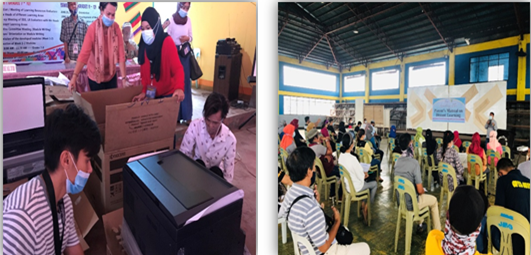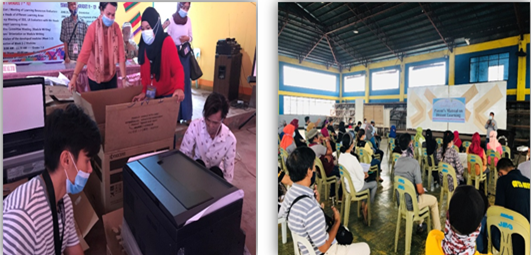 Municipality of Omar, Sulu Province. Omar representative, Mr. Habibazar S. Mustafa, was proud to report on the initiatives of the LSB and SGC in Omar. Last September 25, 2019, their Mayor signed Executive Order No. 002, entitled "Reconstituting the LSB of the Municipality of Omar, Sulu with Mayor as the Chair, and District In-Charge of MBHTE as CO-Chair." The LSB conducts regular quarterly meetings and regularly advises the school administrators on policies and procedures for effective learning. They conducted a municipal education summit on February 24, 2020 with 150 participants comprising of teachers, parents, barangay and municipal officials and staff, PNP and military representatives.
The LSB and the SGC must work together for the effective delivery of education especially during this pandemic. It has been helpful for Omar that the SGCs of all 15 schools have undergone training on their roles and functions last February 27, 2020. They trained in action planning and did their own individual plans with corresponding budgets. The SGC/ PTCA is also represented in the Local School Board.
Their LGU is now faced with a reduction in student enrolment from 3,683 in SY 2019 to 3,158 this SY 2020, or a decrease of 525 enrollees. This is mainly due to the pandemic and fear of parents that a vaccine is nowhere in sight. Some families have also changed residence. Even with this predicament, Omar thinks that the quality of education must be sustained. Mr. Mustafa presented the learning continuity plan of Omar:
The LSB will: Sustain the P2,000/ mo. honorarium of seventy (70) volunteer teachersImmediately install handwashing facility in every classroom of 15 schools Purchase risograph machine for weekly reproduction of modules and activity sheets of pupils.Provide teachers' training on remediation for non-readersParents, especially the non-readers among them, are being enrolled in the alternative learning system
Municipality of Maluso, Basilan Province. Maluso town is still in the process of student enrolment and hopes that their enrolment figures will still improve. At the moment, only 8,903 students are enrolled in elementary and high school, or a 21 per cent decline from last year's enrolment. The LSB Secretary, Ms. Aurora Catigum, reported that they are reaching out and contacting parents to have their children enrolled in school.
These are the education plans of Maluso:
Prioritizing LSB Programs on Distance/Remote Learning Production of learning modules Conduct of Dry Run Give priority assistance to schools without MOOE Utilize the Local Radio Station Crafting of LSB Basic Education Learning Continuity Plan
Engaging and working with the Community – SGCs, Parents, Schools and BarangaysParents' engagement in distance learning Parents as Facilitators Barangay hall as drop off/pick up points of printed learning modules Brigada Eskwela (on Schools Disinfection)Orientation on Health Protocols
3. Strengthening REC Coordination and Partnership Quarter Meetings/Assembly Sharing of Best Practices
Municipality of Al-Barka, Basilan Province. Al-Barka's main challenge under the distance learning mode is that majority of the parents are unable to teach their children at home. The LGU is now studying whether it would allow sending students to school for half-day classes but maintaining a limited number of students inside classrooms and following all health protocols.
In the meantime, Al-Barka has been preparing for remote learning. The LSB purchased 13 printers for the reproduction of modular lessons to be distributed in 12 schools in Al-Barka and in District Office. It has also hired on job order basis, Education graduates and assigned them in different schools in Al-Barka to fill up the shortage of teacher. The LGU has also hired IT graduates on job order and assigned them to different schools to help the teachers in distance teaching and in the operation of reproduction machines.
Municipality of Lamitan, Basilan Province. The SDS of Lamitan made the presentation on behalf of the LSB. She said that they are ready with their modules for the 1st and 2nd quarters. She will provide Synergeia with sample copies of the modules. She also reported that the LSB has included in the Lamitan medium-term plan the establishment of a local tv/radio station and internet connection that can be used in remote learning.
Municipality of Siayan, Zamboanga del Norte Province. The Mayor of Siayan, Atty. Josecor Gepolongca believes that if they focused on education, their municipality will no longer be declared as one of the poorest in the country. He acknowledged that this could be quite a challenge in the face of the pandemic but emphasized that his administration will not be deterred and will continue to pursue his agenda of hope focusing on education.
Siayan has 36 schools and 8 newly created extension high schools. There are 7,046 elementary students and 3,065 high school students, or a total of 10,111. For this coming school year, Siayan will implement a blended learning approach, i.e., the modular and home-based learning will be reinforced by radio-based instruction by teachers. Their learning continuity program involves these strategies:
Sustaining enrolment numbers Coordination meetings between LSB and DepEdEnrolment campaigns over the radioDistribution of enrolment forms by the barangays, teachers and grassroots and livelihood councils of the LGULGU conducted an intensive campaign on alternative mode of delivery for out of school youth through the ALS so they can continue learning, especially those in the far-flung areasVisitation to far-flung areas, led by the Mayor
Teachers and parents training on blended educationTeacher training on radio broadcasting because some lessons will be broadcasted over the local radioParents' orientation in blended learning
LGU allocated 2 units of photocopiers to the district
LSB realigned the SEF for the purchase of PPEs
Extension schools were established; make-shift buildings were constructed
An extension of the Jose Rizal State University will be brought to Siayan and will offer courses in agriculture and forestry.
LGU supported a summer reading camp conducted last July 7-August 14, 2020 for beginning and struggling readers. LGU partnered with the private sector in the distribution of Marungko booklets to beginning and struggling readers. A parents' orientation on reading and drawing was held in parallel to the reading camp.
LGU facilitated a webinar for teachers on module development.
School supplies and food were given to learners
Synergeia will request copies of the learning modules and check these for consistency. We help LGUs which do not have modules yet by seeking Valenzuela's permission to share the modules that it has already prepared. We will also coordinate with the LGUs and offer a systematic training of parents.