The local government of the municipality of Luna, La Union has reason to be proud. The local school board's (LSB) initiative to train its teachers in October 2014 resulted into the future publication and distribution of an original story made by five teachers to benefit children nationwide.
According to Luna Mayor Victor Marron, the success was the result of attending the LSB workshop conducted by Synergeia Foundation under USAID's Education Governance Effectiveness (EdGE) in October 2013. This was when he learned that effective education programs need not require big funds. "We started to think of projects that will have the biggest impact in enhancing children's learning abilities on a limited budget," he relates.
"Students have difficulty coping in high school because they did not develop the enthusiasm for reading in their early years," Mayor Marron says.
Mayor Marron determined that enhancing the instructional skills of Grade 1 teachers would help children form good reading habits that will sustain their educational growth. "Students have difficulty coping in high school because they did not develop the enthusiasm for reading in their early years," he says.
On October 10-12, 2014, the LSB initiated the training of twenty Grade 1 teachers on storytelling, story-writing for young learners and big-book making with a complimentary training on English pronunciation and soft skills through The Storytelling Project (TSP) and EdGE partner/implementor Synergeia Foundation.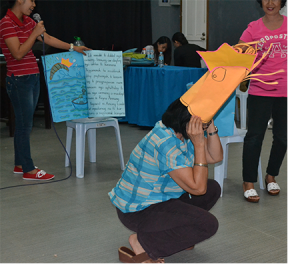 During the training, a group of five teachers came up with an original story titled "Ti Dakkel Nga Armang" (The Big Krill). Armang (krill) or alamang in Filipino is abundant in the fishing village of coastal Rimos no. 4 in Luna where the teachers are posted. The fictional story depicts real life in a fishing village. The mythical story incorporates good values and love for the environment that children can easily relate to. TSP founder Rey Bufi, reportedly, was so impressed by the story that he offered to publish it commercially for distribution in Fully Booked bookstore outlets. On Dec. 28, 2014, Bufi worked with the teachers to improve the story and translate it in Filipino in preparation for its official publication as an illustrated big book. It will be distributed within early 2015 with full support from Luna's LGU.
"The teachers said the training was so different from others they had in the past," Mayor Marron shares. Inspired by the success, he initiated a roll-out training to day-care teachers on Dec. 27-29, 2014. He expects that through this effort, Luna children will gain the love for reading in their formative years to sustain their education in the long term.
Teachers from a fishing village in Luna, La Union relate the original story they conceptualized through visual presentation during the LSB-initiated training.
---