When Super Typhoon Yolanda ravaged the Visayan region on November 8, 2013, the residents of the Municipality of Batad, Iloilo are among those that had to contend with the aftermath. Apart from displaced families, damaged properties, farmlands and buildings, many public elementary schools were practically rendered useless even as temporary evacuation centers.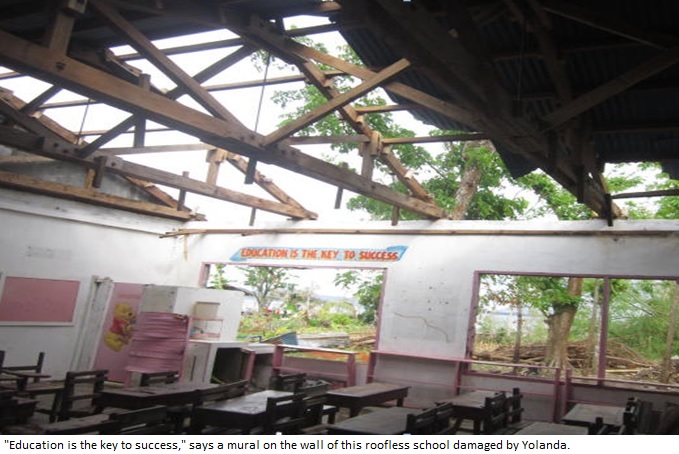 Synergeia Foundation President Dr. Nene Guevara shortly got in touch with regular Synergeia volunteer and Batad Councilman Ernesto 'Estong' Balida in Iloilo to inform that an initial donation of Forty Five Thousand Pesos from Sycip Gorres Velayo (SGV) President and Synergeia Trustee Washington Sycip would be sent for the affected schools.
Coun. Estong did not waste time after the fund was received. A barangay meeting was called to get a consensus from all sectors on how to use the money. They conducted an inspection of all the schools and after careful consideration chose Bulak Sur Elementary School to be the recipient of the Synergeia/SGV Fund.
But the community still faced the dilemma of rebuilding a heavily damaged school with limited funds. The major question was how to make the best of what they have. The bayanihan spirit then took its own natural course.
"Kami ang bahala sa labor," (We'll take care of labor expenses), members of the barangay council offered. Together with the barangay chairman, they unanimously agreed to realign the 'Cash for Work' fund from the Department of Social Welfare and Development to help the school. Blackboards would require master carpenters so the barangay committed to shoulder the labor expenses for those as well.
Parents and teachers volunteered to feed the carpenters as well as do clean ups. Along the course of the meeting, the council figured that if anyone had trees felled by the typhoon, the Synergeia/SGV Fund could be used to buy a chainsaw, gasoline and labor expense to harness them. As it happened, Typhoon Yolanda yielded a fair amount of felled trees. "That's how we saved on lumber cost", Coun. Estong said. They later received 500 G.I. sheets from PHINMA through Ateneo University that were used as additional material for school roofing.
Through careful planning, efficient use of funds and the combined efforts of everyone in the community, the project of rebuilding Bulak Elementary School thus commenced. Within two weeks after they received the Synergeia/SGV Fund on December 2013, the community had rebuilt a two-classroom building and immediately proceeded to build another two. Thus, the project was accomplished with extra funds and lumber to spare. Classes in Bulak Elementary resumed on January 2014.
"Lahat tumulong. Nagtrabaho na sila kahit walang bayad. Sumobra pa ang 45 thousand," (Everyone helped. They ended up working even without pay. The 45 Thousand was more than enough), Coun. Estong recounted proudly. He said the overage from the initial P45 Thousand and extra lumber were forwarded to Malico Primary School within the same municipality for its own rehabilitation.
"The faculty, parents and pupils of BULAK ELEMENTARY SCHOOL (Batad, Iloilo) would like to thank Synergeia Foundation for the help you extend to us. Now we have our roofs back and have our regular classes. Thank you so much," a certain MJ Agranzamendrez posted on Synergeia's Facebook Page.
"A lot of schools still need help," Coun. Estong said as he took the opportunity to make an additional appeal for the other elementary schools of Batad that still need financial assistance, namely, Alinsolong Elem. School, Malico Primary School, Embarcadero Elem. School, Banban Primary School, Alapasco Elem. School, Cabagohan Elem. School, and Batad Central School.
A small amount can go a long way in the hands of people sincerely dedicated to rebuilding their community.
by Ruth Santos, Photos courtesy of Coun. Estong Balida, Office of the Mayor, Municipality of Batad, Iloilo Province
Continue reading

"How a Community Rebuilt a School Damaged by Yolanda"