Mayor Makmod Muti welcomed the teachers to Saguiaran National High School, the site of the training program in English, Science and Math on May 28-30, 2012. It was a welcome sight to see the teachers all dressed up smartly in their colourful Maranaw attires. The atmosphere was festive and cold, much like the Baguio weather.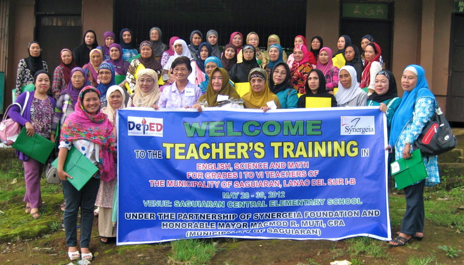 The mayor reminded the teachers and administrators that the average NAT score of the students from Saguiaran is 50 percent. He enjoined them to work together to improve the learners' performance. He appreciates the LGUs partnership with Synergeia to enable them to lead in implementing education programs. He assured the teachers that education is the first priority of the municipality. As proof, the LGU shouldered the cost of meals, transportation of teachers and other related training costs amounting to around P160,000.
The resource persons from Xavier University led by Mrs. Flerida Nery provided teachers with interactive activities. The teachers had no problem in grammar but they had difficulties in pronouncing some English words. Teacher Beng prepared a lot of exercises to improve their pronunciation. In Science, the teachers were very excited in conducting the experiments. The common complaint was the lack of materials and equipment that they can use when they get back to their schools. Teacher Connie encouraged them to be creative. She demonstrated how materials that are commonly available in their communities can be used. The teachers were so enthused and sincerely appreciated the confidence, the knowledge and the skills that they developed. "More, more, more", they chorused.
---