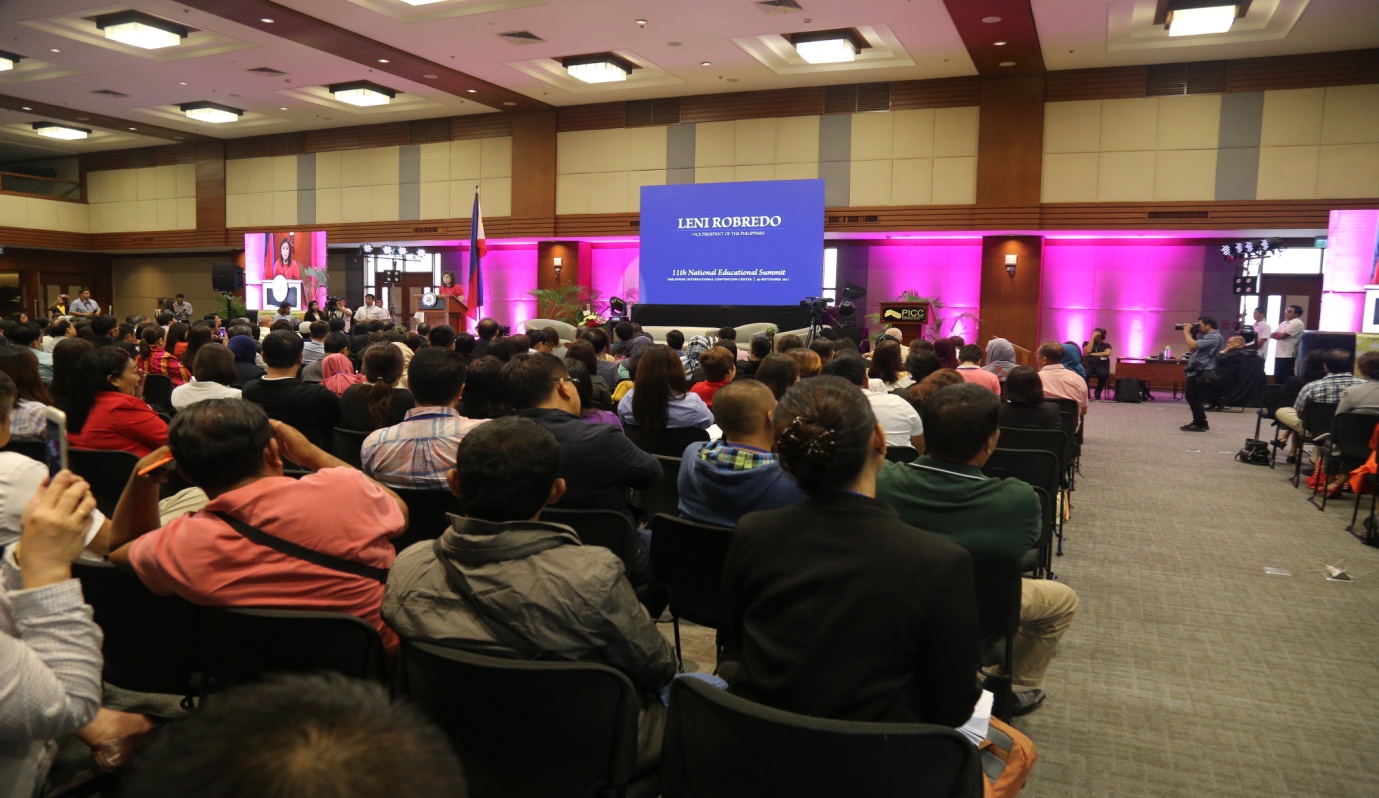 Excerpts from the Keynote Speech of
Her Excellency
Vice President Maria Leonor Gerona Robredo
Vice President of the Philippines
Delivered on September 29, 2017
at the 11th National Education Summit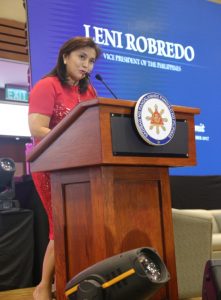 Every time I get invited to a Synergeia event, I feel like my husband is right beside me… This feels like home … this feels like family. Thank you for the warm welcome and the opportunity for all of us to learn together. This is also a moment of pride for us in Synergeia. The Ozanam Award which Ateneo De Manila University gave to Ma'am Nene a few days ago affirms that her passion, patience and love for education reform have transformed so many communities around the country…
…Synergeia is truly a convener of those who feel most passionately about education reform and cares deeply about the children, and the parents who sacrificed everything so that our nation's children can have the best education in our public schools. But globally, there seems to be a universal agreement that most countries' education systems are limited. What an irony, considering the advancement of human thought, innovation and technology in our workplace.
In each of our communities, we struggle with lack of classrooms, teachers and training for teachers, chairs, tables, books, source of clean water, and many other things…
…I find hope in the fact that, at least among the local chief executives who are here, the school administrators and educators, and many others out there, there is commitment, inspiration and grit. The more you share best practices with each other, the more you share our stories, those three things increase. This collaboration is especially important for local leaders and, therefore, for our education system. Governance is critical to the improvement of the way we teach our public school students and the way we provide for their needs. That is the reason why everything that seems impossible becomes possible when local leaders are determined to make them happen. You are the key to make these happen…
…Imagine how much good we can do in our communities, cities, town and provinces if…we have the determination to use resources honestly and accountably, with excellence and speed, for the children enrolled in the public school. Every year we need to do better, run faster and move smarter. We need to collaborate with more power. Sometimes, it may seem like the system is too big to change, and we cannot control what is happening. But let me tell you about two persons who proved that we do have control and our constant daily choices, as well as the most difficult ones, are the instruments that give us control.
We have a program called Stories of Hope. We launched this program as an attempt to change the conversation … to push away all the negativity around us. We look for inspiring stories of hope of ordinary people doing extraordinary things. In all of those trips, we came across stories of two teachers.
Wyndell Alvarez – He was a head teacher in Caramoan but decided to do volunteer work as a mobile teacher for a far flung barangay. He taught anyone who wanted to learn under DepEd' ALS. He partnered with Yellow Boat of Hope Foundation, teaching in communities on his own. He was from a poor family but he saw a lot more people poorer than him. Since he didn't have money to give, he decided to extend his service.
Another inspiring story was Sabrina Ongkiko. She is the daughter of an economist, Ateneo-trained and about to submit her application to medical school. When a mentor told her that she would make a good public school teacher, that moment of impact made her rethink of her life. She ended up applying in DepEd for a post in Culiat Elementary School… Sabrina made public school teaching her life… She is the ambassador of those kinds of teachers who continue to teach even though their feet get very wet when the rain comes because they have a small mini "waterfall" inside the classroom…She chose to see public school as hope, public school teachers as katuwang (partners) and public school students as excellent.
Again, choices, and so it is with all of us. Our constant daily choices will determine our reality and if there are many local chief executives, school administrators, congressmen, senators, governors, mayors, barangay captains, teachers, parents and students who are determined to prove that our education system can be fixed, it will become one of those in the world that will not be broken. I really believe that.
Change truly begins with each one of us. Just like all waterfalls, they cascade and create a massive moment of positive transformation. We cannot afford not to believe in it. What if one of our students in the classroom is the next Jack Ma or Washington Sycip, or the next Bill Gates? We need to give them that learning environment and we need to do it fast. Nasa ating lahat nakasalalay ang pag-asa ng bayan. Kaya paghusayan po natin. Let us continue pushing ourselves to the limit because the entire country is pinning their hopes on us.