Values formation should be emphasized in schools apart from the quality of knowledge imparted to children. This was stressed by Municipal Mayor Abraham Gutierrez in his address during Padre Garcia's 2nd Education Summit in Batangas on Oct. 12, 2013. The mayor said several of his programs are already dedicated to this cause citing a campaign to revive the use of "po" and "opo" in addressing elders. He then encouraged everyone to help those in need according to his own capacity. "Ang tutugon po sa mga problema ay hindi lang si Mayor at si Vice Mayor o ang Synergeia, kundi ang buong komunidad," he reminded.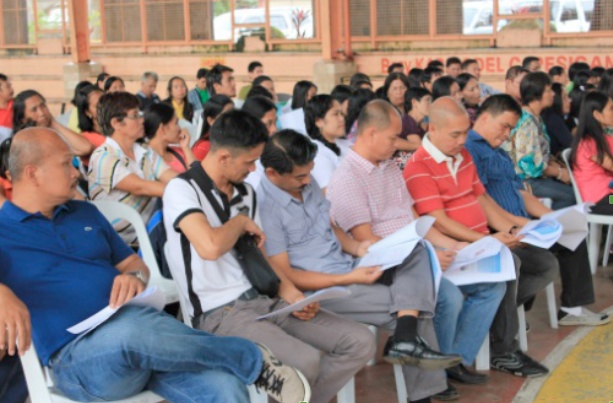 Vice Mayor Noel Cantos then reported that cohort survival improved as 87% of students were able to finish 6th grade. However, he expressed alarm at the dwindling number of children going to school. From 66% in 2008-2009, the percentage of children in school fell to 63.47%. He also noted that NAT scores have gone down from 82.3% to 62.3% since school year 2010-2011.
Participants were asked to cooperate in order to identify the root causes of these problems. "Kahit ano pong pagpilit naming ang aming sarili sa inyo, kung wala po ang inyong kooperasyon, wala pong mangyayari," the Vice Mayor said. He then asked for their commitment to come up with workable solutions.
Educators, parents and delegates from the local government unit, that comprises the local school board, each listed their dreams for their children, the factors that hinder those dreams, and possible action plans to ensure that their dreams are achieved. The common goal was clear – for children to finish school so that they will have a brighter future.
Results from the summit will be used in drafting an effective educational program suited to the needs of Padre Garcia's elementary school children. Four separate trainings will be held for the benefit of the local school board, principals, teachers and parents, respectively, to be similarly facilitated by Synergeia under the EdGe Program funded by USAID.
The summit was attended by delegates from Clusters 2 & 3 consisting of 13 Elementary Schools in Padre Garcia, Batangas.
(By Ruth Santos with reports from Bernard Borromeo and Miguel Serapio)
---