"I have a bag! I have a bag!" Second-grader Calasara Hodlero declared loudly as she came home from school. Calasara's grandmother, Nimfa Hodlero recalls how excited her 7-year old granddaughter was the day she received the new bag from USAID that comes with an English workbook and various school supplies. Calasara is one of about 35,000 pupils in the Visayas Region who received learning materials as part of the post-disaster aid component of USAID's Education Governance Effectiveness (EdGE) Program implemented by Synergeia Foundation.
Calasara's school, Bayas Elementary School, and over 400 other schools received community incentive grants in the form of various electronic equipment while almost 4,000 teachers each received teaching materials. The aid, under the theme Hugpong sa Pagbangon (We Will Rise Together), is USAID's response action to help children whose education was severely affected by Typhoon Yolanda (Haiyan) in early November 2013.
Grandma Nimfa, who looks after Calasara while the child's parents are out at sea, says it is very hard to earn a living as fishermen in a typhoon-prone province but it is the only option for most folks in Bayas Island within the municipality of Estancia, Iloilo. "When the winds become strong, they can't sail so there's no money," she says. Since the school year starts around the same time as the rainy season, parents struggle the hardest to provide their children's school needs.
Principal Arniel Aldamar of Bayas ES, confirms parents' great relief upon learning about USAID's assistance. "They were very excited because they don't have to earn extra money nor go to the mainland to buy school supplies for their children," he said. Aldamar further relates how the aid inspired the parents to support the school in whatever way they can. "As soon as they learned that the school supplies were on the way, they all gathered by the shore and waited. They helped unload the items from the boats and carried them to the school in makeshift carts," recounts Aldamar. He notes that parents and teachers have become more supportive of the school since then due to the transparency exercised by the school and the local government. "We received everything that was meant for us," Grandma Nimfa shares gratefully. Enrolment also increased owing to USAID's assistance that inspired the community to work together, according to Aldamar.
Grade 2 and 3 teachers of Bayas ES, have another reason to be grateful. Their students have always had to share limited workbooks in class which they could not take home. With USAID supplying enough workbooks for each child, they are much more motivated to study on their own. "Parents are always out at sea and can't guide their children's studies. Now the kids can take home their own English book to review at home," says teacher Kimberly Buenaventura.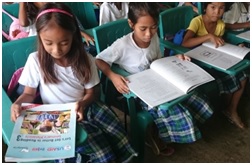 USAID has provided all Grade 2 and 3 pupils numbering about 35,000 in over 400 schools in three Visayan provinces their own English workbooks.
EdGE is a five year project that seeks to improve education governance with the end goal of improving learning outcomes, particularly early grade reading, for at least 1 million children.
---