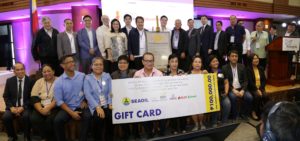 U.S. Embassy's Chargé d'Affaires Michael S. Klecheski (standing fourth from left) and Vice President of the Philippines Leni Robredo (standing fifth from left) with the Seal of Good Education Governance awardees at the 12th National Education Summit (Photo courtesy of Synergeia Foundation)
Manila, Philippines — USAID Philippines with the Philippine government and Synergeia Foundation, convened the 12th National Education Summit on September 6, 2018. More than 600 leaders from local governments, schools, and the private sector gathered to share good practices in education governance, including topics such as community engagement, budgeting, partnerships, and decentralization of basic education. Vice President Leni Robredo delivered the keynote address, and U.S. Embassy's Chargé d'Affaires Michael S. Klecheski also participated in the event.
The summit was part of USAID's Education Governance Effectiveness (EdGE) project that supports the Philippines' goal of boosting learning outcomes in the early grades. Since 2013, USAID's EdGE project has collaborated with the Philippine government to mentor representatives from local governments, school boards, and administrations to effectively plan, manage, and evaluate education programs. In May 2018, USAID expanded the EdGE project to address barriers to accessing education faced by students, particularly girls, displaced by the Marawi conflict.
"The U.S. government believes that early-grade literacy is the foundation for future learning. But this foundation also requires strong community engagement, accountability, and transparency in education," said the U.S. Embassy's Chargé d'Affaires Michael S. Klecheski. "I commend you for taking the necessary steps in investing in your children, and therefore, investing in our common future."
Note: Taken from the Newsletter of the Office of Education /USAID