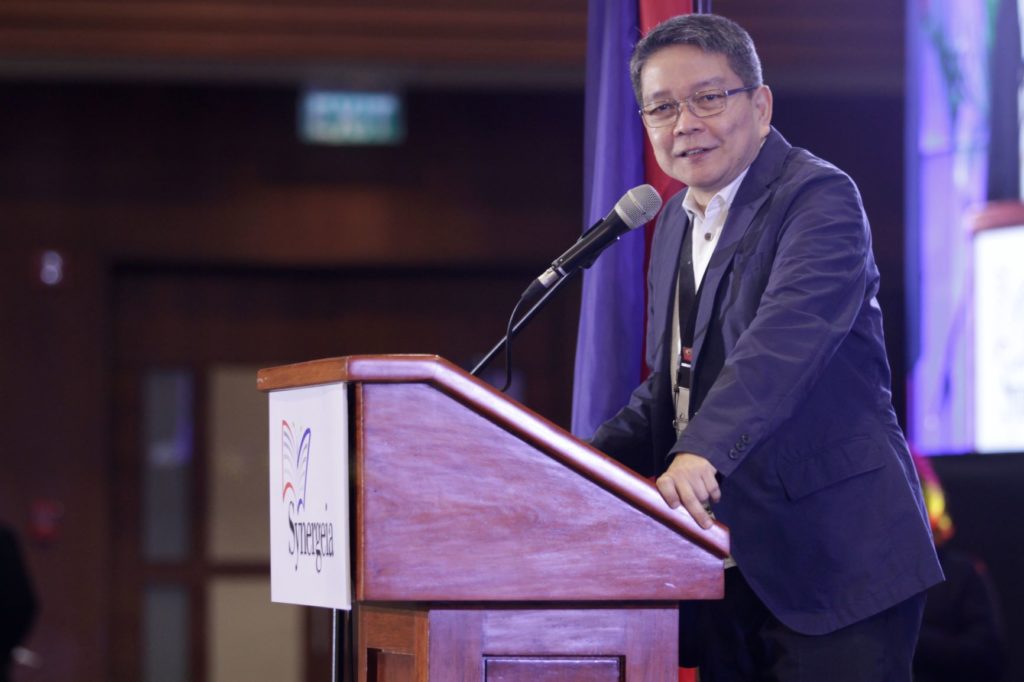 To our beloved education champions and leaders, our friends from USAID, the US embassy, the World Bank, our friends from the local government units (LGUs), ladies and gentlemen, good morning. Please do not mind the title. It says "The Word According to the Chair" as if, you know, I'm God or some Gospel writer, which I'm not. Today, I just wish to share some stories and points for us to dwell on. I beg your forgiveness because some parts of this telling will be in the vernacular.
Back in 1980, I found myself visiting some high school in Maramag, Bukidnon. I teach physics and so I asked to see the physics laboratory. I wanted to know how physics was taught in a faraway place called Maramag. I asked, "Do you have anything to demonstrate force, mass, or acceleration?" They showed me cardboard equipment and I thought, well, that's creative, and in a way, I marveled at how physics could be taught with flimsy cardboard.
Anyway, fast forward to 2002, a little over two decades later, I am in another LGU, in far-away Palanan, Isabela. This time I ask to see their chemistry lab in the high school. Of course there is no laboratory. And so I ask the teacher, "How do you teach chemistry without a laboratory?" Her answer was something to this effect: we just have this little manual that shows them a picture of a test tube and then we just tell them if you mix the chemicals, the colors change to blue or green or red, because there are no chemicals.
Maramag was four decades ago. Palanan, two decades ago. I wonder now if we visit some of our schools today if we shall still see cardboard equipment or chemistry coloring books.
Four years ago, our medical students made a film titled, Kuwentong Tsububo. Tsubibo is our word for carousel, merry-go-round, or ferris wheel. The movie is composed of stories that reflect the life of our people and the profession of medicine. Kuwentong Tsubibo is a collection of stories that have a way of coming around full circle.
Beneath the stories were disturbing questions. One question was about the profession of medicine itself, a reflection on the fact that people who get sick go to doctors; doctors in turn diagnose and prescribe something to cure their sickness; they get well; after a while, they get sick again, then they go back to the doctor who cures them again, till they get sick again, and so forth and so on. Yumayaman ako habang nagkakasakit ka. Bakit ka nagkakasakit? In one story about the terrible issue of organ selling, the film asks painfully, why are people so poor they have to sell a part of their bodies? Why can't they escape these cyclic traps of getting sick and being poor?
Tsubibo. Pabalik-balik na parang walang pagbabago. When things keep returning, despite the change of people, despite the changes over time, over generations, we wonder about the role of systems. We ask about things that are systemic or embedded or (if I may use that long word) "institutionalized."
Systems or structures or institutions have a lot of staying power. They have a way of surviving changes. Conditions like poverty and its stickiness over the generations make us wonder about how poverty itself is institutionalized. Malnutrition is systemic, even discrimination or corruption, or mis- and under-education. Nasa sistema, embedded in the system. Culture itself is systemic. It is important for us to reflect on these tsubibo systems, on the conditions that keep returning because they are systemic.
Alam niyo minsan napapatanong ako, mangmang ba o bobo ang Pilipino? If we are ignorant, is it because there is not much up here in between our ears? I don't think so. If we cannot do fractions, is it because of a lack of something? If capacities do not change despite the change in people and generations, despite so much effort expended, perhaps then something is broken. If the reading scores are just about the same as 20 or 40 years ago, perhaps the education system itself is broken and we need to ask ourselves why it is so hard for us to repair systems that are broken.
Systems and institutions are abstract, and while we Filipinos are more comfortable with the concrete day-to-day, we cannot discount abstract things like systems and institutions and cultures that are just as real.
I for one think we Filipinos are not bobo. Meron po tayong angking talino. (We possess a certain native intelligence.) Just listen to Ton Ton here who has been wittily interacting with us even before we began our summit. Our wit and humor might be our way of coping with the harshness of life, but these are also signs of innate intelligence. The ability or abilidad to improvise and adapt in the face of fluid situations is some form of talino, angking talino.
The children of Palanan know five languages: English, Tagalog, Ibanag, Ilocano, and Paranán. (I am not a linguist but I believe Paranán is another language. Mapiyadimadimang di kumoy a tanan. That's "good morning to you all" in Paranán and the only familiar word I see there is tanan.) Imagine, the children can speak five languages. If you're not natively intelligent, how can you handle five languages? These are the same young ones who make do with colored pictures of test tubes because they do not have a chemistry lab. Imagine what more they could do or achieve if they had real test tubes and real laboratories in school.
I only have a simple message really for all of us today. Patuloy po nating alagaan ang maliliit, ang mga bulilit, ang mga musmos. Kasi naman po, madalas minamaliit ang maliliit, isinasantabi ang mga paslit. Children are ordinarily pushed to the fringes of adult concerns. Sila ang isasakay natin sa tsubibo. Balang-araw, sila rin ang magpapaikot at paiikutan ng tsubibo; itong tsubibo ng kahirapang walang pagbabago, ng kahirapang paulit-ulit, ang tsubibong hapis na pabalik-balik.
Minsan po nakitira ako sa Navotas ng ilang araw. Again, I wanted to know what the children knew and so I quizzed them on all sorts of topics. On color, I wanted to know what their color for gray was. And so I pointed to my digital watch and I asked, "Anong kulay ng mga numero sa aking relo?" Ang sagot nila, "Kulay kanal!" That is what gray is, 'kanal,' the color of wastewater they see every day of their lives. The color of the digits in the watch is kanal. Inside me, I mourned how they will carry this color for the rest of their lives. We know they will carry many other things as well. Kaya alagaan po natin ang mga bata. Kung ano ang sinasabi natin o di sinasabi ngayon, kanilang babaunin habang buhay. Baka pati narin ang salita nila maging"salitang kanal." Let us worry and be concerned about what we are planting today.
Alagaan po natin ang mga paslit. To do this, we need to take care of their persons, yes, but we also need to take care of institutions. As leaders, institutions are also our responsibility. Sana po itayó at pagtibayin natin ang mga institusyon na kailangang itayo alangalang sa ating mga musmos.
Anong aba ang institusyon? Ang bahay po ay isang institusyon. Ang pamilya na nananáhan sa bahay na ito, institusyon. Ang tahanan po, institusyon. Tahanan in Filipino means a place where things stop or subside. When a child cries, we say, "Tahan na." The home is where the rain stops, where the tears subside, a place of safety and security and love. That is why in our educational mission, we cannot but work with parents, with family. Ang eskwela po, institusyon. Ang guro, institusyon. Ang LSB o Local School Board, ang School Governing Council o SGC, ang mga ito ay mahahalagang institusyon. These institutions require rituals, such as regular meetings that make us come together, and rules (such as policies) to govern our tasks and responsibilities, so that our good work becomes a matter of habit. Democracy is another example of an institution. The rule of people, the rule of law cannot rule if institutions are not present or if these are weak.
Isa po sa sakit ng ating lipunan ay ang kahinaan ng ating mga institusyon. Our institutions are weak. Just look for example at the current issue or institution of the GCTA (or Good Conduct Time Allowance), which is like GMRC (or Good Manners and Right Conduct) but for those in our prisons. We know that institutions such as the GCTA are weak because they can be manipulated and easily bought. Depende kung sino ang malakas, kung sino ang may yaman. How do we build our institutions so that these are not readily bent by those with wealth and power? That's the challenge. Hindi naman ito imposible kung matututo tayo sa kasaysayan ng pag-unlad ng ilan sa mga komunidad natin at ng ibat' ibang lipunan sa mundo.
Paano natin patátatagín ang mga institusyon? Magsimula tayo sa edukasyon. First, we need to educate ourselves more than anyone else. We need to teach ourselves. What do we need to learn? We need to learn to see our weaknesses and blindnesses. We need to see again what is important to us, our values. We need to learn about and institute accountability. Ang dali po nating magturuan sa isa't isa.
Then we need to teach our children. Alam niyo po, sa senior high school ng Ateneo, nagsimula na tayo mag GMRC muli. Binalikan natin at ibinuhay muli ang GMRC kasi kailangan po lalung-lalo na sa mga panahong ito.
Let us teach our children what is right. Turuan natin sila ng tama. Turuan natin sila ng magandang asal at ugali at tamang salita. Turuan po natin silang magalit sa mali. Ituwid ang mali at huwag maging manhid sa katiwalian. Huwag magbulag-bulagan sa dilim at kasinungalingan. At huwag tumawa sa mga biro na masakit lalung-lalo na sa kababaihan. Turuan silang magpasalamat at tumanaw ng utang na loob sa kapwa. Maging magalang at tuwinang bumaling sa Diyos.
It is heartening to know that you our local chief executives and officials are also educators at heart. You have embraced the mission of taking care of our children, of ensuring that all children in your communities can complete basic education. Simple lang naman ang ating layunin: ang makatapos ang ating kabataan ng kanilang pag-aaral. Tulad ng mga kasamahan natin sa DepEd at ng ating mga magulang, inyong pinagkaabalahan din ang partisipasyon at pagtatapos ng mgabata. Kung ano ang grado o achievement scores ng ating kabataan sa reading, math at science, siya ring grado ng inyong pamumuno. The score of "your" children's achievement in school is the score of your leadership and governance.
Whose are these children anyway? In the first instance they are the children of their parents. But as leaders you are also telling the world that these children are yours. Their child is my child is our child. Anak nila, anak ko rin, anak nating lahat.
Puede naming hindi nyo pagtuunan sila ng pansin. Ang daming problema sa bawat munisipyo at barangay. You can spend your political capital and balance your leadership scorecard on many other pressing concerns. And yet, you have chosen to place a premium on basic education, on dedicating your time and full attention, your leadership and your resources in taking care of our children. This is statesmanship, true leadership since what you're planting now will take a while to grow and this process of sowing and clearing weeds up to harvest time may take longer than your political lifetimes.
Children do not vote. Perhaps someday they will realize what you have done for them. Perhaps not. You are sowing seeds today, even if you may no longer be around to benefit from the harvest later. Nagpupunla kayo kahit alam ninyong wala na marahil kayo para pitasin ang bunga ng inyong itinanim sa lupa ng kanilang kabataan.
On behalf of Synergeia and our many faithful partners, I welcome you all with a joyful heart. You bring us hope and light. Your being here inspires me and so many more who have grown confused and perhaps disenchanted with what's been happening in our country and in the world today. Because of you, we know that in our cities and villages, there are leaders who have enough sincerity and compassion and competence to lead our people from darkness to light.
From darkness to light. This is what leaders do. They lead people from dark to light. They do not dwell on the dark side; they do not divide us so that we can no longer separate dark from light; they do not tell us dark stories. They do not harp on how hopelessly dark the night is. Leaders turn us to the light. If they have power, it is only because they can multiply power and return that power back to the people. Education is a privileged means by which leaders return power to the people in a lasting way.
In one of our national summits on education a few years ago, I remembered Jesse: I hope we never forget the leadership of Jesse Robredo. His pioneering work in Naga City in rallying people to work together is most heartening and enlightening. He turned to the LSB and made it work. He made it lead. Through the LSB, he demonstrated that education is meant to be a shared responsibility, that education is the concern of everyone (and not just of the school or of DepEd). He engaged all the sectors in improving the competencies of teachers through training and research. He consulted parents and common folk so that the city's budget was based on the real needs of the people and not just on bogus projects of the padrinos of the town. He went from school to school, believing that the needs of children would be specific and differentiated, knowing that solutions had to be tailored to the particular context of the communities and that these solutions had to be iterated and progressively tweaked and improved. His policies, programs, budgets and contracts were all made public. After all, public service is, well, public. Mayor Jesse also communicated ideas and decisions with such clarity, simplicity and power that farmers, vendors and laborers could readily understand the issues and participate in the deliberation and eventual solution of these issues. He put in place an incentive system that was merit-based, rewarding people for good performance. Synergeia is fortunate that he left us not only with inspiring stories but also with a legacy of actual processes and practices that work. We know that these will endure because they are built not on shifting sand but on firm foundations.
We are also happy to gather again to celebrate our local governments who have demonstrated good governance in education. Tomorrow we shall give recognition to those who have earned this Seal of Good Education Governance. Congratulations po sa mga tatangap ng tatak ng mabuting pamamahala sa edukasyon. This Seal is also a testament to how LGUs and their LSBs and SGCs have transformed their governance to make it ethical, efficient, transparent, and participatory.
In closing, let me just say that we in Synergeia are committed to partner with you, to make education work for the children of our nation.
Indeed we need to ask again and again, whose are these children anyway? Kanino nga ba ang mga batang ito? In the first instance, they are the children of their parents. But on deeper reflection, as leaders, we know that these children belong to us; they are ours as well. In truth and in faith, ultimately, we believe that these children are God's as well.
And so, we will let these children come to us and to God. Hindi natin sila itataboy, isasawalang-bahala. For to such as these, we know the kingdom of God belongs. And we know that when we care for and love these little ones, we shall endear ourselves to heaven and to our people. I share with you what I once said some time ago:
Hindi lingid sa langit ang kabaitan natin sa mga paslit at maliliit. Sa bawat desisyon, bawat kilos, bawat pangangalaga natin sa musmos at maliit, lilingon ang langit at lilingon din ang ating kapwa. At pagpapalain pa tayo nang higit pa sa ating inaakala.
Sana po, hindi tayo mapagod o mawalan ng loob sa ating patutulungan. Buwagin po natin ang tsubibong walang pagbabago, ang tsubibo ng kahirapang paulit-ulit. Alagaan po natin ang maliliit, ang ating mga paslit.
Magandang umaga po at magandang bukas sa ating lahat.
Jose Ramon T. Villarin, SJ
Chairman, Board of Trustees, Synergeia Foundation
18 Sep 2019