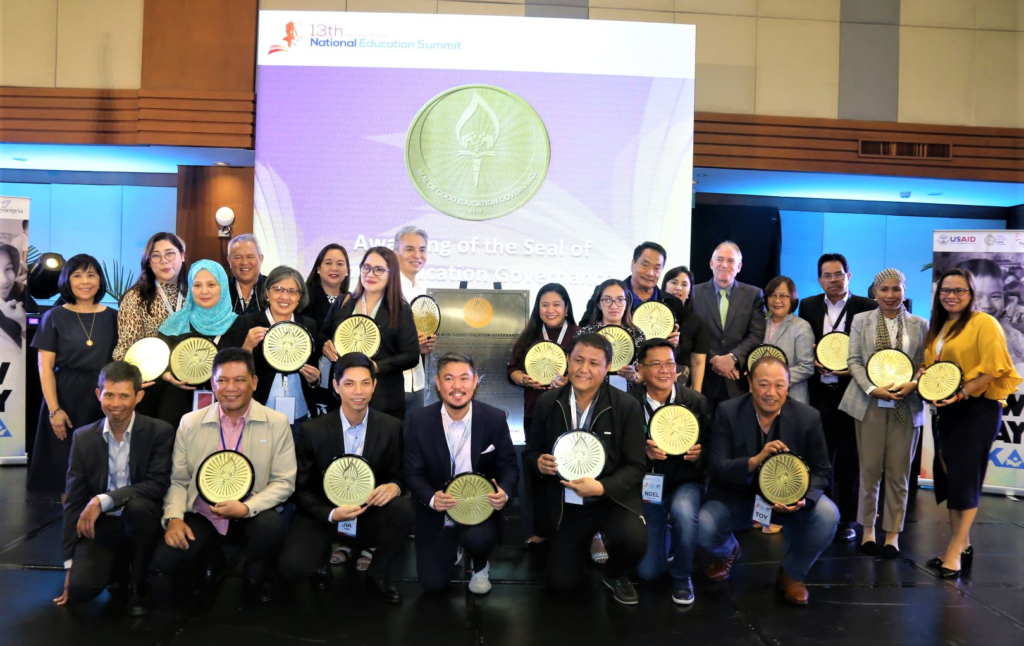 Synergeia Foundation and USAID Philippines will be awarding this year the Seal of Good Education Governance to the next batch of cities and municipalities that have excelled in delivering basic education to their constituents amidst a coronavirus pandemic.


Even as COVID-19 forced schools to close and relocated learning to homes, many local governments worked hard to ensure that education would continue unimpeded in 2020, a year that was like no other.


While some cities provided free computer tablets to children in their communities, there were municipalities that conducted learning sessions in open spaces to help students cope with the demands of distance education while observing safety protocols.


Synergeia, supported by the U.S. Agency for International Development and in partnership with PLDT and Smart Communications, has been awarding the Seal of Good Education Governance since 2017.


The Seal of Good Education Governance is a measure of how local governments provide children with equal access to good basic education. To qualify for the Seal, the community must have a high cohort-survival rate, that is, Grade 1 students must at least finish Grade 6.


Other criteria include a decrease in the number of non-readers based on the Philippine Informal Reading Inventory Test, innovations implemented by the Local School Board to improve the quality of learning, and, an increase in the ratio of education spending to the total local government budget. The SEAL is awarded to Local School Boards that take the lead in enhancing the learning performance of students.


A criterion was added to measure the involvement of the community in helping parents and children overcome the challenges posed by the pandemic including school closures and restrictions in movement among people.


The Seal of Good Education Governance is aimed at encouraging transparency, accountability and efficiency among local governments in providing education to children – their most important constituents.


Synergeia, a nonprofit organization that transforms communities to improve the quality of basic education, has handed out 61 Seal of Good Education Governance, with nine local governments being awarded the Seal for three years in a row.


Consistent winners include Diffun, Quirino; Solano, Nueva Vizcaya; Lambunao and Mina in Iloilo; Cagayan de Oro City; Valenzuela City; Datu Paglas, Maguindanao; Bongao, Tawi Tawi; and Bacnotan, La Union.


The fourth batch of Seal recipients will be announced during Synergeia's National Education Summit to be held virtually on March 17-19. Local governments can download the application form from https://www.sealofgoodeducation.com/ which also has all the details about the Seal.


The deadline for filing of applications is on Feb. 19.