We are extremely pleased with our partnership with SMART Communications, Inc. SMART generously supported the inaugural awarding of the Seal of Good Education Governance to 24 LGU-partners of Synergeia Foundation which measured up in terms of leadership in the implementation of education programs in their respective communities.
During the launch of the Seal in May 2017, SVP and Head of PLDT Enterprise Mr. Jovy Hernandez was asked by media guests why SMART Communications decided to support the program. He was quick to answer "Why not? When we knew what Synergeia is doing in uplifting the educational status of our children, we decided to join them and complement their efforts by supporting them…Education is also one of our responsibilities… If we can support education more, we can expect a better nation…We are here today for the simple reason that together, we will see to it that all our children will be educated for a better life and a better nation."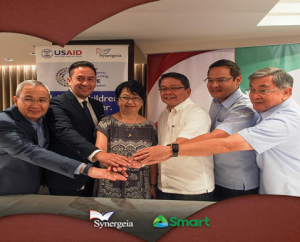 The announcement of winners and awarding of the incentive packages from SMART were one of the highlights of the 11th National Education Summit last September 28-29, 2017 (see related article under "News and Events"). SVP Hernandez acknowledged the excitement in the hall but remarked that he was more excited to hand out to outstanding and winning LGUs the incentive packages from SMART-PLDT worth P1.5 million each. The incentive package is primarily comprised of tailor-fit technology-based solutions for education with digital learning content plus cash prize. The incentive package will also include the installation of wifi in hot spots in the winning LGUs. For LGUs in remote or far-flung areas, they will give "SMART school in a bag" which will include mobile devices and solar panel.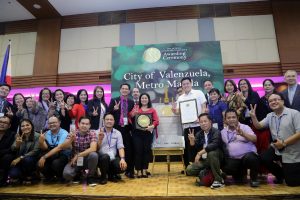 In addition, in 2017, SMART had likewise provided a "Technocart" worth P200,000 each to 8 LGU-partners of Synergeia, namely, San Gabriel and Santol, La Union; Tuba and La Trinidad from Benguet; Dao and Sapian from Capiz; and 2 for the LSB of Lanao del Norte. The cart contained a laptop, 20 tablets, a CD projector, pocket wifi, and learning packages. "
Synergeia Chairman Fr. Jett Villarin very much welcomed the generous gesture of support by SMART/PLDT and reiterated the commitment of Synergeia towards helping communities overcome obstacles to quality education. "Synergeia is a movement. We aim to share the best practices of LGUs so that those at the bottom will be interested to join and improve the school performance of their children."