Synergeia Foundation, Inc. celebrated its tenth anniversary with a fellowship among partners of its education governance programs and a tribute to a man whose work has invaluably contributed to the Foundation's growth.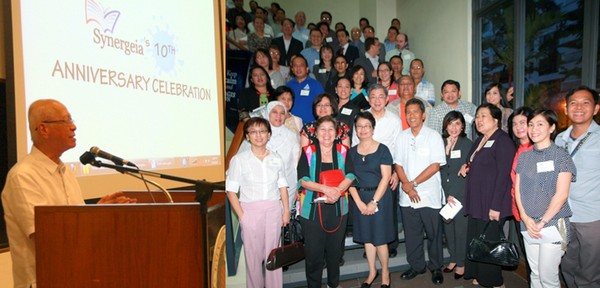 Over 150 supporters of Synergeia's past and present programs attended the gathering and joined the Foundation's officials and staff in honoring the late Local Government and Interior Secretary Jesse M. Robredo. A Trustee of Synergeia since its inception in 2002, Secretary Robredo was one of the key movers of its education programs throughout the country.
One of the highlights of the affair was a video presentation that summed up the Foundation's accomplishments for the past decade. Synergeia looked back at its journey through the eyes of Secretary Robredo. Photos depicting his work that inspired the transformation of local governments into education champions were vividly captured on the big screen of the auditorium of the Ateneo Professional Schools, where the event was held. The former Naga City Mayor, whose Local School Board Reinvention program in the City, has served as a model for other LSBs, tirelessly conducted training and shared best practices to LGUs in various parts of the country – from far-flung municipalities in Cagayan Valley to the remote islands of Sulu. His efforts helped expand the reach of Synergeia's programs to more areas.
Since 2002, the Foundation has engaged more than 267 LGUs and their communities to work together to improve access to quality basic education to the benefit of nearly 1.5 million schoolchildren.
In her report, Synergeia President and CEO, Dr. Milwida M. Guevara, underscored continued gaps in the performance of schoolchildren in selected sites, and called for continued collaboration and sustained support for education reform.
The occasion brought together some of the local chief executives who have embraced education governance, including Sarangani Governor Miguel Dominguez, Mayors Sherwin Gatchalian of Valenzuela City, Victor Marvin Marron of Luna in La Union, Agnes Dycoco of Libon in Albay, Voltaire Anthony Villarosa of Mamburao in Mindoro Occidental, Nhazruddin Maglangit of Kapatagan and Amenodin Sumagayan of Saguiaran in Lanao del Sur, Ramon Piang of Upi, Abdulkarim Langkuno of Paglat, and Ibrahim Ibay of Parang in Maguindanao.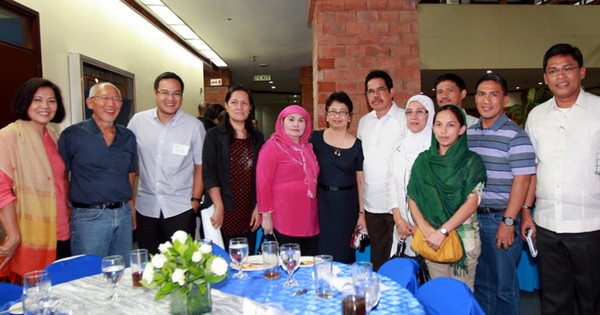 Aside from the LGUs, Synergeia Trustees, led by Board Chairman Fr. Bienvenido Nebres, SJ, thanked the Foundation's partners from multilateral and bilateral institutions, the private sector and corporate foundations that have supported Synergeia in its mission.
A fellowship dinner capped the simple yet meaningful anniversary celebration.
---