In Omar, Sulu Province, mothers Fatima and Nurisha had always wanted to start their own small home-based business and earn additional income for their families. They were thankful and happy to be included in the batch of 20 mothers who trained in food processing, preservation, and jam-making last summer.
Using locally-available vegetables and fruits, the mothers were taught to make pickled ampalaya and papaya, pickled seashell and crab meat, chili and garlic paste, shrimp paste in coconut milk, jackfruit and guava jam, sweet potato jam, banana marmalade, marinated fish, smoked fish, and fish floss.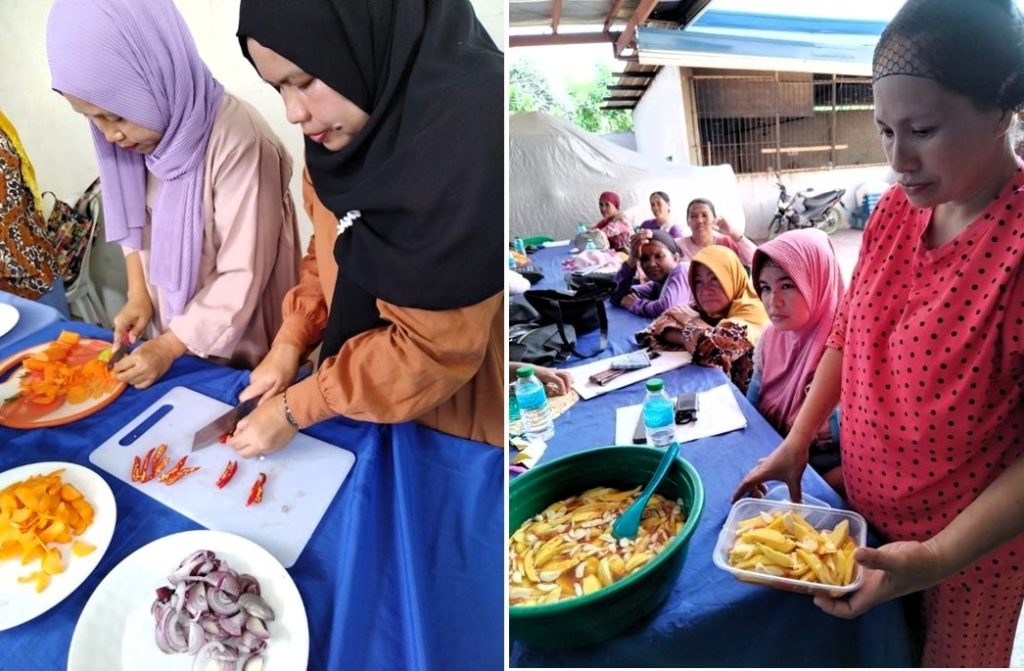 Aside from food processing, the mothers learned how to compute their production costs and profit. They were taught simple packaging and marketing techniques. They discovered that understanding the likes and habits of their target customers would be an effective way of marketing their products.
After the workshop, the mothers immediately applied their learnings. They put up a small booth near the municipal hall where they could sell their products. They saw a thriving market among the residents and non-residents who go to the municipal hall every day. And to their joy, they found customers who bought their chili garlic and shrimp paste in coconut milk. Their first P2,500 earning was indeed a treasure.
Synergeia is thankful to the ADB TA "Mitigating the Impact of COVID-19 through Community-Led Interventions," funded by the People's Republic of China Poverty Reduction and Regional Cooperation Fund (PRCF), for the livelihood trainings in Omar, in Marawi City and in Tamparan in Lanao del Sur. The trainings have been providing skills to improve the economic opportunities of community members whose livelihoods were affected by the pandemic.