7. What do these all lead to?
Before the end of the school year (2007-2008), the DOLCH and Reading Comprehension tests were administered again to check for improvements in reading proficiency. The English Comprehension Test administered to students is a measurement tool using a 30-item exam composed of thinking exercises and stories. Student comprehension is tested through questions on simple recall. The questions vary in difficulty wherein the children are asked to make inferences, generalize, interpret, and perceive cause-and-effect relationships.
The results of the post-tests revealed the following – for San Manuel, 4 out of 10 Grade 1 pupils could read at their level; twice the number of students who could read at their level based on the pre-test. The number of advanced readers (i.e. 2nd and 3rd readers) increased to almost three times the initial figure of independent readers (from 12.86% to 36.95%). Non-readers dropped dramatically from 16.51% to 2.25% while frustration readers decreased from 4 to 2 out of 10. Indeed, these are great marks of improvement and are worthy to celebrate!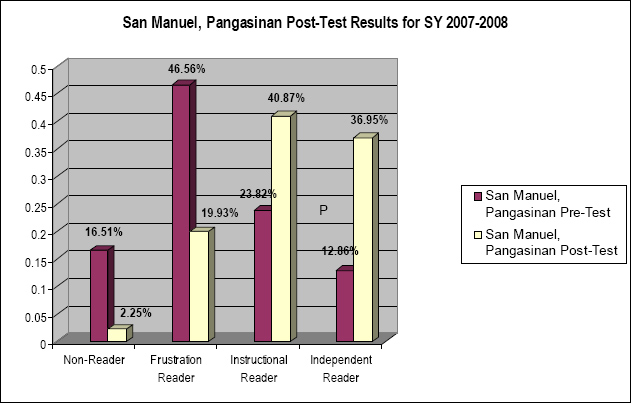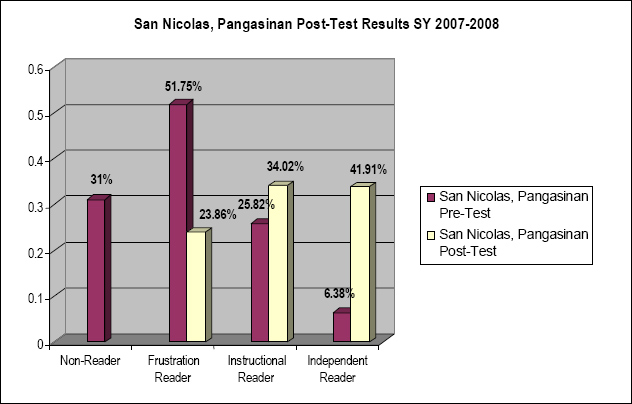 San Nicolas' readers on the other hand also performed well. The reading proficiency program was able to eliminate the number of non-readers to zero. Quite a feat since the pre-test revealed that 31% of the first graders were non-readers. Frustrated grade 1 readers went down to a little over half the number. Instructional readers went up by almost 11% (3 out of 10) while independent readers increased by almost seven times (i.e. from 6.38% to 41.91%) or 4 out of 10.
For Itogon's post-test results, its students showed much improvement in the instructional and independent reading levels. The number of Grade 1 students who could read at their level shot-up to almost four times the value revealed during the pre-test phase. This means that almost five out of ten students can read at their expected level. Itogon's independent readers multiplied by four times and from 7 out of 10 frustration readers, the number dropped to 3.
The year-end assessment test results celebrate the partnership of teachers, parents and the local governments of San Manuel, San Nicolas and Itogon, San Roque Power Corporation and Synergeia Foundation. In spite of the changes made by the reading program, a bit more work has to be made in increasing the levels of instructional readers in San Manuel and San Nicolas. Itogon has managed to arrive at an average range of reading performance. All three sites should continue enriching the learning of good and fast readers and provide additional interventions (i.e. remedial reading) for its students who are still reading below par.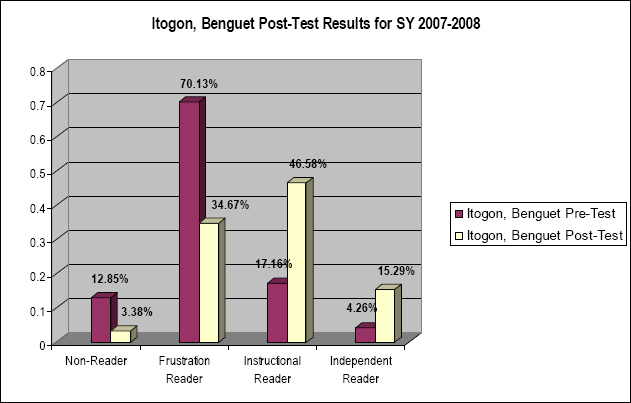 8. Moving Forward
The program is entering its second year of implementation. We will work with the new batch of Grade 1 students as well as those in Grade 2, expanding the coverage to about 6,600 students in San Manuel, San Nicolas and Itogon.
Programs to improve mathematics proficiency of students will be integrated. Training of parent-leaders for both grades 1 and 2 will continue on the second year and will be sustained.
---