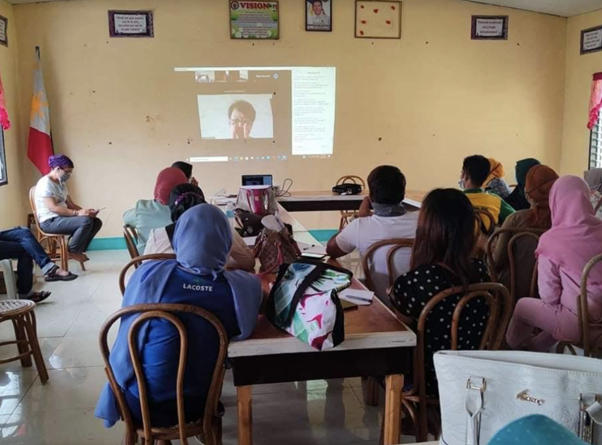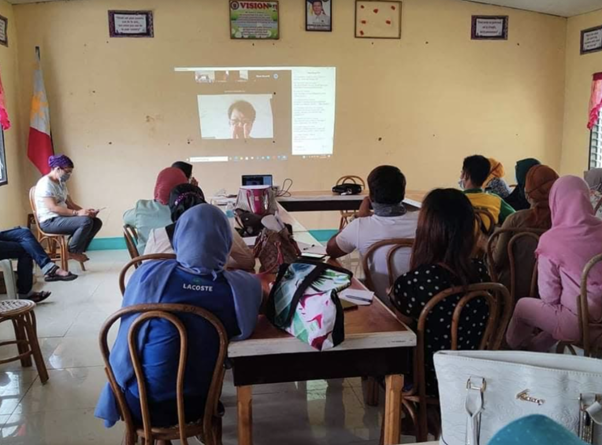 By Manolo Serapio Jr.

Mocrima Manamba was lucky to have found a job when the pandemic began last year. But the newly hired teacher from Mangudadatu in Maguindanao province soon realized how tough it was to teach her Grade 3 class remotely.

With Covid-19 closing all schools across the country, she was concerned whether her students were picking up anything at all from the learning modules. With no experience of teaching in a classroom, the 23-year-old joined an outdoor reading program to get a feel of how it's like to teach children in person.

Under the community's Adopt-A-Purok reading project, Manamba and other teachers tutor students – in person while complying with health safety measures – from kindergarten to Grade 6 at least twice a week on how to read properly.

To help teachers like her teach children how to read properly and become independent readers, Synergeia Foundation in partnership with the United Nations Children's Fund (UNICEF) and the Government of Japan (GOJ), conducted a virtual workshop on May 21 for teachers in Mindanao.

The workshop was led by Synergeia President and CEO Milwida Guevara. An Undersecretary at the Department of Finance for nearly a decade, Guevara was a former grade school teacher and currently teaches public finance at the Ateneo de Manila University School of Government.

Reading is crucial to learning because if children cannot read properly and cannot comprehend what they are reading, they would not be able to grasp all the other subject areas including mathematics and science where reading is a primary requirement, Guevara told the workshop participants.

Guevara said reading involves properly saying the sound of each letter of the alphabet, blending them together in pronouncing a word and comprehending what's being read. She used hand gestures, sang short songs and told participants of the proper movement of the mouth in teaching how each letter should sound and how it should be pronounced.

"A child must be able to say the sound of a letter. If you can say the sounds, you can blend the sounds. That is reading and that's how you teach non-readers," she said.

"A child cannot become an independent reader if you teach them reading through memorization."

'Do not translate'

The teachers actively participated in every aspect of the two-hour webinar. There were more than 130 screens that joined the workshop, but the number of participants far exceeded that number since many teachers logged in as a group from their schools in the municipalities of Lanao del Sur, Maguindanao and Cotabato.
Like in a classroom setup, Guevara put the teachers on the spot by testing them on what they've picked up from the workshop. Participants including Potre Naifa Sarip from Lombayao Central Elementary School in Balindong, Lanao del Sur gamely showed off what she has learned.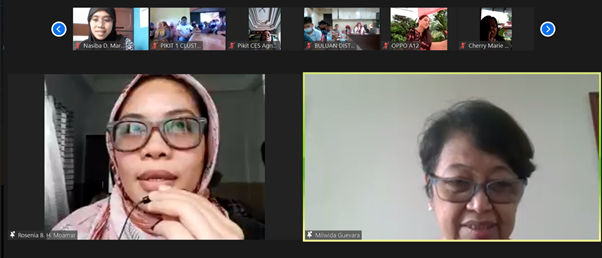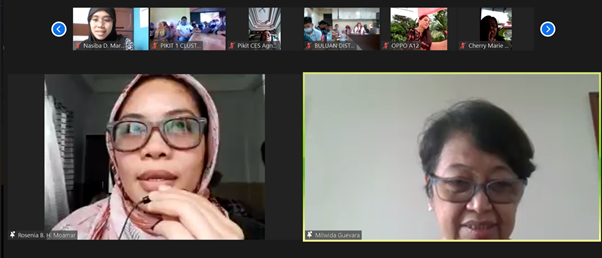 Longtime teachers like Nelly Cabalinan from South Upi, Maguindanao who has been teaching Grade 3 for three decades thought the workshop was a good refresher course on how to teach reading.

"We could really use what we learned from the webinar," she said. "If a child knows the sound of the letters and blends the sounds together in reading a word then he or she can read properly, instead of making them parrot back the words."

Cabalinan said she would start training parents on proper pronunciation when they pick up the learning modules from school so they can pass them on to their children.

When she discussed reading comprehension, Guevara told teachers that it is best developed by using contextual clues, pictures, synonyms and antonyms, comparison and contrast and providing examples.

"Do not translate, otherwise you won't help them develop their thinking skills," she said.

It was a learning that Manamba has put to heart. "I really hope there's another seminar so we can enhance our strategies and methods in teaching our students," said Manamba, who joined the virtual workshop together with her colleagues from Mangudadatu.

Stronger interventions

Synergeia works with 421 cities and municipalities including those in the Bangsamoro Autonomous Region in Muslim Mindanao to make sure that every child completes a good basic education and is given equal opportunity to become the best of what he/she can be.

As the pandemic shut schools and online learning has been limited to urban areas with proper Internet access, many children have struggled with learning essential competencies such as reading.

Guevara has pointed to the need for stronger and more effective learning interventions as assessment tests have shown that children in general have difficulty learning outside classrooms.

Even before the pandemic hit, Philippine students have fallen behind their international counterparts, highlighting the learning gaps in the country's education system that the health crisis may have exacerbated.

Only 10% of Filipino Grade 5 pupils had achieved the reading literacy skills expected at the end of primary school, versus 82% in Vietnam and 58% in Malaysia, according to the 2019 Southeast Asia Primary Learning Metrics study released last year by UNICEF and the Southeast Asian Ministers of Education Organization.

And 15-year old students from the Philippines ranked lowest among 79 countries in reading proficiency in the 2018 Programme for International Student Assessment.

Hakisa Banto, a Grade 1 teacher from Carigongan Primary School in Bubong, Lanao del Sur, said she attended the reading workshop from home together with her young nieces and nephews.

"They learned directly from Dr. Guevara the techniques to be used to read properly so it was quite good," she said.