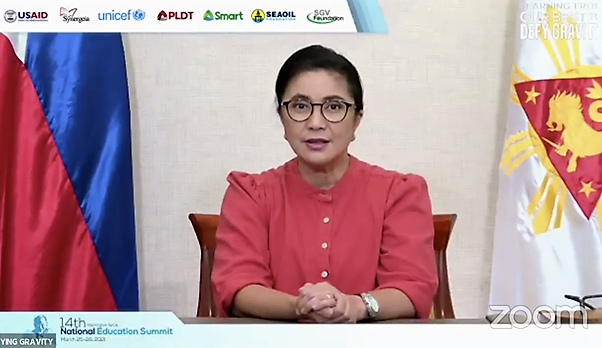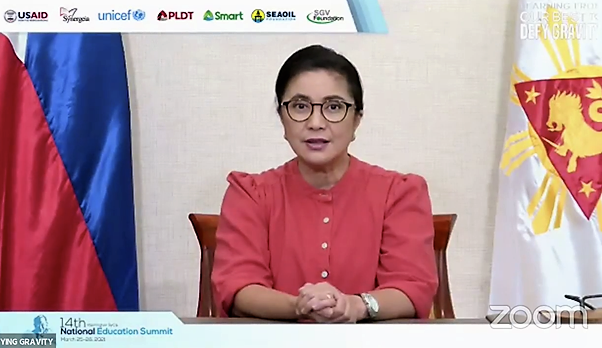 By Manolo Serapio Jr.


Vice President Leni Robredo has pushed for the resumption of face-to-face classes in areas where there is no community transmission of COVID-19, saying the pandemic has further widened the existing gaps in the Philippine education system.


While there has been a renewed surge in COVID-19 cases in the country, particularly in Metro Manila and surrounding areas, there are still places where there has been slow to zero transmission of the deadly coronavirus including parts of Visayas and Mindanao.


Stressing that the "one size fits all" policy of banning in-person classes across the country is not appropriate, Robredo said "we have to be agile, flexible and nimble enough to pattern our response to the realities we see on the ground, to find the gaps and fill them."


"There have always been gaps that needed to be filled in our education system. But now with the pandemic bringing entire nations to their knees, fissures in society resurface and widen, impacting the most vulnerable even more," Robredo said during the 14th Washington SyCip National Education Summit organized by Synergeia Foundation and the United States Agency for International Development.


"Our recommendations stand: establish more learning hubs near community schools, provide training for teachers, explore conducting face-to-face classes in areas where there is no community transmission (and) invest more in technology," she said.


With the theme "Learning from our Best to Defy Gravity", the two-day virtual summit that concluded on Friday tackled the issues surrounding the falling competency of Filipino students. It was attended by hundreds of participants including educators, parents and local government officials.


Synergeia which works to improve the quality of basic education has been pushing its local government partners to safely hold in-person learning sessions in open areas, particularly in places with zero COVID-19 cases, to help students cope with remote learning.


These limited, in-person tutorials are being carried out in some Synergeia partner communities including La Union, Iloilo, Lanao del Sur and Maguindanao provinces.


'Best case scenario'


In Asia, only schools in the Philippines, Myanmar and Bangladesh have remained closed since they were shut at the start of the pandemic, according to Zurich-based independent educational foundation Insights for Education.
The Senate earlier this month recommended the resumption of face-to-face classes in the Philippines through the immediate launch of a trial run in schools in low risk areas.


Senator Sherwin Gatchalian, chairman of the Senate committee on basic education, said he hoped that in-person classes would resume in the next school year.


"It's almost impossible for our students to have access or even afford access to the Internet at this time, so the best case scenario will be to have face-to-face classes this coming school year," Gatchalian said at the summit.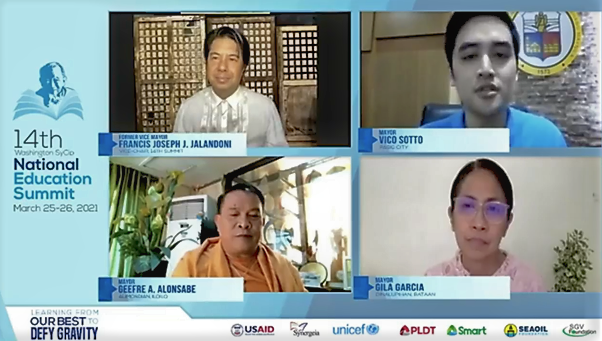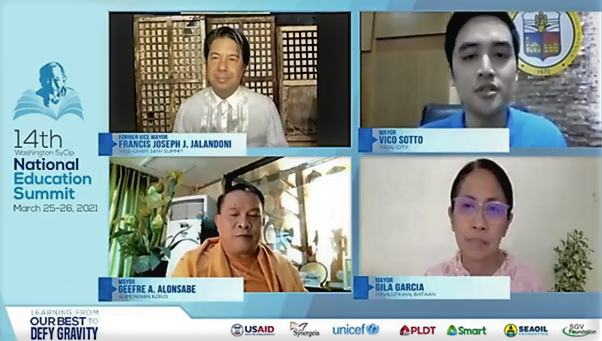 But some mayors have expressed concern in resuming in-person classes at this stage.


In Pasig City in Metro Manila where COVID-19 cases remain high, Mayor Vico Sotto said it would not be practical at this point to return to face-to-face classes in the city. What Pasig is focusing on at the moment, he said, is to increase student access to learning modules offline.


Even in Dinalupihan, Bataan, a municipality with a relatively low incidence of COVID-19 with 27 active cases currently, Mayor Gila Garcia said they are not keen on holding physical classes yet.


"Once we lose control of containment of these cases, the effect is going to be too much to handle," she said.


Official media partners: INQUIRER.net, INQPOP!, BusinessWorld, Malaya Business Insight, Pageone, The Philippine Post, The Luzon Daily, The Visayas Journal, The Mindanao Life, Manila Magazine, Woman PH, Daily Guardian, Damdamag Ilocano, Digital News Exchange, DZNL Aksyon Radyo, Love Radio La Union, TVigan, Asap Tagudin Cable TV Network, Inc., DCATV Networks, Eagle Fiber, Excel Fiber Cable Network, Inc., Gen. Trias Cable Network, Inc., Shama Fiber Broadband and CATV Networks, Inc., Superior CATV Networks, Tagaytay Broadband and CATV Network, Inc. and Trend Fiber CATV Systems Corp.


With special thanks to DZRH May Trabaho, DZRJ Good Job Philippines, Net 25 Pambansang Almusal and Women Lifestyle.