Stakeholders from Caloocan's education community came together for the city's first ever education summit on August 10, 2013. Despite the rainy weather, around 200 local officials, school administrators and teachers, parents, students, and representatives of the private sector participated in the discussions. Cong. Edgar Erice led the way and talked about education being the focal point of both his funding projects and legislative platform. The event was about recognizing the work that has been done by the community, but also going beyond that and reaching for an even brighter future for the students.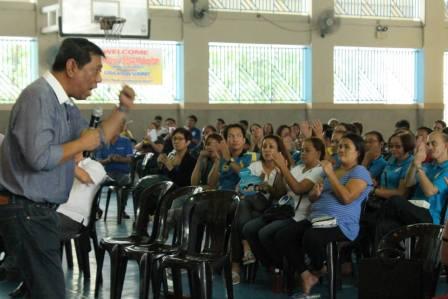 In discussing the situation of students and schools in Caloocan, the community recognized that it has been moving forward as shown by NAT scores in the city having the largest improvement in Metro Manila and 80% of its children being in school.
Still, the data also show room for improvement. While NAT scores have gone up, the participants acknowledged the need for change within the community and amongst themselves. Parents candidly admitted the need for greater devotion and support for their children, teachers saw the need to be more creative and dedicated, local officials admitted lapses in implementing policies, especially those relating to the operation of computer shops and access to children to cigarettes; the private sector recognized the importance of their involvement; and students showed that they wanted to become better learners with good study habits. It is this willingness to accept their flaws and improve them which will become the foundation of Caloocan's future education programs.
Cong. Erice challenged the community to see the education summit as a beginning. He will lead a group of leaders to conduct school and barangay summits to listen to parents and mobilize their support. Since the summit should lead to action, the first in the agenda is a training of parents' mentors who will conduct school summits and training of parent leaders.
---