Padre Garcia, Batangas – "Excited na akong mag-June," a public school teacher declared after completing a two-day training through the initiative of the local government of Padre Garcia in partnership with Synergeia Foundation and the Department of Education (DepEd).
About 170 elementary school teachers from 17 public schools gathered at Padre Garcia Central School on April 10-11 in response to the needs-based assessment done in October last year showing that teachers' required assistance in developing their English proficiency and teaching methods.
Mayor Abraham Gutierrez considered it a great blessing that Padre Garcia was able to hold its first teachers' training activity. During the opening ceremony, he reminded the teachers that as second parents, the future of Padre Garcia is in their hands. "Ang pagiging mabuting mamamayan at pagkakaroon ng tamang talino ay lubos na katuwaan ng ating bayan," Mayor Gutierrez said.
The participants were further encouraged by the activity's proponent, Vice Mayor Noel Cantos, saying that education is an ongoing process that does not stop even as one grows older. He said that the training would best benefit the teachers if they started with an open mind, be receptive to new ideas and acknowledge that there is always room for improvement. "Life is about continuous learning. If you stop learning, you stop making history and you become history."
DepEd Regional OIC-Schools Division Superintendent Dr. Carlito Rocafort expressed gladness at the turn out which included teachers from Kinder to Grade 6 and even those from Special Education (SPED) and Alternative Learning System (ALS). He said the outcome of the training will be gauged not just from skills gained but ultimately from the performance of the students. "We are all teachers. We are all leaders. We are all responsible for the outcome." He said that all servant leaders and teachers must serve according to their mission rather than just holding a position. "Let us have a paradigm shift. Let us think of our children."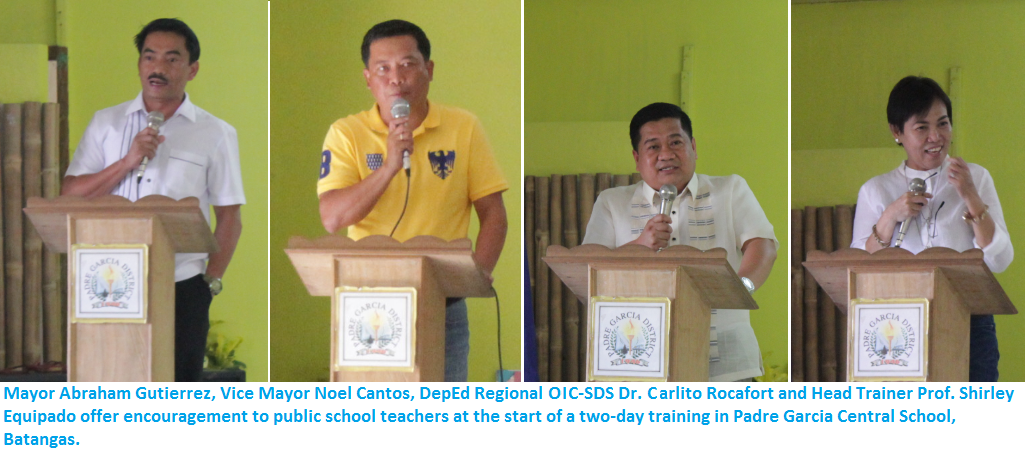 According to the Vice Mayor's Executive Assistant Boots Cabralda who oversaw the activity, the school heads encouraged all their teachers to participate as they found their own training beneficial when they attended Synergeia's USAID-funded School Governance Workshop in November last year. She commended Synergeia for its support and the training team headed by Prof. Shirley Equipado for the valuable teaching strategies they imparted.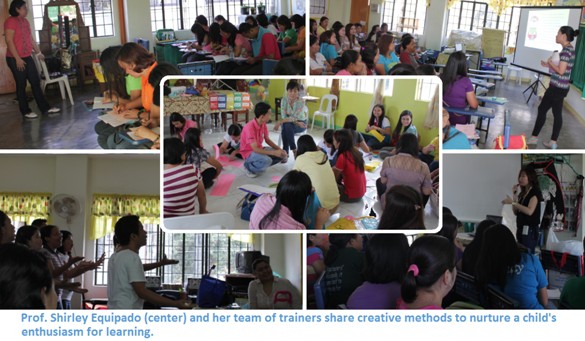 The teachers demonstrated part of what they learned through group presentations at the end of the training in the presence of Vice Mayor Cantos and DepEd District Supervisor Emiliana Roxas. "We look forward to how these will be applied when you go back to your classrooms," Roxas said. She hopes that the training will show in the succeeding National Achievement Test results and ultimately help the municipality to achieve its long-term goal of being more globally competitive.
Herbert Bautista's Commitment
"You made our work easier," Herbert Bautista, a SPED teacher declared gratefully to the trainers. "These two days, nabuksan at gumana ang utak namin. Akala namin mahirap magturo but we learned that there are several ways to do it." He realized that it is not only the teachers who have a hard time teaching. The children also find it hard to learn when teachers lack effective strategies. Bautista said it was made clear that not all things can be learned through textbooks and that experiential learning is equally important. "We promise the (DepEd) supervisor that we will bring these different things for our students."
Other teachers from various grade levels similarly expressed their enthusiasm saying that they are excited to get back to the classrooms in June. "Napakaraming slow readers. Magagamit talaga namin ang natutunan namin. Lubos kaming nagpapasalamat sa training na ito," one teacher said.
"It was very informative. We are now ready to face our learners in June to help them become better learners and better readers," another participant shared.
Life is about continuous learning. If you stop learning,
you stop making history and you become history." – Vice Mayor Cantos
A veteran teacher testified that she still learned a lot despite being in the field of teaching for a long time. The modern techniques she acquired was a welcome addition to her skills.
"We learned while having fun. What the trainers have shown is worthy of emulation. We are grateful that we have been chosen for this training," another teacher said.

Vice Mayor Cantos expressed happiness at the positive response and the overall success of the two-day activity as a result of the combined efforts of the local government, DepEd, Synergeia and other stakeholders, including the principals and teachers. He hopes the cooperation will continue in order to raise Padre Garcia's educational status.
(Report by Ruth Santos)
---