Barefoot but all smiles, 7-year old Cyril Rocafort of Payapa Elementary School vibrantly utters the sound of the first letter that identifies the object in the colored picture she is holding up. "D-d-d-dress," she says in Filipino. The task is easy and it encourages Cyril to move on to other fun activity.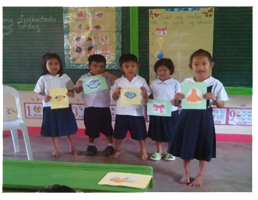 Just like Cyril, kinder and grade 1 pupils in the municipality of Padre Garcia, Batangas are learning how to read while having fun. It is the result of the training for teachers initiated over the summer by the local government of Padre Garcia with technical support from USAID's Education Governance Effectiveness (EdGE) Program through Synergeia Foundation.
Vice Mayor Noel Cantos, who heads Padre Garcia's education committee and an active EdGE member, initiated the training to address children's difficulty in learning in the classroom. "We cannot just proceed with our reading program if our teachers are not properly equipped with the right teaching skills first," he said. The objective is to reduce the need for intervention by equipping teachers effective methods to teach reading to early grade pupils.ies to practice phonemic recognition. Very soon she will be able to combine the sounds of the alphabet and read whole words on her own.
"Teaching beginning readers is a challenging task," Grade 1 Teacher Maricris Acusa of Payapa ES says. "The skills we learned from the seminar help a lot to make pupils participate in class discussion and group work," she adds. Acusa says the new methods help boost children's self-confidence that enable them to express ideas more openly.
Payapa ES Principal Wilfredo Dimapasok, who is also an active EdGE participant, is grateful for the summer training his teachers attended. "90 percent of our pupils are children of poor farmers," says principal Dimapasok. "The most important thing we learned is to take it step by step. We should not rush children and instead ensure that they learn each lesson well," he adds. Giving these poor children careful attention in the classroom is a testament that equal access to quality education is possible.
"The children have definitely become more active in group activities," Principal Liza Linatoc of Manggas-Tamak Elementary School observes. Linatoc, like other Padre Garcia school heads, has been monitoring and supporting teachers as they committed to do during the training.
Prof. Shirley Equipado headed Synergeia's team that conducted training specifically focused on Kinder and Grade 1 teachers so that they will be able to effectively lay a good foundation in children in the earliest learning stage possible.
---