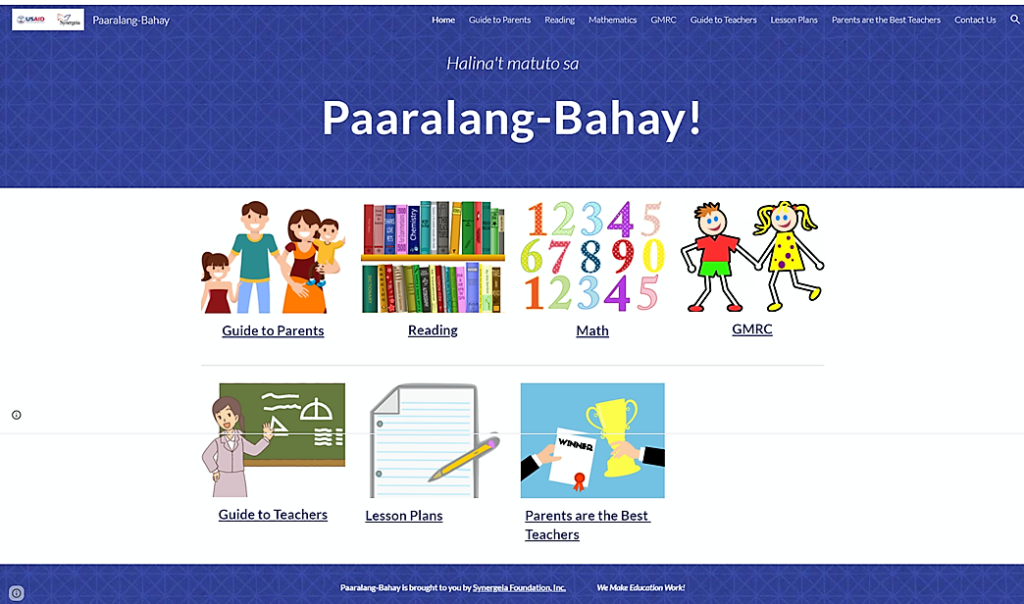 Synergeia's new e-learning portal called 'paaralangbahay' is now live! Our virtual classroom is open to children, parents, teachers and anybody who loves to learn.
It offers lessons in reading, math and GMRC for children. There are also stories and poems that children will find interesting and fun to read.
By accessing https://paaralangbahay.synergeia.org.ph, parents and teachers will find a rich compilation
of learning materials to help them in the education of children. Especially for parents, there are guides on how they can take on the mantle of being teachers-at-home to their children in this time of the pandemic and the implementation of modular and distance learning. There are also resources on how to keep one's emotional and physical well-being safe and protected.
We hope that with our e-learning portal, we are able to create a meaningful educational experience for our children.
We thank SMART Communications which supported the creation of our e-learning portal.
7 Parts
The learning portal is divided into 7 categories:
Guide to Parents
Reading
Math
GMRC
Guide to Teachers
Lesson Plans
Parents are the Best Teachers
Under the section Guide to Parents are video guides and manuals on teaching strategies and keeping morale up for children. Under Reading are guides on properly saying vowels and consonants, blending sounds to form words, reading digraphs and blends, and enjoying rhymes and short stories. Under Math are video guides and exercises on learning numbers and counting. Under GMRC, one will find video lessons on themes of caring for our country, our neighbors, as well as how to be a good friend. Under Guide to Teachers, one will find materials and guides on how to conduct proper remote learning. Under Lesson Plans are grammar exercises with options for Filipino or English. Under Parents are the Best Teachers are inspiring messages and stories from parents, who share their experience during these times.
We are continuously enriching our e-learning portal. Winners of our story-writing contest "Once Upon a Story" and the best lesson plans prepared by teachers during our write shops on module preparation are some of the upcoming learning resources to be posted in our portal.
Below is a table with all the available lessons plans for each learning category.
| | | | | |
| --- | --- | --- | --- | --- |
| Guide to parents | Math | GMRC | Guide to Teachers | Reading |
| Lesson 1: Paano ba matuto ang bata? | Masayang Magbilang | Lesson 1: Ang Ating Bansa | Lesson 1: Remote Teaching and Learning | Lesson 1: Saying vowels and consonants correctly |
| Lesson 2: Pamantayan sa Bahay-Paaralan | Lesson 1: Paghahambing ng mga Bagay | Lesson 2: Sariling Atin | Lesson 2: Remediation and Enrichment for Remote Teaching and Learning (Kinder to Grade 3) | Lesson 2: Practicing our vowels and consonants |
| Lesson 3 : Iba-Iba ang Galing ng mga Bata | Lesson 2: Paghahambing ng mga Bilang | Lesson 3: Part 1: Pagsunod sa Pamantayan ng Mag-Anak (Grade 3) | Lesson 3: Remediation and Enrichment for Remote Teaching and Learning (Grades 4 to 6) | Lesson 3: Blending the sounds to form words and using the words to form sentences |
| Lesson 4: Mahalaga ang "Motivation", Review at Recess | Lesson 3: Ano ang Ibig Sabihin ng 10? | Lesson 3: Part 2: Pagsunod sa Pamantayan ng Mag-Anak (Grade 3) | | Lesson 4: Reading a story with vowels and consonants |
| Lesson 5: Parents' Manual | | Lesson 4: Part 1: Nagsasabi ng Katotohanan Anuman ang Bunga (Grade 4) | | Lesson 4: Exercise 1: ABC Song – ABC Songs for Children – Nursery Rhymes for Kids – Kids Songs The Learning Station Lesson 4: Exercise 2: I Love You Through And Through. Children's story read aloud |
| Lesson 6: Parents' Manual, Ilonggo Version | | Lesson 4: Part 2: Nagsasabi ng Katotohanan Anuman ang Bunga (Grade 4) | | Lesson 4: Exercise 3: Work exercises I love you through and through Lesson 4: Exercise 4: Additional exercises on I love you through and through |
| Lesson 7: Tips Para sa Nanay, Tatay, Lola, Tita at Kaibigang Teacher | | Lesson 5: Part 1: Pagiging Mabuting Kaibigan (Grade 6) | | Lesson 5: Learning the long vowel sounds Lesson 5: Exercise 1: Peter Piper song tongue twisters for kids |
| Lesson 8: Parents Manual: Surigaonon Version | | Lesson 5: Part 2: Pagiging Mabuting Kaibigan (Grade 6) | | Lesson 5: Exercise 2: Blending-long vowels Lesson 5: Exercise 3: Short and long vowels exercises |
| | | | | Lesson 6: Exercise 1: Songs on short vowel sounds Lesson 6: Exercise 2: Digraphs Lesson 6: Exercise 3: Fly and a flea |
| | | | | Lesson 6: Exercise 4: Digraphs phonics song for children by Jack Hartmann Lesson 7: Enjoying a Song– All things Bright and beautiful Lesson 8: Creative exercises, All things bright and beautiful Lesson 9: Saan Nagsimula Ang Kapre |
Please click the link below to access the learning portal: