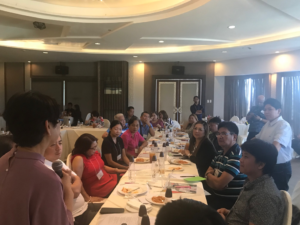 What a mover Siayan Mayor Flora Villarosa is! With the support of EdGE, Mayor Villarosa invited all the Mayors and Local School Boards of Zamboanga del Norte to a regional meeting in Dipolog City to share best practices in education governance and and to cohort more education champions in the Zamboanga Peninsula.
The local chief executives were presented with data on the status of education in their localities, which was followed by a discussion on possible causes for the poor performance of students. A "shock and awe" approach was needed to make the LCEs and LSBs realize that improving the quality of education is a shared responsibility. As leaders in the community, they have a huge role in setting education priorities. But their leadership and support are also necessary so that the entire community can be mobilized to work for solutions to problems impeding the growth of education.
When asked to prioritize their concerns, poverty alleviation was their most frequent response. Education did not seem to figure out among their LGUs' top priorities. To this, Ma'am Nene Guevara, Synergeia CEO, shared the result of studies that showed poverty has become intergenerational because children from poor families are unable to study or complete elementary or high school. Giving children access to education gives them and their families opportunities for a better life. This was an eye-opener for the Mayors and LSB members.
The regional meeting also gave the Mayors the opportunity to listen to and be inspired by Valenzuela Mayor Rex Gatchalian and his successful 360 Degree Education Program of Valenzuela City. Mayor Rex presented the components and results of the Valenzuela program, a flagship education initiative which EdGE supports. Mayor Rex was a perfect example to the Mayors of a local chief executive who takes the driver's seat in education in partnership with DepEd and other community stakeholders.
They were also fortunate to listen to Former Governor Josie dela Cruz, currently Synergeia mentor, sharing the education story of Bulacan back when she was still its governor. Bulacan's education program, among the pioneers under the Synergeia wing, was also a success story.
At the end of the day, the Mayors gave their full commitment to prioritize education and undertake follow-up activities like conducting their own education summits to identify education gaps and proposed solutions, and re-inventing and expanding their Local School Boards. It was indeed a good day for education governance.