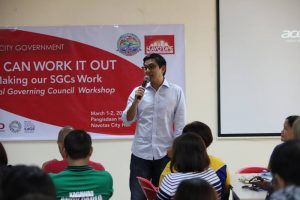 "A Worthy Life is (one) for the Service of Others" – Mayor John Rey Tiangco
An old song goes "love is lovelier, the second time around…" Except that it wasn't the second time but the fifth time that Synergeia facilitated an education-related workshop in Navotas City. Still, the experience of working with our partner-education leaders in Navotas has always been very inspiring for us.
The workshop was held on March 1 and 2, 2018 for School Governing Councils from 15 Navotas elementary schools and 8 Navotas high schools. It aimed to capacitate the SGC members on their more complex roles such as policy making, action planning, financing, goal-setting and task analysis, and developing a SGC brand. It was encouraging to see the participants very active during discussions and exercises, and very eager to learn. They also enjoyed the session on "The Look of a Leader" by Director Oskar Atendido of John Robert Powers International which taught them stance and posture, and improving one's gait to project confidence. The catwalk portion of this module was a relaxing way to close the first day of session.
Synergeia initially collaborated with Navotas in 2013 for a training workshop for the Local School Board. This was followed by a workshop on school governance and a training for barangays in 2014, and a workshop for School Governing Councils in May 2015. Although there was a break in our engagement for almost 2 years, Navotas continued to push education programs on its own. Its Local School Board performed well in education governance. Synergeia President Ma'am Nene referred to the Navotas experience as a great measure of how successful the LGU-Synergeia partnership has worked despite the 2-year absence. And she gave credit to the hardworking, data-savvy, service-oriented and family-centered chief executive, Mayor John Rey Tiangco.
Mayor John Rey, as he is fondly called by most people who knew him, was very generous with his time and came to open and close the 2-day SGC workshop. He pushed for the workshop as he saw the need to continue the training of SGCs in Navotas. He understood their huge role in the education of children. Whereas in the past, education was left to the teacher and the parent only, now, everyone including the barangay, the community and the private sector must contribute to make sure all children of school age are in school and getting quality education. Mayor John Rey definitely knows whereof he speaks – – he was a SGC member way before he even thought of running for Mayor of Navotas.
For a young man, Mayor John Rey's wisdom and dedication are inspiring. In his closing remarks, Mayor John Rey advised the SGC members to choose good leaders who have the passion to make education work and the commitment to serve. "A worthy life is (one) for the service of others," he said. Navotas City is indeed fortunate to be under his leadership, and Synergeia is privileged to have an Education Mayor in Mayor John Rey.