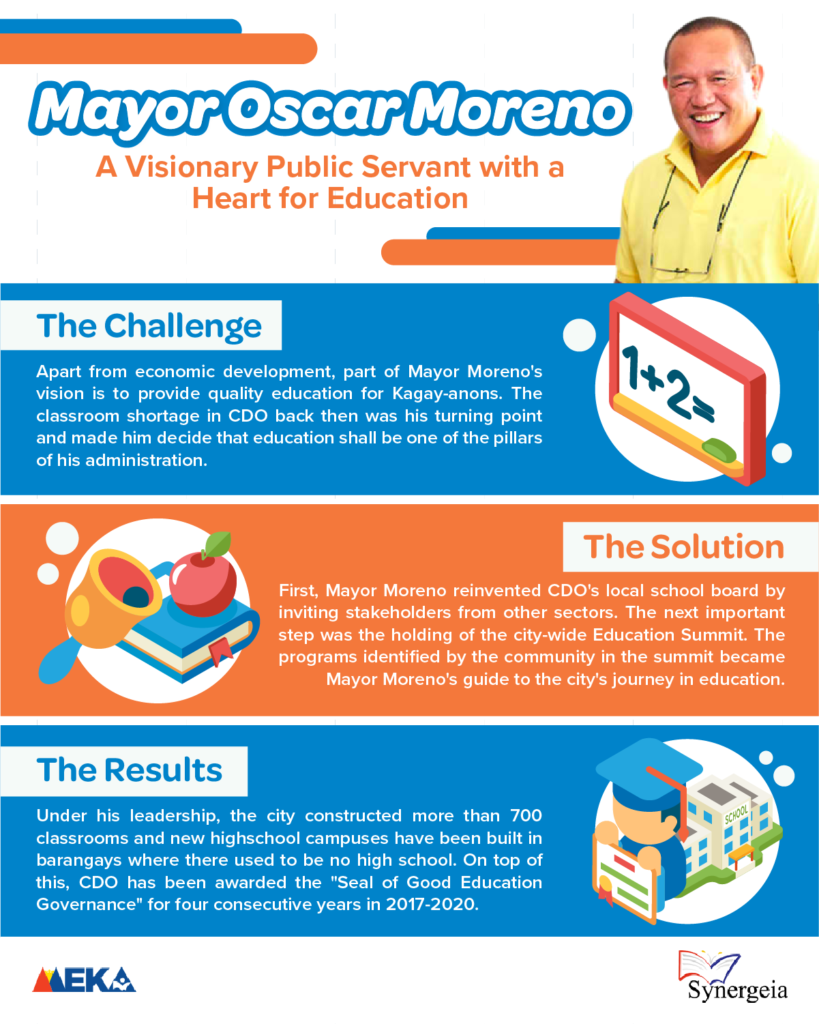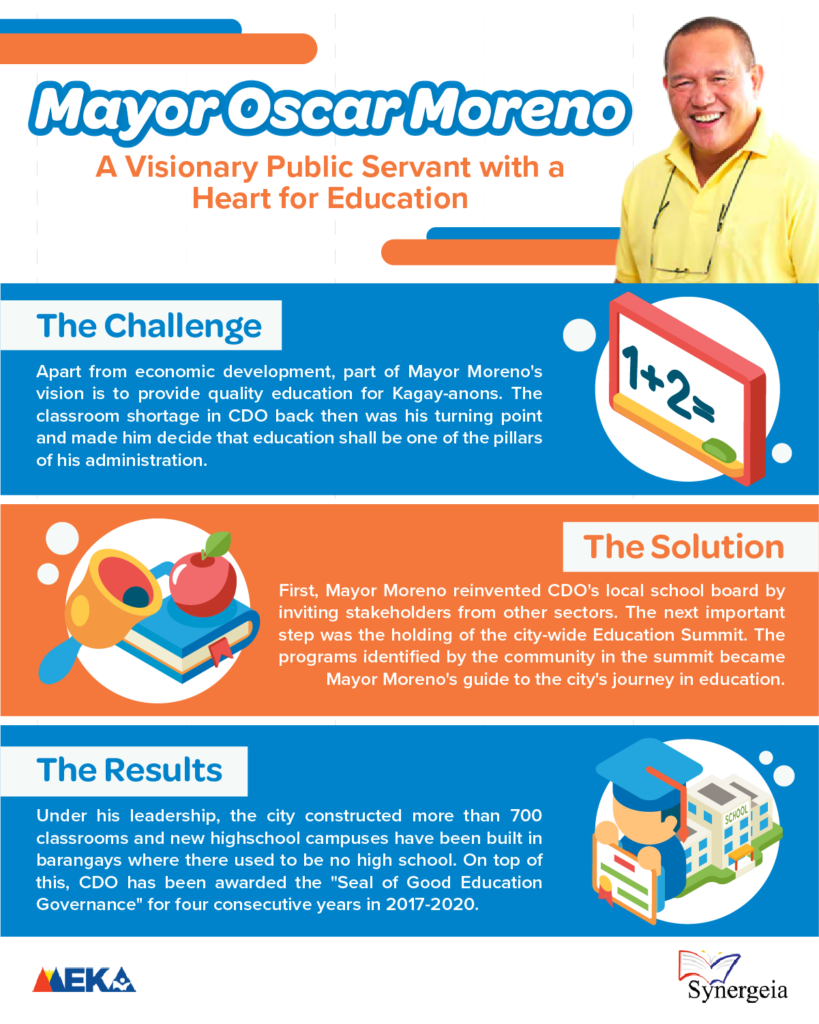 Mayor Oscar S. Moreno's career in public service spans over 20 years. He joined public service and was elected as Representative of the First District of Misamis Oriental in 1998 to 2004 at the 11th and 12th Congress. He ran and was elected Governor of the Province of Misamis Oriental in 2004 and overwhelmingly won in the succeeding elections in 2007 and 2010. He was elected and took over as Mayor of Cagayan de Oro City in the 2013 local elections. He is currently serving his third and last term as City Mayor.
His brand of politics is anchored on the mantra "serving the people, the best way possible," a testament to his genuine and transparent delivery of public service. CDO gained prominence for its best practices that have become worthy of emulation by other local government units.
When he assumed office as Mayor in 2013, his vision was for CDO to be an economic hub of Southern Philippines. He dreamed of transforming CDO as the convergence point and "Gateway to Northern Mindanao."
Apart from economic development, part of Mayor Moreno's vision is quality education for Kagay-anons. Education has a special place in his heart because his mother was a public school teacher. He was a product of public school having spent his elementary years at Balingasag Central Elementary School. Education is one of the priorities in his political agenda. Even when he was Governor of Misamis Oriental, education was part of his 8-Point Agenda. The classroom shortage in CDO back then was his turning point and made him decide that education shall be one of the pillars of his administration.
CDO's education reform agenda began when Mayor Moreno met Ma'am Nene of Synergeia Foundation Inc. It was a memorable first meeting because on the day itself Mayor Moreno was coming from another official event and so was almost late for the Synergeia meeting. He had to literally run to the Synergeia Office in Ateneo Rockwell Center just to be on time for his first meeting with Ma'am Nene. That meeting sealed the Synergeia-CDO partnership on education.
Following the Synergeia way, Mayor Moreno took the driver's seat and led the implementation of the education agenda and reform programs of CDO. First, he reinvented his local school board by inviting stakeholders from other sectors . Taking inspiration from Mayor Jesse Robredo, Mayor Moreno reconstituted the LSB to make it participatory and inclusive. He believed that the LSB should drive the education agenda and be like "performance officers," seeing to it that the schools, parents, and village officials share in the accountability of ensuring that children attend school and learn. He signed an Executive Order reorganizing the City School Board with multi-sectoral composition. Aside from the 8 mandated members, there are representatives from the academe, business, private school association, CSOs/NGOs, association of barangays, inter-faith sector, youth, school heads and parents. The City Budget Officer and City Engineer also sit in the LSB. CDO LSB is one of the most active and functional LSBs in the Philippines. Mayor Moreno initiated a culture of teamwork, collaboration and transparency in his LSB. And what sparks joy in the LSB is the spirit of camaraderie among board members. Members would clap their hands and cheer every time the board passes a resolution or approves a project proposal. Mayor Moreno believed in the concept of "kurambos" or the pooling together of resources. He encourages dialogues among LSB members as everyone in the LSB is involved in strengthening the education system.
The next important step was the holding of the City-wide Education Summit. Mayor Moreno wanted to involve all stakeholders. The first ever public consultation on education was held on November 16, 2013 at the Tourism Center across the City Hall. It was when the education program of CDO officially took off. The programs identified by the community in the summit became Mayor Moreno's guide to the City's journey in education.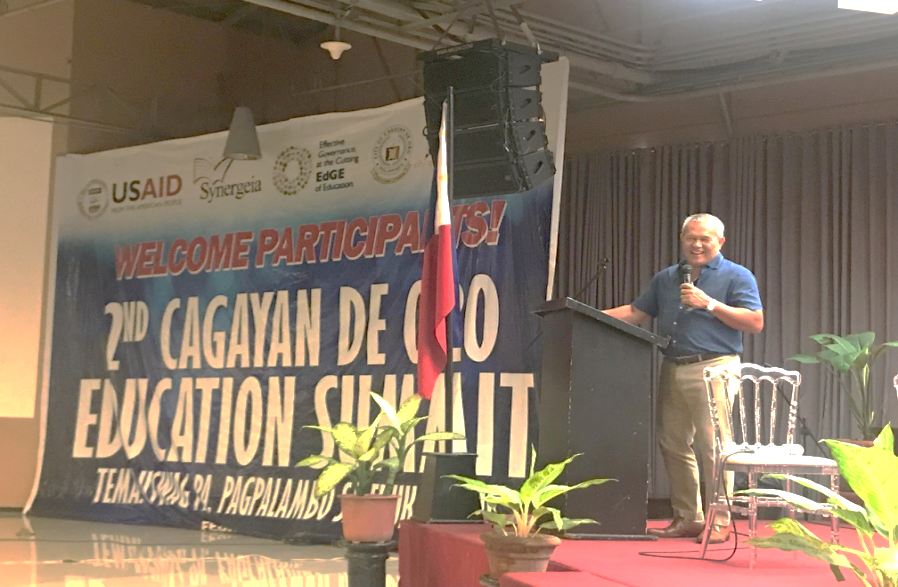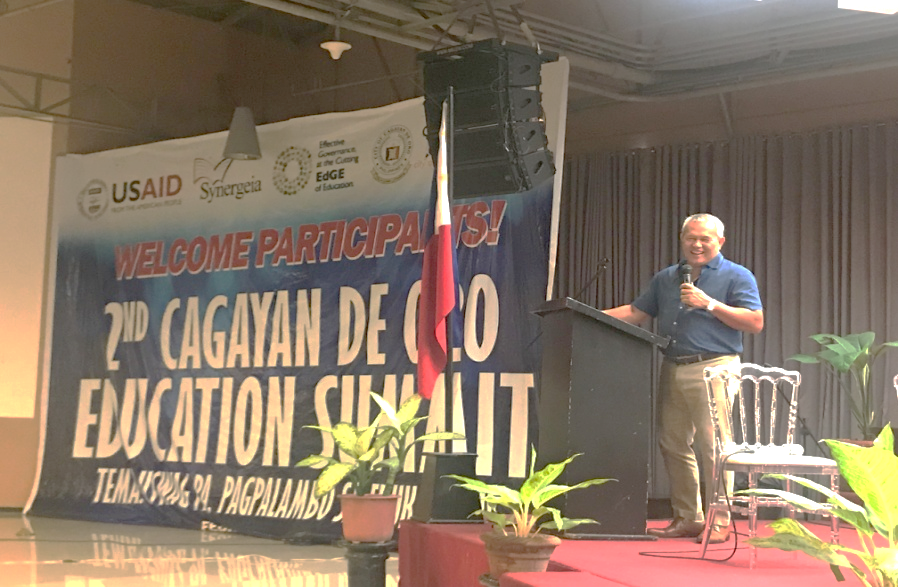 For almost 8 years of his education journey, there were remarkable accomplishments in CDO's program. Mayor Moreno's flagship program is improving school facilities to provide students with a conducive learning environment and student-friendly spaces. The LSB invested in classrooms. Having an initially uncooperative city council did not deter Mayor Moreno from implementing his program. He maximized the utilization of the Special Education Fund so that the problem of classrooms could be immediately addressed. So far, under his leadership, the City constructed more than 700 classrooms. New high school campuses have also been built in barangays where there used to be no high school. Because of this flagship program, CDO was chosen as one of 10 pilot cities in the country to implement senior high school under the LEADERS (Lead Educate Advocate Design Effective Responsive Senior High School) program by the League of Cities of the Philippines (LCP). Even during the pandemic, the Mayor did not stop his classroom project because he knew these are long-term investments in education.
Mayor Moreno saw to it that barangays and School Governing Councils work in harmony. He envisioned a strong school-community partnership on education. SGCs of Cagayan have become involved in school programs and projects. To ensure quality education, capacity building of teachers and parents were given special attention. For inclusive education, Mayor Moreno made sure children with physical disabilities, special needs and those from indigenous communities were part of the education program. Education programs reached children in the hinterlands. Mayor Moreno's education agenda was comprehensive and holistic.
Under Mayor Moreno's leadership, CDO has been awarded the "Seal of Good Education Governance" for four consecutive years in 2017, 2018, 2019 and 2020. The Seal is a recognition of a local government's initiatives in delivering quality basic education and for making it a priority agenda. To him , the Seal symbolizes the fruits of labor of the LSB, City Government, schools and communities. It is a return of investment. It is a realization of his dream, the heart of his journey in education.