Community representatives from Navotas City had a rare chance to meet with famous media personality and economist Prof. Solita "Mareng Winnie" Monsod in a forum provided by Synergeia Foundation during the USAID-funded Education Governance Effectiveness (EdGE) Convergence Workshop early this month. Navotas Mayor John Rey Tiangco also visited the workshop and graciously answered questions with regard to education.
In an open forum during the EdGE workshop, school heads, PTA members and barangay officials raised concerns about the implementation of the Department of Social Welfare and Development's (DSWD) Pantawid Pamilyang Pilipino Program (4Ps). They said that beneficiaries in their localities abuse the privilege by reportedly pawning their ATM cards used for the conditional cash transfer (CCT). This prompted Synergeia President Dr. Nene Guevara to invite Prof. Monsod to help the participants address issues about 4Ps of which Mareng Winnie is a member of the advisory committee.
Apart from erring beneficiaries who pawn their ATMs, the participants reported that the number of 4Ps beneficiaries reflected in City Link records did not match actual number of beneficiaries in a school. City/Municipal Links are persons assigned to oversee program operations at the city/municipality level. They are in close contact with beneficiary households. "Ang actual number ng 4Ps namin ay 900 pero sa Citylink, 1, 600," a principal related of her school's situation. "Doble yung name nung ibang pupils, yung iba nasa high school na, o kaya naman namatay na yung bata."
CCT regulations stipulate that 4Ps parents should send their children to school regularly and keep them in good health. A violation of these two conditions is immediate grounds for disqualification. However, many who violate the terms, according to the Navotas workshop participants, remain within the program.
Prof. Monsod graciously offered to set up a meeting with DSWD Dinky Soliman. "Dinky should hear it from you personally. You present the problem and the possible solution. Surely something will be done about this," she said.
After further discussing the issue, some principals admitted that the problem may also stem from implementing agents within the school. Teachers who check the attendance do not report the absences because they pity the family's economic situation, they said. Some principals reportedly sign the documents for the same reason. One of the principals, on the other hand, said she faced the same problems upon her entry to her school but she enforced 4Ps strictly and refused to sign documents until they reflected the true number of beneficiary children who were in her school.
This prompted Prof. Monsod to encourage the participants to hold a meeting among themselves first in order to share best practices that would address the issue of erring 4Ps implementers and beneficiaries. Afterward, Prof. Monsod assured that she would gladly provide a way to meet with Sec. Soliman for a focus group discussion on matters that should be addressed from the top level. "The program has been proven to work in other countries where it was implemented. It would be too bad if the Philippines would be the only country who cannot make it work," she said.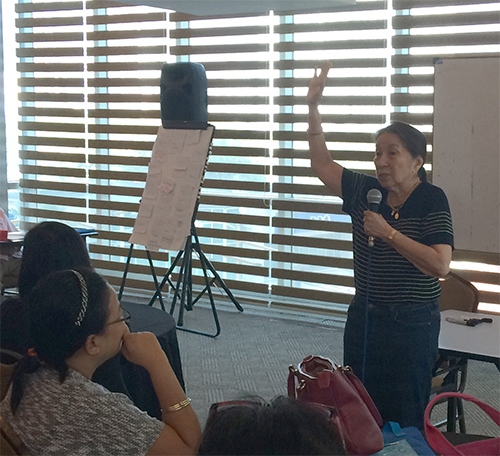 Prof. Monsod discusses 4Ps with Navotas stakeholders
An Audience with the Mayor
Later in the day, participants were given another treat upon the arrival of Mayor John Rey Tiangco who expressed his gratitude for Synergeia's support of the city's educational programs. "We owe our little successes to Synergeia," he said.
Mayor Tiangco emphasized the importance of improving the city's participation rate in order to improve the city's overall social and economic situation. "We know why kids need to go to school. The bigger percentage of the youth population that commit crime are those who are not in school. The solution is education."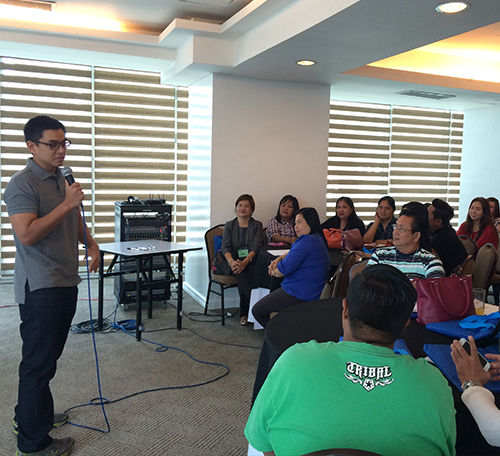 Mayor John Rey Tiangco talk education with his consituents
He appealed to the participants to exert more effort in convincing parents to send their children to school. He noted that many are still not convinced that education is important. "Pag medyo malaki na ng konti, puede na magtrabaho," Mayor Tiangco noted of some parents' attitude. He said everyone must work together to make sure kids enjoy while learning so that they will stay in school. "It is our role as leaders to not waste the effort of parents in sending their kids to school. We need to raise the quality of education so all that time will not be wasted."
The participants then had the privilege to air their specific concerns regarding school programs and budgets, which Mayor graciously addressed one by one. As a parting message, Mayor Tiangco stressed the importance of sustainability through the development of good values in children. "Each school and each barangay has its own plans. It's not only important that they get educated, it's more important that they develop good characters so that our programs will be sustained."
The Convergence workshop was held on May 7-8, 2015 at the Ateneo Professional Schools in Rockwell, Makati City. The open discussion between stakeholders and their leaders is a privilege made possible through the EdGE program. It is a five-year USAID-funded project which runs from 2013 to 2018 and seeks to improve education governance with the end goal of improving learning outcomes, particularly early grade reading, for at least 1 million children.
---