While most people were already pre-occupied with Christmas parties and holiday preparations, key officials of the local government of Mamburao were immersed in training last December 18-19 at the town's PPSTA Building.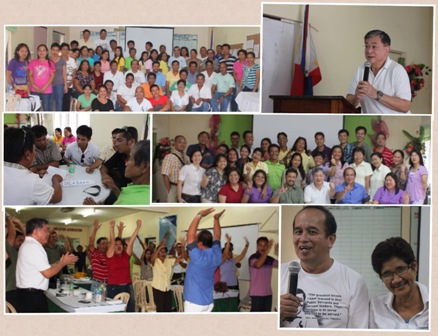 Thirty (30) Local School Board officials and 55 barangay chairmen, councilors, secretaries and treasurers participated in the activity intended to improve the capacity of the LSB and the barangays to respond to the education needs of their community. Mayor Voltaire Anthony Villarosa set the tone of the discussions by presenting the state of education in the municipality. He challenged the LSB and barangays to work together to improve performance of schools and their children, noting that in the National Achievement Test SY2010-2011, the average Grade Six student of Mamburao could answer 6 out of 10 questions correctly. This, he said, can be increased further.
Synergeia Trustee, FGov. Lito Coscolluela, who conducted the training for the LSB, provided insights and lessons from other LGUs that have successfully reinvented their LSBs and are now reaping good results. The participants were given practical exercises on how to use education data to improve planning and budgeting of funds for education.
The officials were also given a one-day training by Kap Ed Tiongson to strengthen barangay involvement in education governance. Barangays were encouraged to organize Barangay School Boards to institutionalize barangay support and partnership with their schools.
---