By: Carmela Kris Armilla, Program Officer, Synergeia Foundation
"Before I retire, I will contribute what I can to make our SGC functional and active," declared Juan Rivera Jr. with resolve after attending the SGC Workshop. Mr. Rivera is the 61-
year-old principal of Apo Elementary School in Argao. With four years left in his term, Principal Rivera is inspired to exhaust all means to improve the school he serves. He sees the SGC's role
in making this possible.
He was one of around 170 School Governing Council (SGC) members from Argao, San Fernando and Santander who attended the two-day workshop "We Can Work It Out: Making Our SGCs Work" held at Montebello Hotel, Cebu City last July 25-26, 2017.
Having undergone Level 1 training, our SGCs this time were given Level 2 training "with a little bit of 3." The "little bit" part aimed to introduce some Level 3 modules to our participants.
The first plenary focused on a review of the role of the SGC, its responsibilities, how it is formed and why it is different from the Parents-Teachers Association. When the participants
were divided into clusters, they went through an appreciative inquiry exercise where they shared stories behind the performance of their students in terms of their NAT scores and the cohort
survival rates. Realizing where the students stand had set the tone for the SGCs to be introspective on how they can play more effective roles in improving basic education.
Their first group activity was solving a puzzle. It was meant to test how well they work with others. After the group activity, one participant realized the essence of "making collaborative ideas." Another said that when faced with limited resources, thinking "outside the box" was key. Gov. Josie dela Cruz, former Governor of Bulacan and Synergeia mentor, emphasized the importance of inclusivity when working in the SGC, stating that exclusivity might limit opportunities for development.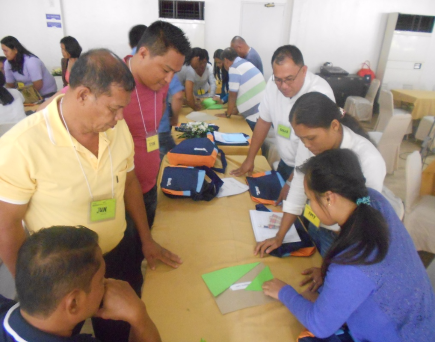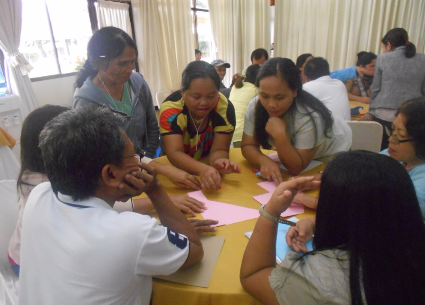 SGC members are shown trying to solve the puzzle.
Using a "satisfaction meter," the SGCs then went on to assess their performance on five aspects – their ability to hold regular meetings and set agenda, election of officers, agreeing on by-laws, engagement of the community and formulation of school policies. Through role-plays and cluster discussions, the participants learned more about project planning, translating goals into tasks, financing and conflict resolution. One policy that they think should be established is the roles of parents and the school principal and teachers in the education of the children. They agree on the important role of parents because they are the teachers of students at home.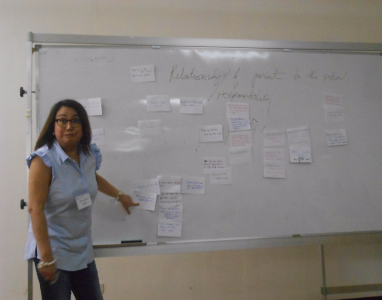 Synergeia Mentor Gov. Josie facilitates the discussion on activities and tasks to implement the goals of the SGC.
Creative fund-raising activities for the SGC were also discussed. Gov. Josie shared a snippet of wisdom – that "all funding begin with a good project." Some barangays shared that activities such as Gulayan sa Paaralan, Prince and Princess contest, and sewing projects have financially supported their respective schools and SGCs.
The concepts of input, output and outcomes, the steps in designing process flows, and action planning and evaluation were introduced to the participants. These are the Level 3 modules that have been included in this workshop. The participants learned new tools such as the process flow and action plan matrix that will help them identify tasks more systematically and in specific terms including setting deadlines to accomplish these tasks. They also learned about looking beyond outputs and seeing that outcomes of their projects are what impact the lives of students and the community as a whole.
At the end of the workshop, our SGC participants agreed that the collaboration of parents, school and barangay leaders is the linchpin towards a holistic and secure quality education for students in their respective communities. They gave their thanks and shared the common goal they wish to accomplish. "Our goal is to make our SGCs functional in their respective areas," shared Ms. Rosalina M. Fuentes, principal of Balasa Elementary School.