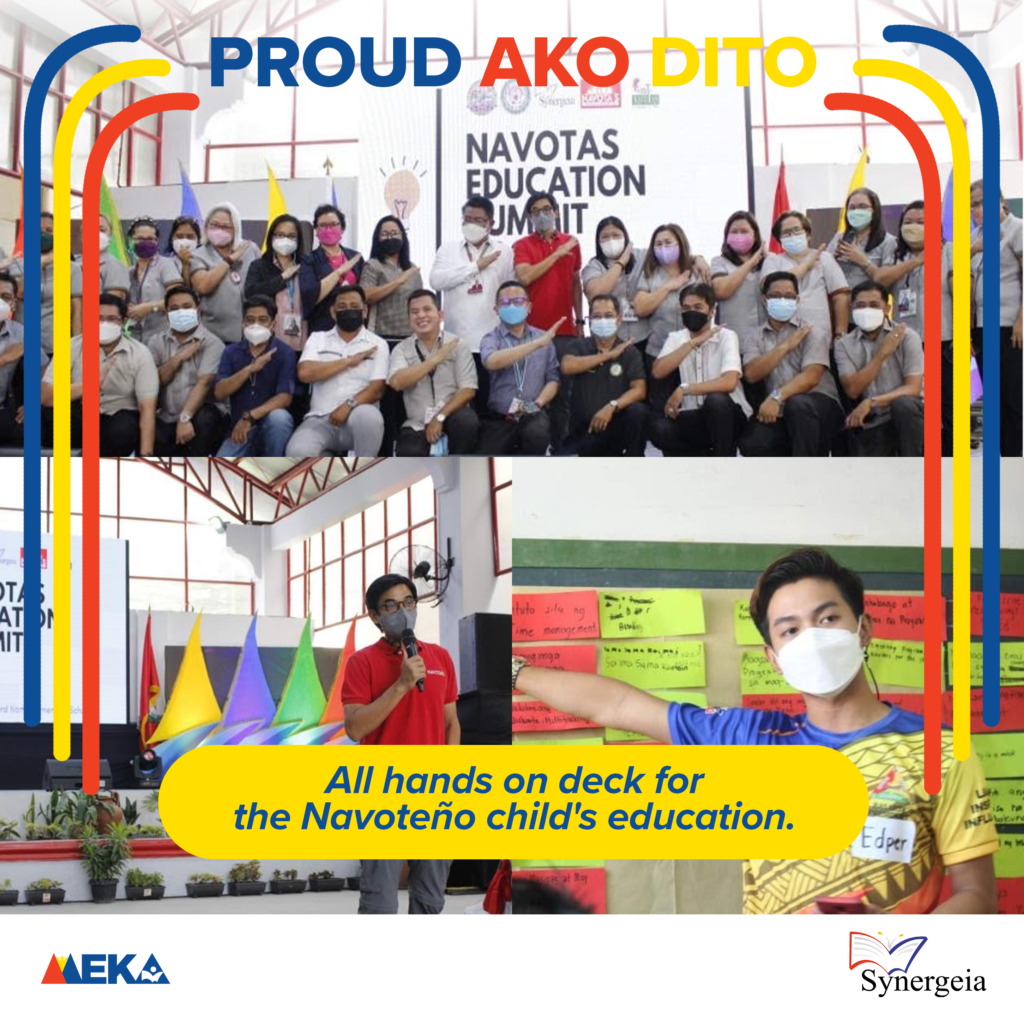 The excitement was palpable as one entered the covered gymnasium of North Bay Boulevard North Elementary School. Everyone who has a stake in the Navoteno child's education – LSB members, SGCs, teachers and principals, students and parents – seemed to have come early for the Navotas Education Summit held last March 23, 2022.
Navotas City aims to move forward its education agenda by building on what happened during the pandemic. Looking back, stakeholders tried to recall what gave them joy and what made them sad during the pandemic.
Having more time for family bonding and learning new skills like research, ICT, time management and learning independently topped the list of joyful things that happened to learning despite the pandemic. Parents were happy to be "nanay-tatay teachers," to be inspirations to their children and to learn along with their children. Teachers and principals were thankful for innovations like the "Navo school-in-a-box," containing all learning resources that a student needs in one month, that the local government provided to all students.
But coping with online learning was difficult for students who did not have gadgets and had no access to the internet. It made students and parents sad. Almost all stakeholders lamented the lack of co-curricular activities that help students develop their social skills and their talents. Students missed the joy of graduation ceremonies or receiving awards for excellent performance. Some suffered mental stress due to isolation and fear. Principals and teachers noted the lack of tools to assess literacy and numeracy levels.
Moving forward, stakeholders gave their suggestions on what programs of joy can be continued and what programs can mitigate the learning problem, some of which are:
Bringing back students to the classrooms and have face-to-face classes.
More co-curricular activities for students, and mental health and wellness programs for teachers and students
Strengthening SGCs in mobilizing resources for education
Capacity building for parents as "nanay-tatay teachers"
Capacity building for teachers on learning innovations and effective delivery of instruction.
The mid-afternoon sun was blazing as the summit drew to a close, just like the warm partnership of education stakeholders in Navotas. Congressman John Rey Tiangco came to thank everyone for collaborating and contributing to the formulation of a new education agenda.