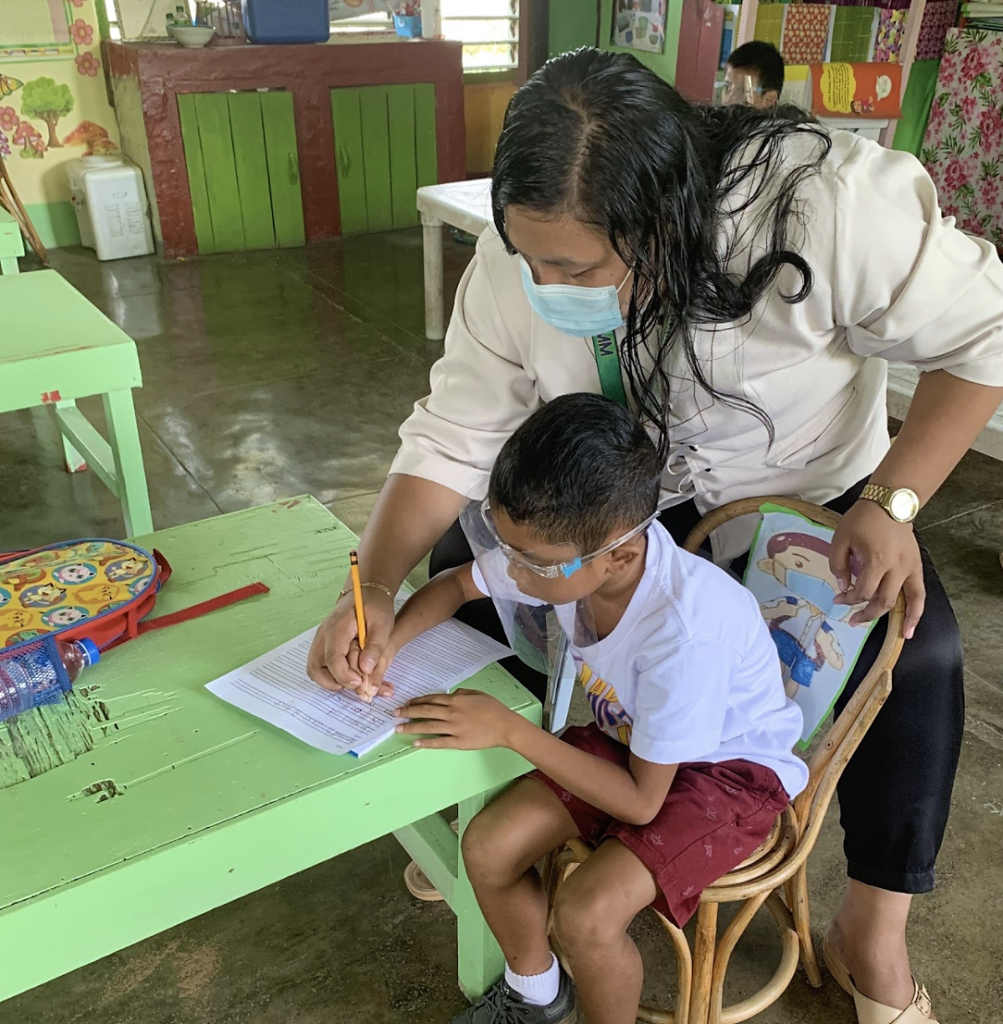 By Manolo Serapio Jr.


In an extraordinary year when the Covid-19 pandemic shuttered schools, students needed all the help they could get to learn remotely. And in a school district in Maguindanao province, teachers and parents worked hard to help young learners during their first year of school and to make sure that no student would drop out.


From teachers holding remedial classes and delivering learning modules using motorcycles to parents helping other parents and students struggling with distance education, the collective efforts of of the Inter-Parang school district in Maguindanao reflect a community's commitment to ensure that learning continues in the middle of a global health crisis.


At the top of Virgie Balucas' priority are Grade 1 students who had to spend their first year of elementary school outside a classroom. She wanted to check whether they picked up anything from self-learning modules which they had to answer from home.


As the head of the Inter-Parang district in Maguindanao, she launched a tutorial program that tested and reinforced their knowledge in reading, writing and arithmetic.


"Not all parents are capable of teaching their children, so I wondered whether these Grade 1 students learned anything in the past months and if they are ready to move to Grade 2," said 55-year old Balucas.


That gave birth to Oplan 5Rs in the New Normal or the Remediation and Reinforcement in Reading, (W)Riting and (A)Rithmetic program. The tutorials, which ran from April to June, were given in person to Grade 1 students to help those who struggled with the lessons and reinforce the learnings of advanced pupils.


Parang is among the more than 400 local governments that work with Synergeia Foundation in improving the quality of basic education. In partnership with international organizations like the United Nations Children's Fund, with support from the Government of Japan, Synergeia helps strengthen Local School Boards and School Governing Councils and advocates for more efficient ways to teach children during a pandemic.


Parents sit in with children


The Inter-Parang district, which comprises five elementary schools and one primary school, administered assessment tests in early April to determine the proficiency levels of the students ahead of the remedial program.


Balucas said about 62% of all enrolled Grade 1 students joined the once-a-week tutorials where participation was voluntary and parents' approval was required. The classes ran for about two hours a day and were done with compliance with health and safety protocols. Barangay officials and health workers needed to sign off on the tutorials before they were carried out.


Grade 1 pupils who had below average scores in the assessment tests learned how to write the letters of the alphabet and use phonetics in both Filipino and English after the tutorials, said Raihana Ariman, a teacher from Punta Central Elementary School who handled 41 students under the program.


The intervention was necessary to help the learners, said Ariman who began teaching last year. "If we're not going to make a move, who will make a move to help our new learners?" she said.


In Nituan Elementary School, 42 pupils joined the tutorials, representing 58% of Grade 1 enrollees, said Roxanne Sagucio, also a newly hired teacher.


"I asked the parents to sit in with their children because many of them are unschooled. I ended up teaching both the children and the parents, so the parents can continue teaching their children at home," said Sagucio.


'Help each other out'


Parents also got involved, with mothers assisting other mothers and students in understanding the modules.


Forty-one year old Noraisa Adao Mama from Barangay Orandang is only a high school graduate, but she helps other parents who did not get an education, to understand the learning modules, often translating them into the Muslim language so they would grasp it.


"It feels good to be able to help even if what I know may be limited," says Mama, whose daughter, a college student and one of her six children, assists her in mentoring other parents. "We do it because it's the proper thing to do," she adds.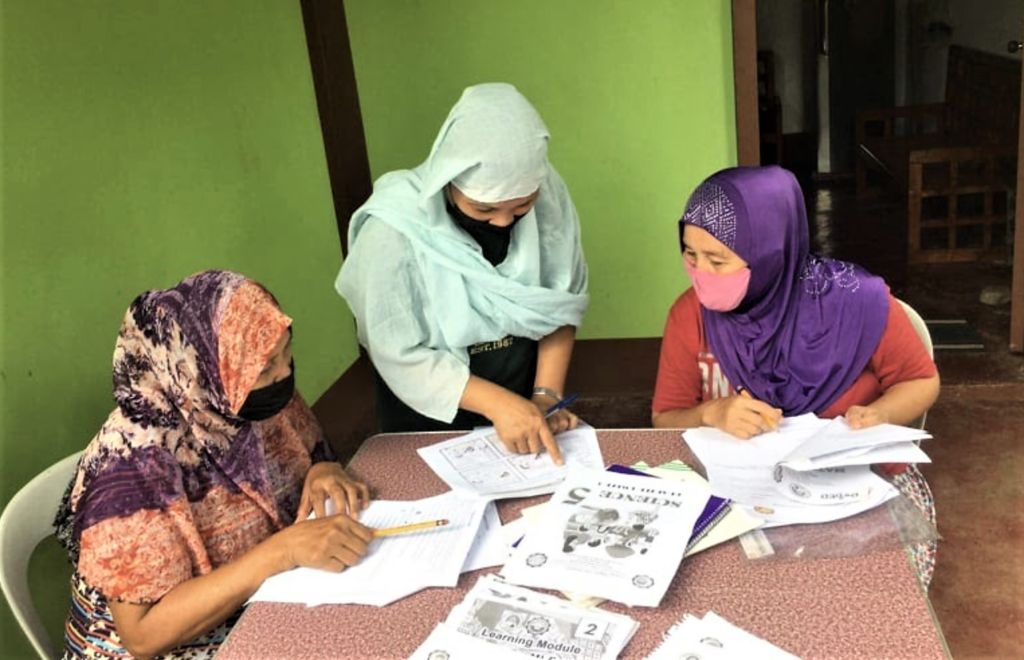 Mama works as a barangay kagawad, or councilor, and participated in a training seminar organized by Synergeia Foundation in Davao City in 2018.


Maria Modin Barao, from the remote barangay of Kabuan, picks up modules for more than 20 children, mainly first to fifth graders, to discourage their parents from making them drop out of school.


"Most of the parents would like their children to stop studying because they can't teach them at home, so I volunteer to tutor the children," says Barao, 35, who was unable to finish high school.


Another parent volunteer, Dai Mastura Datumanong, seeks the help of some teachers to assist the children of her friends and neighbors.


"We should help each other out. Let's encourage our children to study. They don't need to be a president or a supervisor as long as they finish their education. That in itself will be their biggest treasure," said Datumanong.


Modulivery, two-way radios


Balucas, the District-in-Charge, clearly runs a tight ship, and is supported by equally passionate teachers.


One elementary school in the district, Sagasab Elementary School, printed QR codes for parents to facilitate contactless pickup and return of learning modules, said teacher Renzo James Sara. He said there is a plan to implement this system in the whole district.


Teachers in the district also bought, through their respective schools' Maintenance and Other Operating Expenses budget, two-way radios so they can communicate with the parents and children at home.


Many places in the Philippines opt for two-way radio in the absence of Internet connectivity and electricity.


Teacher Hamphrey Dequiña, also in charge of the information and communications technology of the entire district, helped set up the two-way radio system as the main means of communication between the teachers and students.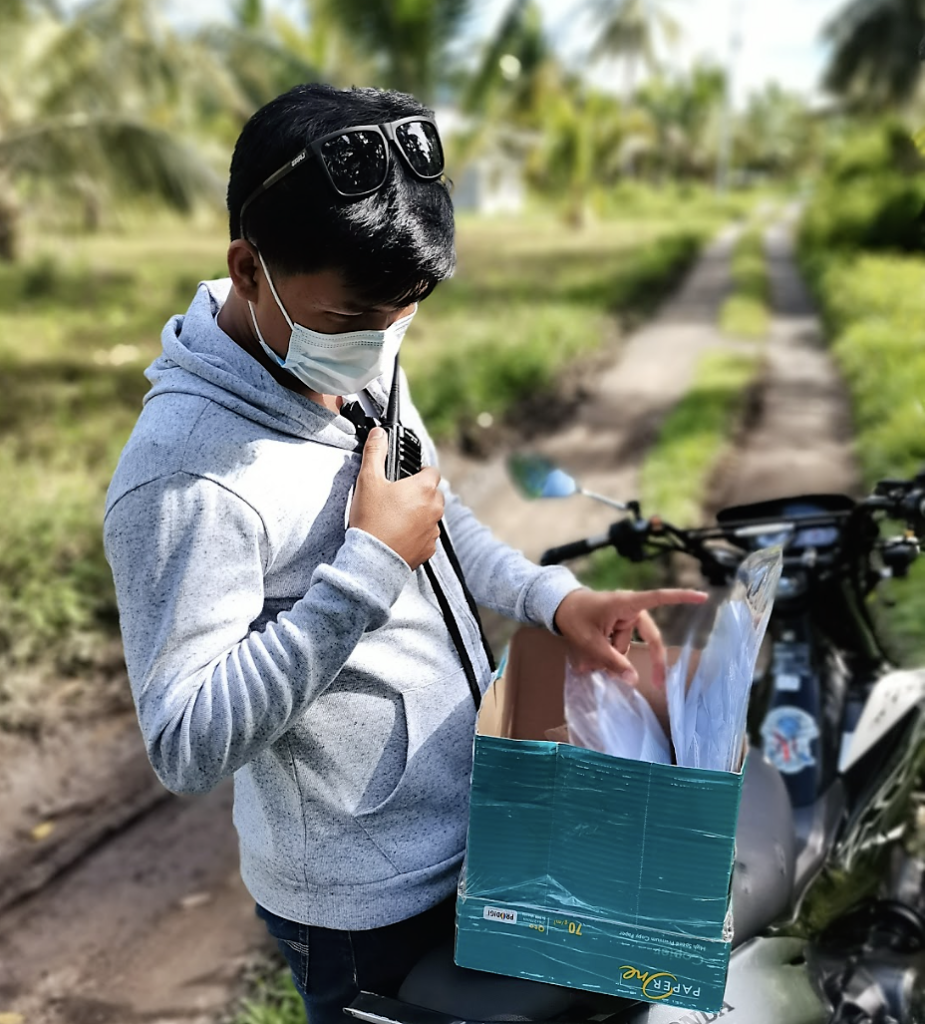 The 28-year old Grade 6 adviser is also among teachers who personally deliver modules to children's homes after they noticed that the number of parents picking up modules from the schools had declined soon after classes opened last year.


Using his own motorcycle and money for gas, Dequiña distributes modules to students belonging to eight families in remote areas. "We call it modulivery," he says.


"Our goal is that no Bangsamoro learner will be left behind, so we do whatever we can to make sure we meet that goal. This is all borne out of our love and passion for teaching," says Dequiña.