Progress Report as of June 2008
In 2007, Sec. Victor Ramos, Synergeia Foundation and the Municipal Government of Natividad entered into a partnership to enable 650 grade one students in 18 elementary schools in Villanueva to read, write and understand simple English. These skills are critical in developing the comprehension, communication, and thinking capabilities of children.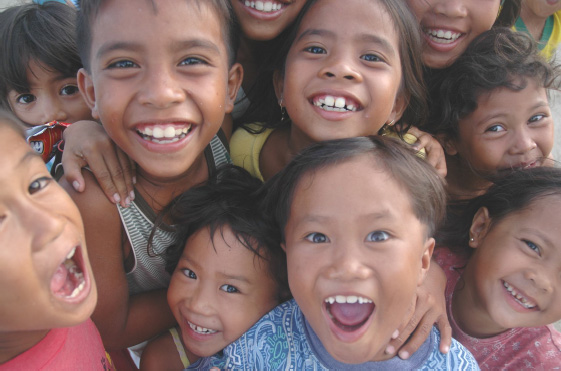 The Natividad Reading Proficiency Program also builds the capacity of parents, school officials, teachers, local school board officials and community leaders to actively participate in improving the processes that will make children learn better. These processes include performance assessment of students, collaborative planning through summits, teacher training, organization of parent support groups, development of instructional materials, and reinvention of the local school board.
In a signing ceremony held at the SGV Board room between Secretary Victor Ramos and Mr. Washington SyCip, trustee of Synergeia, the former announced an early Christmas present that he would be supporting the program in Natividad, Pangasinan for three years.
Indeed, the assistance of Sec. Ramos to the community of Natividad has gone a long way. Within less than a year of implementation, program interventions such as training of Grades One teachers, the provision of children's workbooks and teachers' manuals, the training of parent-leaders, and training of the Local School Board have contributed to an increased level of grade one students with reading levels of second and third readers by 5% and 6% respectively by March 2008.
1. Organizing the Green Berets
To engage different stakeholders in the program, a multi-sectoral Project Management Team (PMT) was organized in July. The Natividad PMT is headed by Mayor Alejandra Supnet and is comprised of the DepEd Supervisors, PTCA federation officers, grade one teacherleaders, principal-leaders, other municipal officials such as the Treasurer, Planning Officer and Budget Officer.
The Natividad PMT joined PMTs from San Manuel, San Nicolas, Itogon and Sta. Barbara1 in a joint training workshop with Synergeia. The training was held at the San Roque Corporate Social Responsibility Office in San Manuel, Pangasinan. Mr. Tom Valdez, Vice President of San Roque Power opened the activity. To allow participants to have a better understanding of how their children were performing in schools, Dr. Milwida Guevara presented the performance of Pangasinan children in the National Achievement Tests. Even with 6 years of elementary schooling, students from Pangasinan have only developed 6 out of 10 learning competencies. However, the good news is, children from Natividad do better than their peers from San Manuel and San Nicolas2. While graduating students from Natividad perform better than their peers, it was agreed that 73.2% is still below "pasang awa"3. The goal is to help students achieve reading proficiency of at least 85% when they graduate from elementary school.
Mayor Alfonso Gamboa of EB Negros Occidental was invited by Synergeia to share his town's best practices in improving the quality of education in public schools. Just like Natividad, they were shocked to find out that children from their municipality were graduating with poor reading skills (49.53 percent proficiency) in 2001. With support from the whole community – parents, barangay and even the Sangguniang Kabataan, the town was able to raise its average achievement test scores to 62 percent in three years.
Former Nueva Vizcaya Governor Rodolfo Agbayani also shared his province's experience in improving the quality of education in day care centers and public schools. By engaging parents and barangay officials, they were able to raise reading scores from 62% to 78%.
After a brief open forum, PMT members discussed issues in education which concern them the most and how they will work together towards addressing these issues.
The Natividad PMT identified four major reasons why children are not performing well in school. They then suggested programs and strategies to address these concerns.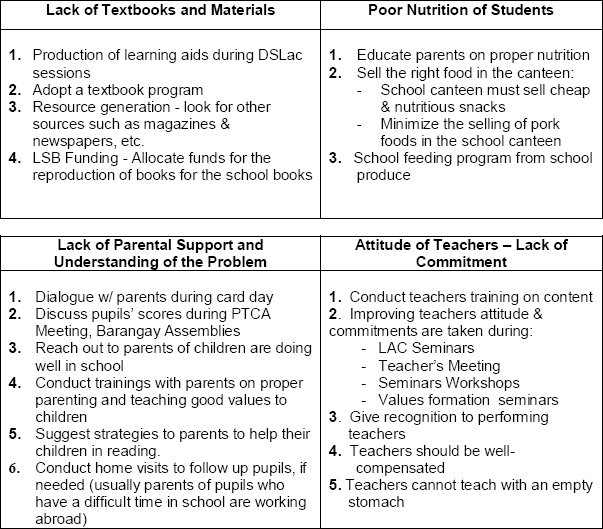 At the end of the workshop, the Natividad PMT shared that they not only learned new strategies and ideas but also developed a deeper appreciation of their role in improving the quality of education in their municipality.