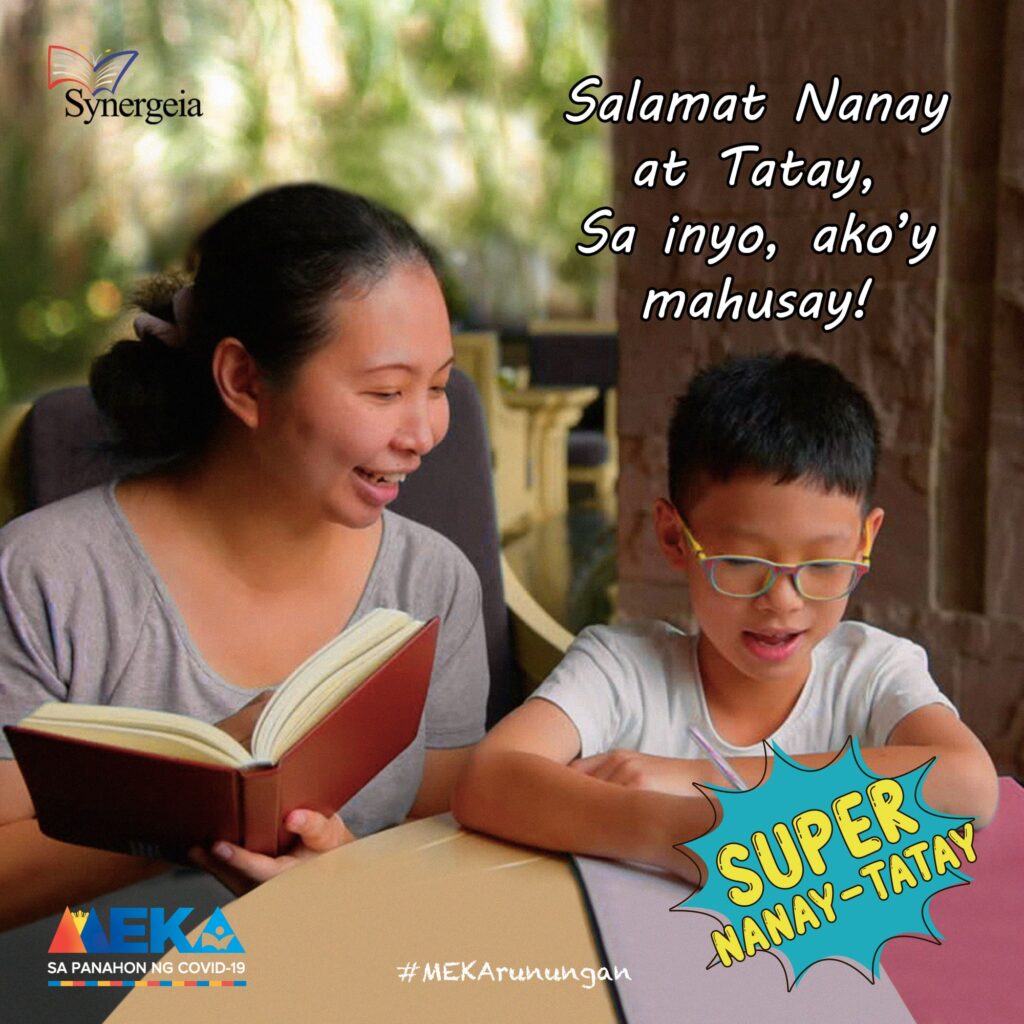 We are happy to bring the workshop on "Parenting sa Panahon ng Pandemya" (Parenting in the Time of Pandemic) to Pasig as a joint initiative of the City Government, the DepEd Division Office and the Regional Education Council. We are giving 6 workshops spread over the first 2 weeks of September and covering all 44 elementary and high schools in Pasig. Last July and August, parents' workshops were held in Valenzuela, Cagayan de Oro and Magsaysay in Misamis Oriental, Argao, Maribojoc, Del Carmen, San Fernando in La Union, La Carlota, Victorias and Talisay, and in Panay Island. We have also reached out to parents from Kapatagan, Balindong, Piagapo, Saguiaran, Taraka and Marawi City. We are grateful that through Zoom and Facebook live, we are able to continue our training programs and reach so many parents, not just all over the country but also OFW parents working in Hongkong, Kuwait, Saudi Arabia and other countries.
Now more than ever, with remote learning and home schooling, parents have a huge responsibility to guide the education of their children. But many parents are not prepared for their roles as nanay-tatay-teachers. In the parents' workshop, we help them with pointers on how to motivate their children to study well even in a home setting. They get guidance on how a child can learn and understand his lessons instead of memorization through mere repetitions. They also learn how to enhance a child's reading comprehension skills. We present parents with several questions and they either answer by way of sharing their own experiences or by taking the opportunity to ask their concerns from the LGU or the DepEd. Parents learn from each other's experiences and life situation in this sharing session.
What does it take to be a super nanay and tatay, or ate and kuya, or tita and tito, or lola and lolo, teacher? We believe it is love and compassion, strength of character, the willingness to adapt, patience and perseverance, and rising above life's problems and challenges. Mom Emily thinks it is important to set aside time for reading. She herself likes to read and wants her daughter and only child to develop a love for reading, too. Marialyn and her husband are both working parents. They trained their children to be independent learners so they can be left to attend to their studies during daytime. When Marialyn and her husband come home at night, they make sure they set aside time to check on the school work of their children. Jun, a security guard, was on duty during the Valenzuela parents' workshop. Still, he managed to sneak in and attend the virtual workshop because he wanted to learn to be a good tatay-teacher. He said it is he and not his wife who patiently looks after their child's schooling. He worried about owning only one cellphone which he brings with him to work. His Grade 2 child would have no gadget to use at home. Jennifer knows there are many sacrifices she has to make as an OFW mom but she needs to be strong for her family. She keeps in touch with the teachers of her children. She convinced her husband to be more active in their children's school activities. Although a tutor comes to help her children with school work, Jennifer patiently makes video calls to her children everyday to check on their lessons. Jennifer is thankful that her employer allows her to do this. Her simple joy in her far-away home is to hear her children's voices and to receive pictures from them.
Our Local Chief Executives are as involved in this endeavor. They join the workshops to provide inspiration and good cheer to the parents. Mayor Vico Sotto of Pasig City is one of them. Just like his appearances during the entire series of teachers' trainings last February, Mayor Vico has dropped by in all the past 5 parents' workshops in Pasig. He expressed hope that the training will be useful and empowering to the parents. He said it is important for all stakeholders in the LGU – parents, students, teachers, DepEd, LGU, private sector, non-government sector – to come together in this endeavor so that it could lead to a good and positive result.