Diamond Hotel Philippines turned over on Sept. 1 a cash donation to Synergeia Foundation to help children in two public elementary schools in Metro Manila read better, be more adept at Math and Science, have parents that are more involved in their education, and to develop values that would mold them into better individuals and citizens.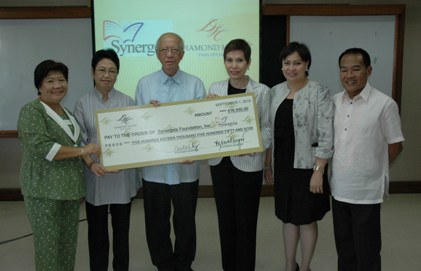 School administrators joined Diamond Hotel and Synergeia Foundation officials during the turnover of the check worth P516,550. The donation will benefit the Fernando Guevarra Elementary School and Rafael Palma Elementary School in Manila.
"It's very exciting to have partnerships between the private sector and schools and have officials of the companies involved directly with the activities," said Milwida Guevara, Synergeia president and chief executive officer.
Ateneo de Manila University president and Synergeia Foundation chairman Fr. Bienvenido Nebres said collaboration between the donor and the schools are important. "Beyond the money, making time and effort to join the school activities are vital to making things work."
Nebres and Guevara noted the need to first improve the present education system in the country by providing the needed inputs such as classrooms, reading materials, and teacher trainings as well as encouraging the active participation of all stakeholders.
"We need to address the basic needs of the students first when giving assistance; as simple as toilets in the schools," Nebres said. "We also have other initiatives such as feeding programs and provision of eyeglasses to improve the students' eyesight."
Aside from the financial assistance, Diamond Hotel general manager Vanessa Suatengco pledged the company's active involvement in the program and activities in both schools.
"There are so many things we can do together. We encourage our employees to join activities at the school and I know that the general staff would be happy to help and be involved with the programs," Suatengco said.
Principals of the two schools thanked Diamond Hotel and Synergeia for their efforts to assist their institutions.
"This type of partnership is a big help to our public schools," said Dr. Franklin Marcelo, principal of Rafael Palma Elementary School. "With our limited budget, your donation will go a long way."
Herminia Gonzales, principal of Fernando Guevarra Elementary School, also welcomed the participation of Diamond Hotel in the schools activities, noting that it is a good way for donors to see what their contributions have done for the students.
Synergeia Foundation said it would conduct an education summit in each of the respective schools as a venue to consult with the stakeholders and to conduct workshops for parents, teachers, and community members
Guevarra also said having donors assist in school activities allows them to see first-hand what else can be done to help the schools. Among the activities donors can do include serving as facilitators in school programs and as teachers and tutors to low performing students.
"It really depends on what the school needs. By working together with the schools, donors can see which areas still need some assistance," Guevarra added.
---