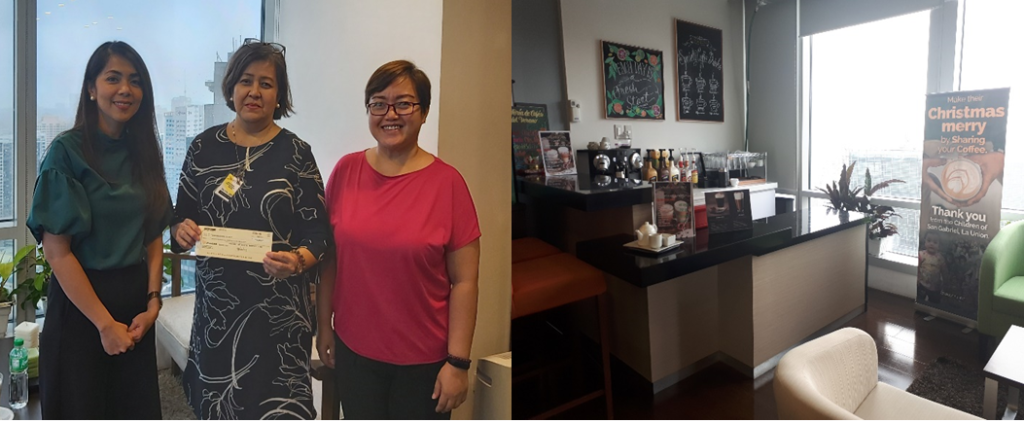 It is true that a little good deed goes a long way. The partnership with 2Success, Inc. began when Ms. Camille Ocai witnessed the exemplary public service efforts of local government units in an event organized by Synergeia Foundation. She was then a young account executive of the Dusit Thani Hotel when she heard about the good education governance of Mayors . The memory that stood out with Ms. Ocai was the passion and dedication that they showed in helping children in school. She promised at that moment to look for ways to support them.
Fast forward to 2018, Ms. Ocai now works at 2Success, Inc. as an Administrative Manager. The company is a software service provider that offers innovative and creative marketing, customer service, product development, software and IT solutions throughout Aisia. Their office in Makati has 200 employees consisting of specialists from around the world. As the company was to hold its annual fund-raising activity for the benefit of a charitable institution, Ms. Ocai remembered her 'promise' to help Synergeia and the band of mayors who were committed to improve children's education.
2Success, Inc. launched its "Coffee for a Cause" Project during the Christmas season. They sold premium coffee blends to their staff, which otherwise was given for free during the rest of the year. The proceeds reached P206,922.86. The proceeds will go to the printing of workbooks for the children. They have chosen the Municipality of San Gabriel, La Union, an active member of the Regional Education Council of Northern Luzon, as their company's beneficiary.
Mayor Herminigildo Velasco of San Gabriel was very thankful, for the school children who will receive the workbooks. The LGU has initially chosen Bumbuneg Elementary School as recipient but other schools will also benefit from the donation. Bumbuneg ES has the most number of frustrated and instructional readers in the whole of San Gabriel. Mayor Velasco said the workbooks will help the students motivated in improving their reading skills. Bumbuneg ES has 262 students from Kinder to Grade 6. But it only has 9 teachers. The school caters to 4 sitios, the farthest of which is Sitio Bubor which is 5 km away while the nearest is Sitio Mamleng that is 2 km away from the school. Some of the children have to walk for 2 hours to go to school and another 2 hours to go home after classes. Most of the chidren are from IP communities.
And just like a gift that keeps on giving, 2Success, Inc. has decided to partner once more with Synergeia for its next round of Coffee for a Cause. This time, the beneficiary will be Dilausan Elementary School in Balindong, Lanao del Sur.