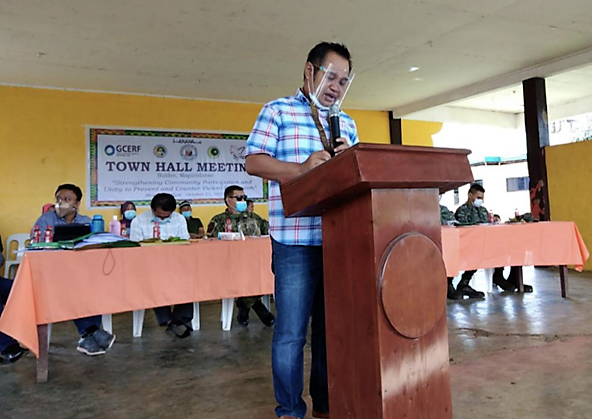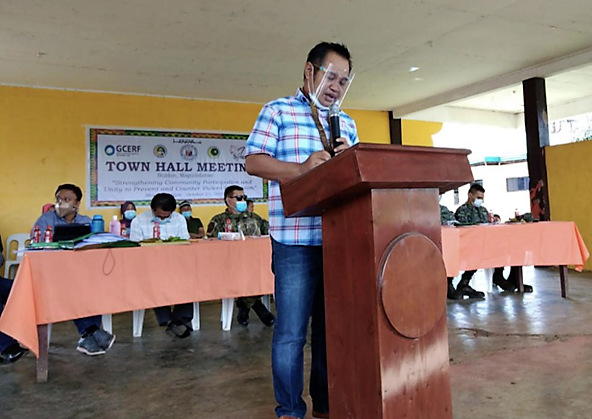 By Manolo Serapio Jr.


Twice a month, Alim Esmail Malic and his group would go around the barangays in Buldon, Maguindanao telling people about the evils of terrorism as the municipality's fight to counter violent extremism continues in the middle of a pandemic.


The local government of Buldon has teamed up with Ulama, or Muslim scholars, like the group of Malic, in its campaign against terrorism. Together, they have kept the town free of terrorist activities and, with the help of education, have kept the youth away from joining groups that advocate radical extremism.


Maguindanao has been at the center of offensives by terrorist groups. On Saturday, more than 100 gunmen belonging to the Bangsamoro Islamic Freedom Fighters, who are linked to Islamic State militants, occupied the public market in the town of Datu Paglas for six hours, before fleeing shortly after the military launched an assault. No one was hurt in the clash but it was another reminder of the ever-present threat of terrorism in the area.


"We're doing everything we can to fight any threat of terrorism in our town including holding Islamic symposium and going around the barangays to warn the youth and our citizens that terrorism will do no good," said Malic.


These gatherings are done safely with participants wearing masks and are socially distanced even though Buldon is among the few places in the Philippines where there is no local transmission of Covid-19.


Malic is a consultant for Islamic Affairs in the local government headed by Mayor Abolais Manalao, the legendary peacemaker in the municipality.


When he was first elected mayor in 1998, Manalao, clutching a Petromax lamp, stood between two warring families whose violent dispute extended into the night. It was the first rido, or family feud, that he settled successfully and his lamp has since come in handy to settle rido in the dark.


Rido was so rampant in the 1970s through 1990s in Buldon as guns abounded in the community, leading to senseless deaths and trapping people in their homes or undisclosed places for fear of being killed by their enemies.


Manalao formed an alternative dispute resolution team comprised of ustadz, or respected Muslim scholars and experts, to help end family disputes. He followed it with a program that forced citizens to return their guns in exchange for cash or cattle.


Since 2018, there has been no recorded case of rido in Buldon, a small municipality in the southern Mindanao island with a population of just over 35,000 people.


"Our campaign against terrorism should not stop," said the 53-year old Manalao, who earned the alias "Panday", the fictional hero made popular in films by the late actor Fernando Poe Jr. Panday translates to healer in the local Maguindanaoan language Iranun, referencing Manalao's work in mending clan wars in Buldon.


'Peace hinges on education'


At a town hall meeting in October organized by the Buldon local government in partnership with Synergeia Foundation and the Global Community Engagement and Resilience Fund, Manalao stressed the crucial role of education in preventing violent extremism and promoting peace in the municipality.


At the meeting attended by 161 participants including members of the Local School Board, School Governing Councils, Philippine National Police, Ulama League, Sangguniang Bayan and madrasah presidents, the mayor countered the misconception that madrasah, or Islamic schools, are involved in teaching terrorism and violent extremism.


He said madrasah, like a secular school, is a safe learning space for children that helps nurture their moral values and holistic development.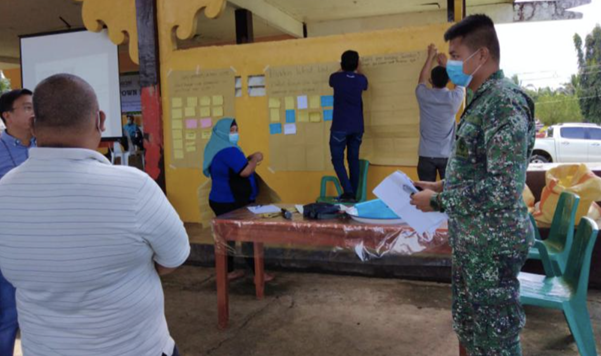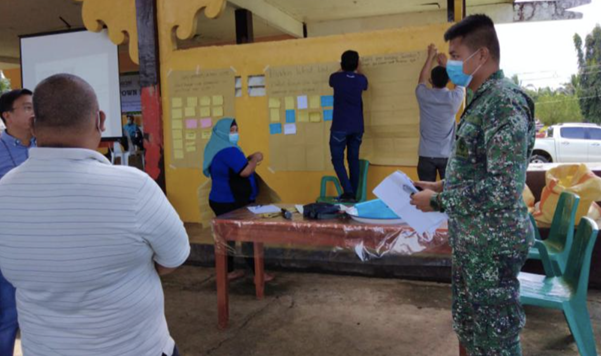 Synergeia works with GCERF in municipalities like Buldon to break the ascent of violent extremism. Other areas covered by the program include the municipalities of Piagapo and Kapatagan in Lanao del Sur and Jolo in Sulu.


"Our future hinges on education, peace hinges on education," Manalao said. "Children who do not receive quality education end up jobless and those without jobs are often lured into terrorism."


Preventing violent extremism should start at home, he said, with the parents educating their children on why they should shun terrorism which is forbidden in Islam.


Before the pandemic hit, the local government has been implementing an ordinance requiring those aged 13-17 years old to be in school during the day.


Now that schools have been shut for more than a year due to the health crisis, barangay officials rove around villages, making sure non-residents are barred from entering, said Rufo Capada, president of the Association of Barangay Captains in Buldon.




Peacemaker


Capada is the chairman of Barangay Dinganen, the only non-Muslim barangay in Buldon, and also heads the School Governing Council. Dinganen Central Elementary School is considered the best performing school in the municipality with the support of the SGC.


Capada, a Catholic, initiated the creation of an ordinance strengthening collection of real property tax in a bid to boost the Special Education Fund. It required residents to present proof that they have paid their taxes before they do any transactions with the barangay. That led to an increase in the education fund and the move was later replicated in the remaining 14 barangays.


SGCs have been instrumental in helping keep the peace in the municipality by ensuring that children are engaged in school work and other activities.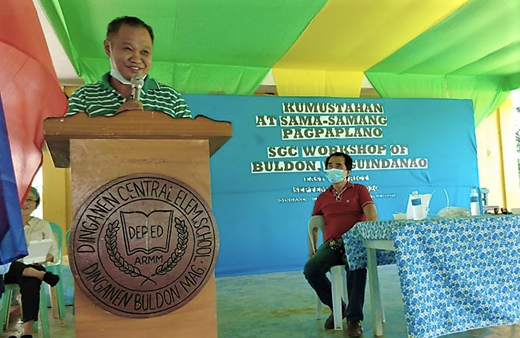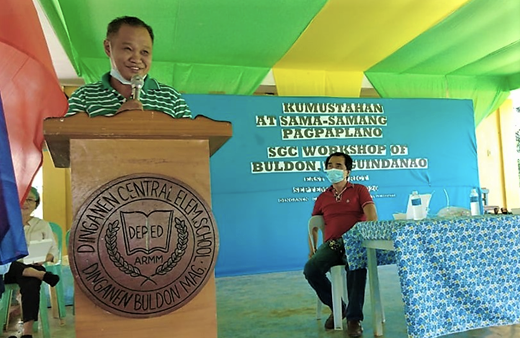 At a recent meeting among members of the SGC, there was a consensus to seek a resumption of face-to-face classes in the next school year, said Capada.


"We're finding out that it's not the children who are answering the modules, but it's mostly their parents or their neighbors so they're not really learning," he said.


"Since we have zero Covid cases, I hope we could recommend to the Department of Education to resume face-to-face classes here."


Manalao agrees, saying remote learning is tough for students, prompting some teachers to tutor children once a week.


"We have parents who did not go to school so how could they be teachers to their children? So the quality of education suffers," he said.


As the peace continues in Buldon, Manalao also finds time growing crops and flowers in a sprawling 32-hectare farm that he plans to make into an agriculture learning center. He calls it Ang Probinsyano Farm and Resort, named after a long-running television series where the lead character is an invincible police officer fighting for the oppressed.


"The community appreciates my character who helps the entire town," he said. "But I'm the mayor who goes around without an escort and who hates guns. And I make sure my community sees that."