Reinventing Local School Boards
Capacity Building of Local School Boards. The transformation of Local School Boards is at the core of Synergeia's programs. Following the Robredo model, LSBs should model participatory, effective, and empowering governance in education. We have embarked on building their capacities to be inclusive and strategic in planning and to move their plans intoaction.
Experience taught us that Mayors and their LSBs learn better when sharing is done with their peers. For this purpose, we organized LSBs into Regional Education Councils. The UNICEF Mayors from Lanao took part in the Northern Mindanao Regional Education Council last February 20, 2020. The Maguindanao LSBs were all present in the Central Mindanao Education Council on March 12, 2020.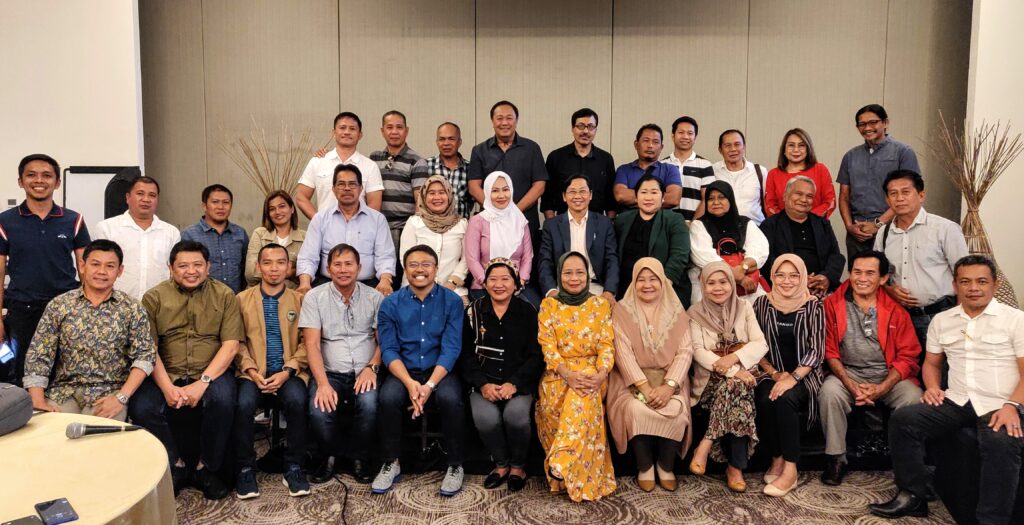 The Northern Mindanao REC learned from the experiences of Vice Mayor Alfredo Coro of Del Carmen, Surigao on how the LGU financed its education programs despite the lack of funds. They learned the importance of PPPs in education. Vice Mayor Coro reminded them that the private sector looks for Return on Investments and it would do the LGUs well if they would measure the success of their programs. He encouraged them to regularly report the progress of their work to donors because they expect to be informed of how every peso of their investment is spent.
The REC meeting had several light moments. Marawi City Mayor Majul Gandamra had more than his share of peer-bullying because he was absent in meeting for so many times. In fact, it was his first time to attend the meeting. He promised that he would make up by attending all succeeding meetings.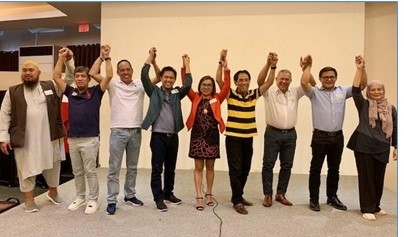 Another important agenda of the meeting was a monitoring of the progress of the LSBs in implementing their plans. Synergeia gives importance to monitoring so that implementation becomes continuous and sustained. An oversight by peers serves as both an incentive and a pressure for LSBs to implement their plans. To make their progress reporting interesting and fun, Synergeia introduced a question and answer portion that was patterned after the Ms. Universe contest. Every Mayor was asked to pick two questions that they should answer. The first one was a funny question, e.g. the theme song of their LSB, and the second one asked them to report on their successes and weaknesses. It was a time for siesta but people were keenly listening and laughing at the same time.
True to form, the LSBs belonging to the Central Mindanao Education Council showed their dynamism in their workshop. Despite the threat of COVID 19 on the air, the members were all present. The Council Chairman Ramon Piang has always been generous in sharing his experiences, lessons learned and good practices. He went further by sharing his plans for 2020 and how they will be financed. He informed that LGU has plans to construct and repair school buildings and has allotted P1.5 million from the 20% Development Fund for the purpose. There is a plan to construct four WASH facilities, continue the financial assistance program to poor students, provide subsidies to madaris schools, hire teacher-aides, support day-care workers, and pay for school utility expenses. North Upi also plans to conduct a parenting program, support the conduct of a remedial reading program and conduct a feeding program. It will also implement programs on student development like the Upi Youth Governance Program and a Children'sandaYouthCongress.
Mayor Piang said LGUs must be resourceful so that their plans can be brought into fruition. He is afraid that the SEF will never be enough to support the education projects. They will tap several sources for education financing. These are the 20% Development Fund, the Gender and Development (GAD) fund, Municipal Council for the Protection of Children (MCPC fund), and the Disaster Risk Reduction and Mitigation Fund (DRRMF). He advised that the LGU does not need to be tied to the SEF fund, especially for small LGUs with limited real property tax base.
Education Plans of Local School Boards. The LSBs have taken to heart their roles in charting the education path for their children. Their plans included strengthening their organization through expanded membership, regular meetings, and capacity building workshops, and looking for ways to increase the SEF collections. They planned to hold reading camps for children and parenting workshop such as in Mangudadatu and teaching camps to enhance capacities of teachers, like Buluan and Mamasapano. They see the need for education-related statistics to help in planning, such as Bubong which is building a database of enrollees and Omar which is mapping its out of school children and youth. Bubong is partnering with a non-government organization in its program to encourage outof school youth to return to school. Piagapo wants all school-age children to be in school and will conduct home visitations, monitor attendance of children in school and link up with parents.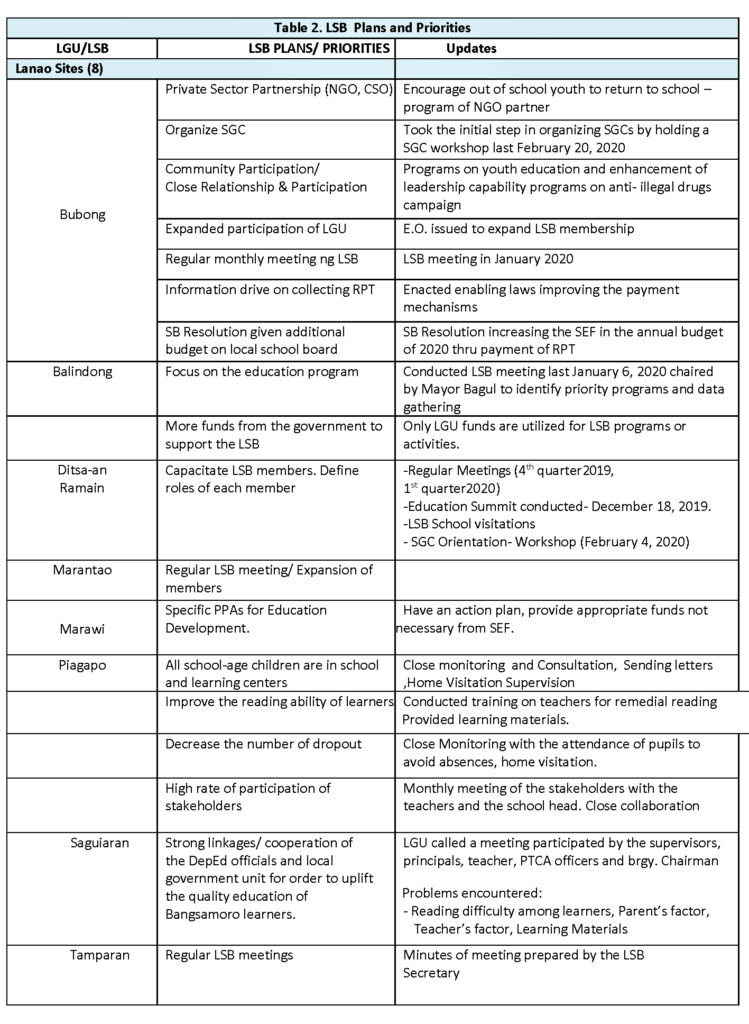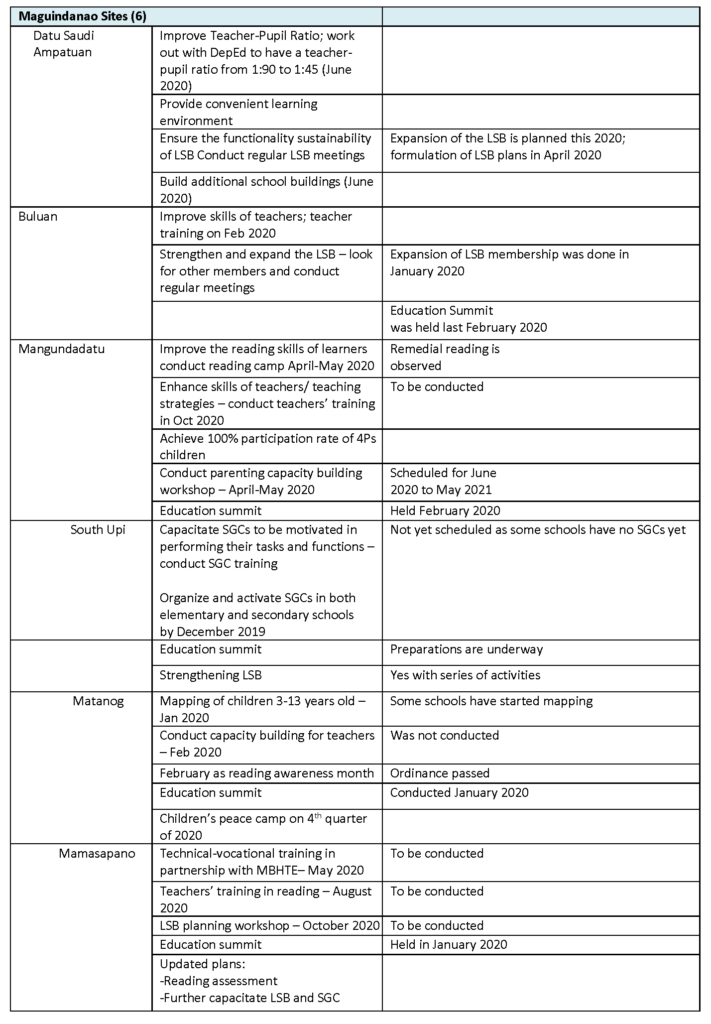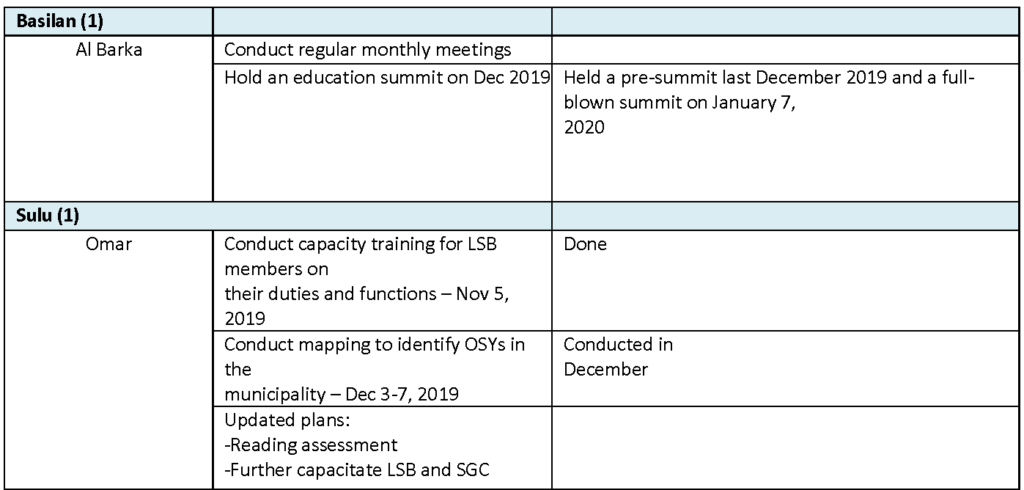 Measuring LSBs' Leadership in Education. We use a scorecard to measure the performance of Local School Boards. We look at several factors, such as the full involvement of the Local Chief Executive in leading the programs and whether has taken the driver's seat in implementing the education reform agenda. We look at organizational attributes such as expanded membership, regular meetings, monitoring of accomplishments versus targets, and openness to community involvement in education programs. We also look at how the LSB's planning process and use of education data to track student performance.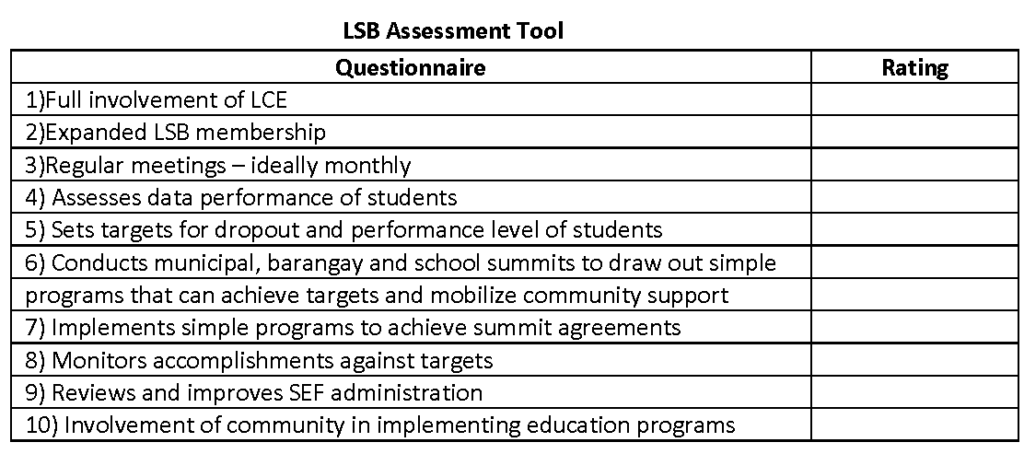 The next table shows the baseline assessment scores of LSBs in the UNICEF project sites, applying a rating scale where "0-1" means the LSB has started the process of organizing itself, "2" means there are ups and downs, "3" means mostly ups, "4" means happy with the results and "5" means our LSB is the best.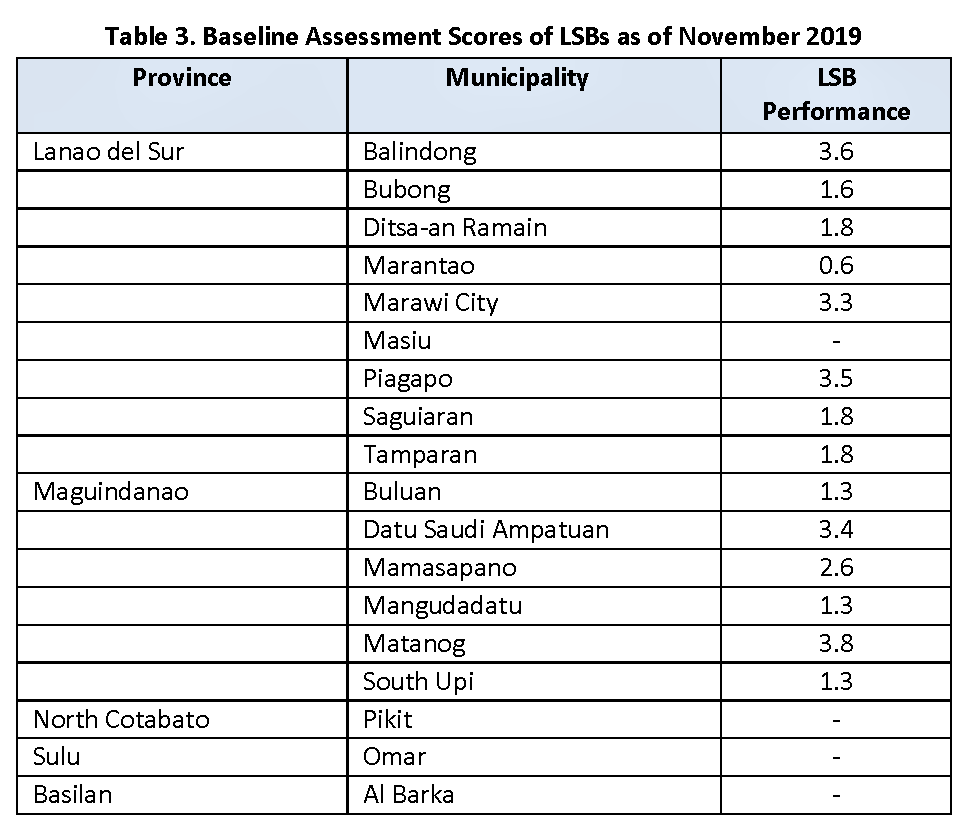 We are happy that 5 LGUs experienced more wins in reinventing their LSBs: Balindong, Marawi City, Piagapo, Matanog, Datu Saudi Ampatuan. Their LSB ratings ranged from 3.3 – 3.8. They have embraced the task of leading the education program in their respective communities. One (1) LGU, Mamasapano with LSB rating of 2.6, experienced ups and downs in its LSB reinvention process. And 8 LGUs have started the process of reinventing their LSBs: Bubong, Ditsa-anRamain, Marantao, Saguiran, Tamparan; Mangudadatu, South Upi, Buluan. Their LSB ratings ranged from 0.6-1.8. They are starting well and we continue to mentor and handhold our LGUs through the process of strengthening their organizations.