She works a few kilometres away from where her children live but Vanessa Belarmino has not seen them for months now as the coronavirus pandemic restricted her movement outside the house where she works as a helper.
Richmi Baricuatro is a laundrywoman who also sells cooked meals and is looking for a night job so she can pay her monthly rent and meet the growing needs of her young son, now among millions of students learning remotely as the global health crisis shut schools.
The pandemic that roiled the world this year has made it tougher for single parents like them to both work and care for their children, forcing many to make difficult decisions to be able to put food on the table and seek extra income at a time when many hard-hit companies are cutting jobs.
Still, many solo parents are trying to rise above the challenges to raise their children well and help them realise their full potential.
Belarmino's three young kids are staying with her mother to whom she sends her monthly pay, and her sister helps her nine-year old with her online classes.
"I can't be with her but I just have to bear it. I miss all of them and I wish I could be with them but I can't because I need to work for them," the 33-year-old Pasig resident said during a virtual workshop for single parents over the weekend facilitated by Synergeia Foundation.
Belarmino was on a video call with his son who turned five on Monday and for whom she ordered spaghetti, spring rolls and cake for a small party at home.
"I want my children to complete their education," she says. "As long as I live, I will work for them."
The pandemic has also made it more difficult for work-from-home single parents to shuttle between working and mentoring their kids.
Julin Apura has a small store in her home in Valenzuela City which she tends while tutoring her two children, aged five and 12 years old, who are sharing one phone for their online classes. Victoria Fernandez had to send her child, with cerebral palsy, more than 400 kilometres away to Bicol province to stay with her parents due to the health risks.
_
Job hunting
Synergeia is a non-profit organisation whose vision is for every Filipino child to complete good basic education, and is in partnership with international institutions like the U.S. Agency for International Development and the United Nations Children's Fund.
Synergeia, through its Nanay-Tatay Teacher campaign, has been holding virtual workshops since August to help parents cope with their new task as teachers at home.
About one in three poor Philippine households are headed by somebody who did not complete primary education, trapping them in unskilled low-paying jobs that are not enough to feed their family and in some cases, even to put a roof over their heads.
There are about 17.7 million Filipinos who live in poverty or those whose per capita income is not enough to meet their basic needs, equivalent to 16.7 percent of the population, according to a 2018 study released by the Philippine Statistics Authority in June this year.
Baricuatro, the laundrywoman who tutors her young son in the morning before washing other people's clothes, says she's looking for a night job to augment her income while he is asleep.
Czarina Elape from Caloocan City, a 43-year-old mother of two who both have visual disability, is also job hunting since the financial support from the father of her children and from her own mother is not enough, with the kids needing constant medical care.
"I'd like to find work that I can do from home because my children have special needs,' says Elape, whose five-year old and eight-year old sons are studying via learning modules picked up weekly from school.
Amid a clamor for steady income among the workshop participants, Synergeia Chief Executive Officer Milwida Guevara said the organisation, in partnership with experts, is mulling the creation of a software app that would serve as a one-stop shop for single parents seeking extra jobs and business.
"We'll also look at how we can establish a cooperative where everybody can help everybody," said Guevara, who served as finance undersecretary for almost a decade.
_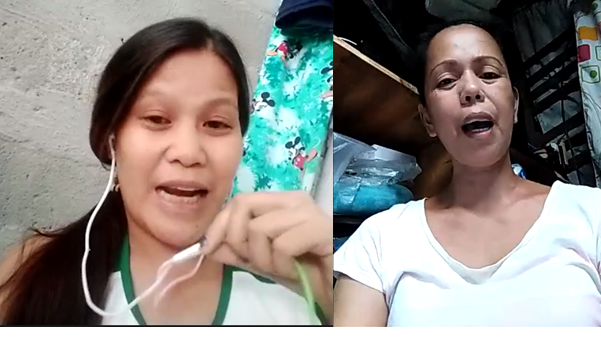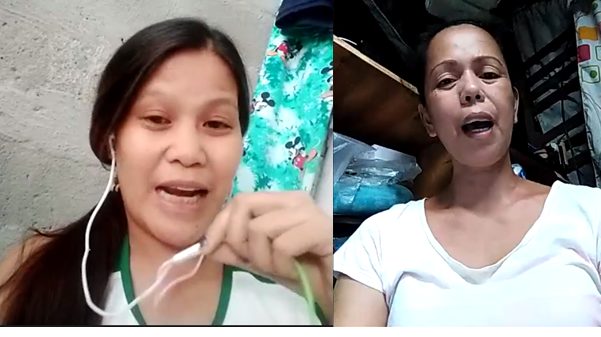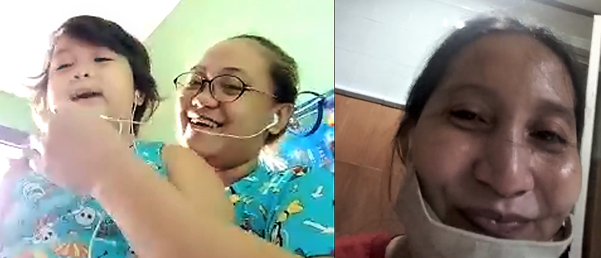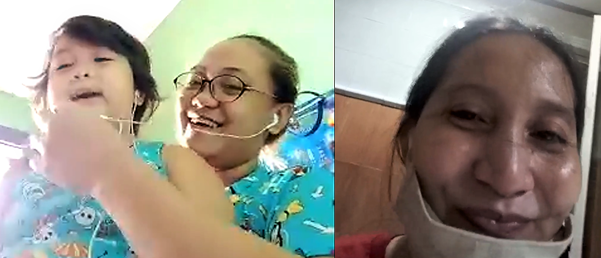 _
SIPOL
Bravesoles, a group of solo parents in Pasig City, has been trying to develop an app that will be a platform for those seeking freelance work and a market for those selling products online, says Farah Mae Sallave, the leader of the group.
Vegetable vendor Marissa Ondillo, who heads a separate group of single parents in Caloocan, said they had also been working to set up a cooperative to benefit members until their efforts were halted by the pandemic.
Synergeia will be creating a group called Single Parents Online, or SIPOL, that aims to be a support system and platform for these parents as they strive to be better providers for their children.
Caloocan City Congressman Edgar Erice says he is willing to help single parents, realising their double duties of working and teaching their children. During the workshop, his office promised to give Caloocan resident Jeramy Rose Roa a 10-day job to clean communities that will allow her to raise money to buy a sewing machine for a more sustainable earnings stream, bringing Roa to tears.
"We are here to be your partner in your roles as both father and mother to your children," Erice told the workshop participants.
_
By : Manny Serapio (manny.serapio@gmail.com)