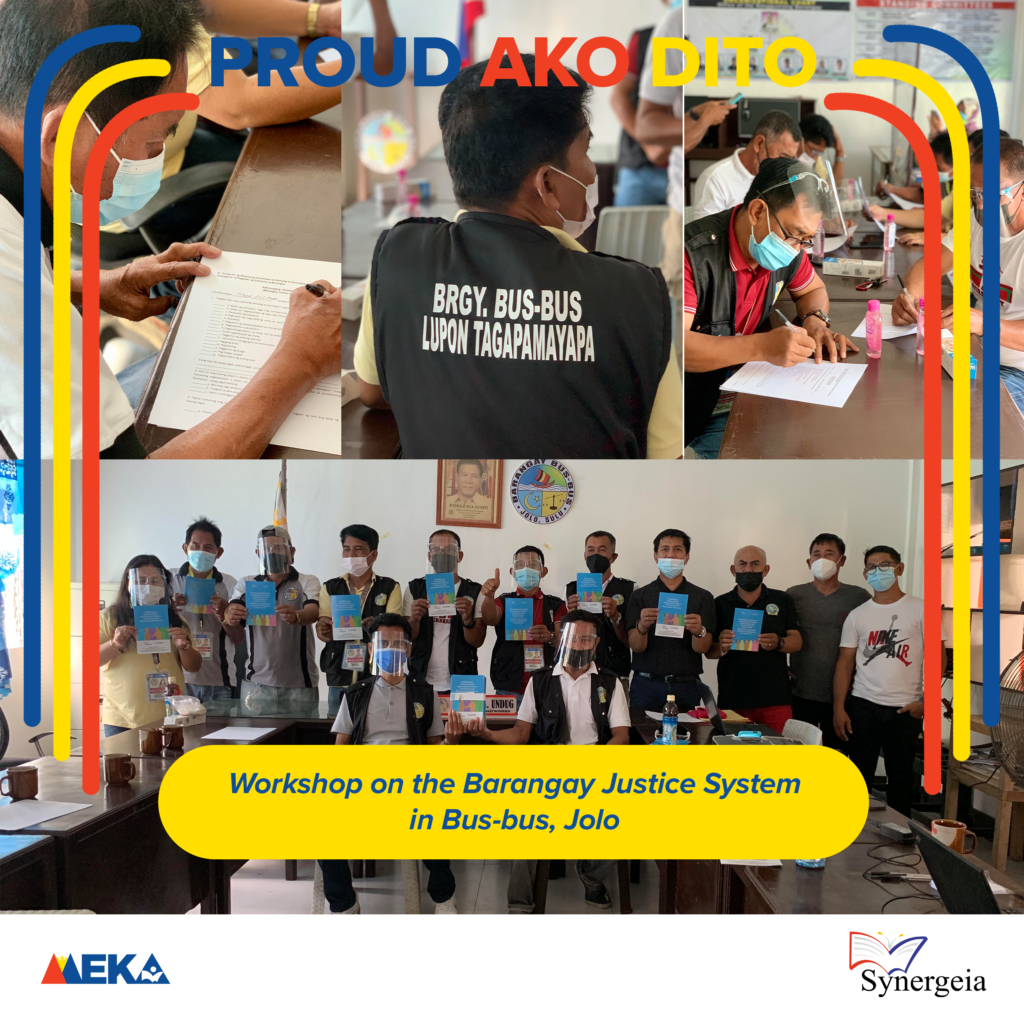 "Lupons are superheroes", these were the exact words of Jolo Vice Mayor Ezzidien Tan during his closing remarks at the Barangay Justice System Workshop last December 14, 2021 at Municipal Gymnasium. The statement rings true especially to the residents of Barangay Bus-Bus as their Lupons had saved them everyday from injustices, and from the story I will tell you now.
At a fine day in Bus-Bus, just like any other regular boring days, two neighbors met each other. They were talking and joking until their jokes turned into insults which resulted to the two men despising one another. Their foul relationship went worse until one day, they got engaged in a fight using weapons this time, a knife to be precise. Seeing the severity of the case as one party needs surgery, the Barangay Justice System of Busbus looked into the matter carefully. For them, it was the worst case they had handled. However, with the excellent processes the Barangay Justice System of Busbus had been practicing since then, as well as the generosity of their Punong Barangay in covering other expenses needed for the surgery, the problem was settled at the Barangay level. If without the excellent resolutions made, the problem could have escalated, spreading the two men's animosity for each other along with their families.
So, how did the Barangay Justice System of Busbus handled such critical issue well?
The BJS-Bus-Bus has 12 chosen Lupon members where each sector was well-represented. There are representatives from women, youth and also from old folks. Their reason is that BJS is for everyone and so that each issues could be addressed with utmost sincerity, trust and empathy because according to Mr. Ali B. Salapuddin, BJS-Bus-Bus Administrator, "awn mga parakalah, sila da in maghatihi" [there are issues that only someone like them could understand them better]. The complainant could choose from among the 12 Lupons, the 3 Lupons that would go through his/her complaint so that the fear of bias to the opposing party could be removed, and the comfort on raising his/her issue could be provided. In addition to their objectiveness, BJS-Bus-Bus are also composed of hard-working individuals who works around the clock, and even on weekends and holidays especially if there's an issue that needs immediate resolution. Further, every proceeding is observed with due process, and is recorded and well-documented. Along with the remarks of the case- settled, pending or endorsed, these documents are submitted to the Municipal Trial Court quarterly.
In other words, the Barangay Justice System of Busbus addresses issues with objectiveness, dedication and accuracy. Because of these excellent practices, BJS-Bus-Bus became qualified for Lupong Tagapamayapa Incentives Award in BARMM for 2 consecutive years. Just this month, they were processing for Provincial Validation (National Level) and for the Regional Validation (National Level).
However, all of these will not be achieved without great leadership and support from its leader/administrator, Mr. Alih B. Salapuddin. He was thankful that he could play a part on the operations of BJS-Bus-Bus. He mentioned that he was always there for the team, supporting and assisting them in their queries and endeavors that are related to the BJS as he could see the noble vision and purpose of the department. "Being the head of the most crucial department in the barangay, I am glad that I am able to monitor and spearhead BJS operations of Bus-Bus" he said.
When asked about the leader whom he admires the most, he did not battle an eye to think. He mentioned Sir Adi and Ma'am Almaida Undug. For him, he saw the qualities a leader should have in this power duo. "They inspire me to be like them in handling cases in the BJS-Bus-Bus- Calm, Impartial, Generous and Committed". For Sir Ali, a leader should have the following values and traits: Integrity, Impartiality, Patience, Resourcefulness, Open-mindedness, Flexibility, Commitment and Dedication to help the Barangay. And these for him, shall be the traits of Lupon members. Community members shall be able to observe these characteristics in a person before they could nominate him/her.
For the Lupon members, their primary role is to provide immediate solutions to disputes occurring in the grassroots; and to resolve disputes fairly and speedily as salient part of the barangay's function is to promote peace and harmonious relationship among community members.
Lastly, BJS Bus-Bus thanked Synergeia and GCERF for featuring them so that they can share their best practices especially to other barangays so that in the future, they can receive hand-in-hand the Lupong Tagapamayapa Incentive Award given by BARMM.
The importance of Barangay Justice System and its awareness and proper implementation manifests clear solutions for every issues and solving disputes at the barangay level. Thus, it implies the promotion for peace, equality and fairness especially to disadvantaged people deprived of justice system in Sulu. They serve as the justice league of the people; the unsung heroes.